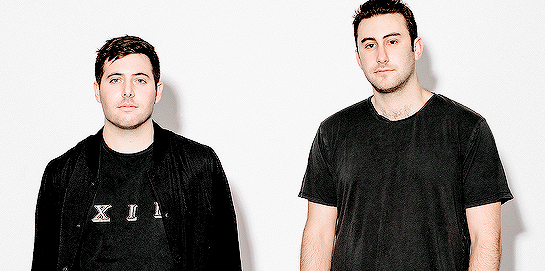 Two Friends have really burst onto the scene with a unique style and intoxicating personality. Matt & Eli have brought us their stunning remix of "Mr. Brightside", MGMT's "Kids" and originals like "Just a Kid" and "Out of Love". Their music has exemplified the progressive house style, morphing into more soulful tracks. Their live shows put an even bigger set of emotion and positivity that is sure to make your night.
In December, the artists embarked on their "Just a Kid" tour As they find themselves in the midst of their "Just a Kid" tour, the duo will be stopping by Chicago on Saturday, February 10th at Bottom Lounge. Snag your tickets here!
Two Friends shared their thoughts on upcoming music, touring life, and their journey in the electronic music space. Check out the interview below:
Thanks so much for chatting with EDM Chicago! Excited that you will be playing in Chicago again – I really enjoyed meeting you at your show at Concord with Matoma last year. You have received support from the likes of The Chainsmokers, Tiesto, Tove Lo, as well as over 70 million streams. How does it feel to receive such awesome recognition?
Thanks for having us! The funny thing is it really has been a long journey but then you take a look where you were at a  year ago even and you're like "wow, a bunch of little victories can really add up to a lot."  It's super awesome just having more and more fans hit us up asking us when we'll be in their city.  This tour has been eye-openig so far, especially when you just compare it to the last time you were in the same city. It's a weird feeling of "huh these people are actually buying a lot of tickets to see us? That's crazy."
Your latest single "Just a Kid" was a benefit single for homeless children in LA. Can you talk a little bit about how that came to be?
"Just A Kid" has been a really special one for us – we actually wrote the song a few years ago and then in 2016 had the idea to incorporate Camp Harmony, which is an organization in LA that provides the kind of summer camp experience many impoverished kids do not get to experience.  We worked with the kids and had them sing the hook of "Just A Kid", and we also led songwriting workshops with them and they ended up with their own fun songs as well.  When it finally came out in December we were very excited to finally share it with everyone. A portion of the song proceeds are also going back to the camp, as well as a dollar of every ticket sale from the tour so we are very excited to continue to work with Camp Harmony.
How has your style changed from earlier singles like "Out of Love" to today's "Just a Kid"?
I think over time our style has changed a lot. We kind of started in the progressive house-sphere, then morphed into a different type of house we were coining as Soul-House, but kind of starting beginning of last year we just started making anything we thought sounded good or felt right. BPM-wise, sub-genre-wise – we've kind of let the music come out of us more than trying to fit in a certain genre.  Sounds cliche but yeah haha.  I think what has remained consistent is songwriting and vibe- we still hear people say they can tell when it's a Two Friends song so I guess that's a good sign.
You'll be touring a lot this year! How are you preparing for the experience?
We're always excited to visit new places and meet new fans. It really is cool and there's something about once you've played in a city those fans tend to be a lot more loyal.  Balance ends up being the key word. Just making sure you have enough time to make the music you want to make can be a difficult task but we're very fortunate to be able to travel all over and play awesome shows.  There will be a lot of cool festivals coming up, the rest of this Just A Kid Tour, and then multiple tours for the rest of 2018!
Any upcoming projects you can share?
We have so many originals in the works that we are very pumped about. They'll definitely continue to reinforce what Two Friends is all about.  Been a little hard getting everything out how and when we want, but patience is a virtue.  Lots of remixes too, and definitely a couple Big Bootie Mixes this year as well.  All good things from team 2F!