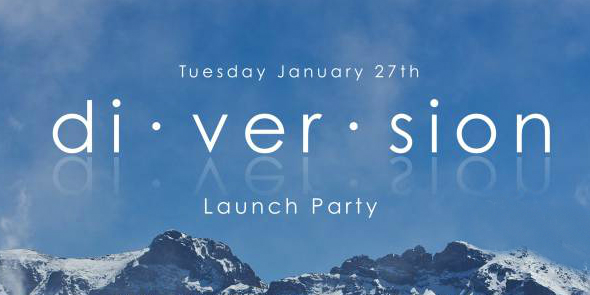 As residents of Chicago, we are constantly presented with an assortment of events to cater to your appetite for good music. Unfortunately, many of these events happen to occur on the weekend, often times leaving you with a taste for more in between the weekend escapes. While many of the city\'s night life destinations offer mid week specials and happy hours, not many of feature the music, environment and stress-relieving vibe that comes with the attendance of a good night of house and techno. It seems the mid-week blues may have been answered as local artist and member of the Pool House Records Label Housework teams up with Graffiti Night Club to introduce \'Diversion.\'
Set to provide you with a break from the Mundane, Diversion encourages it\'s guests to partake in a sensory experience featuring quality cocktails, underground and experimental based music, art exhibitions and appetizers (provided by a guest chef). Whether you are looking for a laid back pick me up after a long day of work (which can be accommodated by the espresso bar) or are looking to enjoy a few mixed drinks and hit the dance floor, Diversion is designed to be the perfect destination for you.
Perhaps most interesting to readers will be the music selection provided by the many local based artists hosted by Diversion. With an emphasis on underground and experimental music, Housework relied upon his experience playing at various venues and events throughout the city to hand select artists that he felt most closely represented the image he envisioned for the event. To kick things off, the Tuesday launch party will feature Housework and Friends (a not to miss jam collaboration between him and close friends), the energetic duo Plus Plus ++ (of the bimonthly Dark and Deep event as well as Team SSS parties), and a DJ that is certainly no stranger to the drums, DJ Ita, for what is sure to be a great night of music.
As his work in organizing the launch of the event began to come together, I met up with Housework to briefly introduce this talented artist to our readers.
John C: What is your background in music?
Housework: Since I was younger I had always had an appreciation of music and from a very young age I became involved with breakdancing. After an injury interfered with my ability to continue dancing, I decided to follow my fascination with the art of DJing and purchased my first turntables at the age of 16. I feel as if my background in breakdancing allowed me to develop an ear for music that carried forward towards my sets. Since 2010 I have been producing my own music and have a particular love for analog equipment.
John C: How did you meet (and eventually join) the Pool House Crew?
Housework: Honestly, when I first came to Chicago, I had come across the Pool House events as I pursued music I enjoyed and was familiar with. After attending, I realized that this event catered exactly to my taste in music and I began to attend regularly. As I began to talk with some of the members, one thing sort of led to another and I began performing and working on music with them. While I do extend myself as an artist beyond just pool house events, I have become close with everyone in the crew and enjoy playing with them.
John C: Can you briefly introduce your Streetnoiz podcast?
Housework: Sure. While I have a love for house music, I also share a passion for hip hop. The concept behind the streetnoiz podcast was to allow myself to to combine these two music passions and play hip hop along side house music. The podcast releases new sets bimonthly.
John C: What led to your decision to move to Chicago?
Housework: Honestly, House music. Since an early age my sister had influenced my musical taste by introducing me to house. Along side the 80s electronic music that I enjoyed, I was fascinated with artists such as Frankie Knuckles and Paul Johnson. With Chicago being the birthplace of house music I felt a draw to the city.
John C: What led to the concept for Diversion?
Housework: When I was thinking about ideas for an event, I really thought about what type of events I wish were available for me to attend. I hadn\'t yet come across an event, particularly during the same time of the week, that explored music in a way that Diversion will while providing an environment that can be both relaxing for a break from the work week and exciting as the musical performances feature top acts.
The launch party for Diversion will take place on Tuesday January 27th at Graffiti lounge and will be open between 7pm and 2am. Upon arrival, guests can purchase a drink and appetizer for $10 or feel free to enter for free and order drinks independently from the bartenders. If you suffer from the midweek Blues, I would suggest checking it out and experiencing the break that can only be provided by good drinks, music and company.
Thank you to Housework for discussing the details of his upcoming weekly event series with me and partaking in the brief interview. Look for more on Housework as we begin to cover the evolution of the Pool House Records.
Follow Housework on Facebook
Follow Housework on Soundcloud
Follow Diversion on Facebook
Follow Graffiti on Facebook.
Diversion Launch Party Event on Facebook.