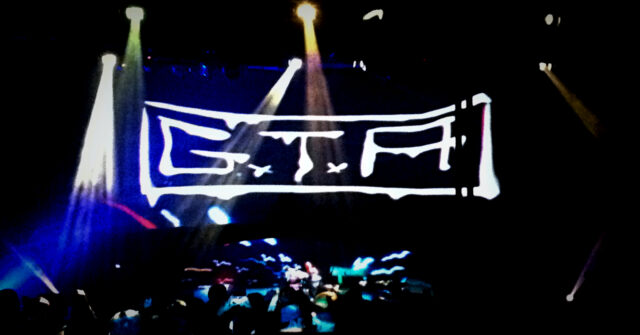 Miami natives, Matthew Van Toth and Julio Mejia; or known to the EDM world as GTA, played in Chicago this weekend on the stop of their \"Goons Take America Tour.\" The dyad group performed at Chicago\'s well known venue, Concord Friday night with guest performances from Mielo, Wax Motif, and KCamp.
The show opened up with Mielo at 8:30 p.m. Mielo started off with hitting the crowd with his future bass and down tempo beats. Mielo\'s performance started the night with songs in tune to artists like Porter Robinson and songs like, \"Roses\" by Chainsmokers. As a personal fan of future producers and especially the Future Classic crew, I really enjoyed his set because it reminded me of those types of artists. It may have been a bit too mellow for a crew coming out to see GTA, but Mielo mixed in a good amount of Hip-Hop to give the crowd what they wanted. I was able to get an interview with the upcoming artist himself, where we talked about a bit of his style and how he plans to grow in the music industry. Look out for the exclusive interview being uploaded soon.
As the show continued I unfortunately missed Wax Motif\'s set because of conducting a one on one interview with GTA. Though, from what I could hear from backstage, Motif laid down some bass heavy songs. It was Motif\'s birthday that night and the GTA boys made sure the crowd knew that, by announcing and bringing Motif back on stage during their performance. And whats a better way to celebrate a birthday other than the great city of Chicago?
I was able to catch the middle of KCamp\'s performance that night. He played his hit songs, \"Comfortable,\" \"Cut Her Off,\" and \"Money Baby.\" KCamp and friends were definitely made for the perfect performers to hype up the crowd before GTA hit the stage. They made sure that everyone in the venue was having a good time. At that point I was really eager to see what GTA would bring to the stage after being railed up by KCamp.
GTA opened with graphics of a game like city, where Toth and Mejia were cartooned into these young city destroying characters. It went with the theme of the tour, with two goons taking over \"America.\" The two played a lot of songs, old and new. From mixing in songs of Nirvana, to JackU\'s \"Where Are You Now.\" Being that they are fans of Hip-Hop and incorporate a lot of Hip-Hop into their music, they also played songs from Travis Scott and Post Malone. Coming from Miami they could not pass up the opportunity to bring a little to Chicago with including bits of salsa music to get the crowd moving their hips. As for beats, their performance was the perfect mixture of house, cut in-between with a little bit of trap and just enough dub. They played their hit songs, \"Red Lips,\" \"Prison Riot\" featuring Flosstradamus, and some of their new stuff straight off of their EP, D.T.G Volume 2.
As the show continued their graphics were lost because of,(I assume) technical problems. However, I\'m sure no one noticed, expect for the girl who was reviewing the event (me). Although they lost their graphics, they didn\'t lose the audience\'s attention and never stopped laying down a good show. What I liked about this performance was that you could really tell that they were creating new tracks and throwing together new beats and tempos with songs other than playing a continuous set they play at every venue. I also tend to enjoy when DJ\'s don\'t talk a lot and stay behind the booth the whole time, because there are times where you could catch a performance of a group and they are constantly on the mic or jumping around stage. So who\'s playing the music with all that commotion going on? Anyway, the two definitely do a good job of teamwork when playing the board and being able to entertain the audience with their music and not trying to hype them in some other way.
Overall, I had a great night. The boys of GTA are extremely down to earth and even hung out at the merch stand after the show to meet and chat with fans. Stay tuned to read their interview I had with them, where they told me their perfect cure for hangovers, who they enjoy in the Hip-Hop world, what to be expected in the new year, and lots more.
There are three more shows left on the \"Goons Take America\" tour. Find out more information here. Also be sure to check out their new EP, \"Death to Geners Vol.2\". You can buy a copy here, and make sure to forward your purchase receipt to [email protected] by Friday, November 27th to receive an exclusive unreleased track.