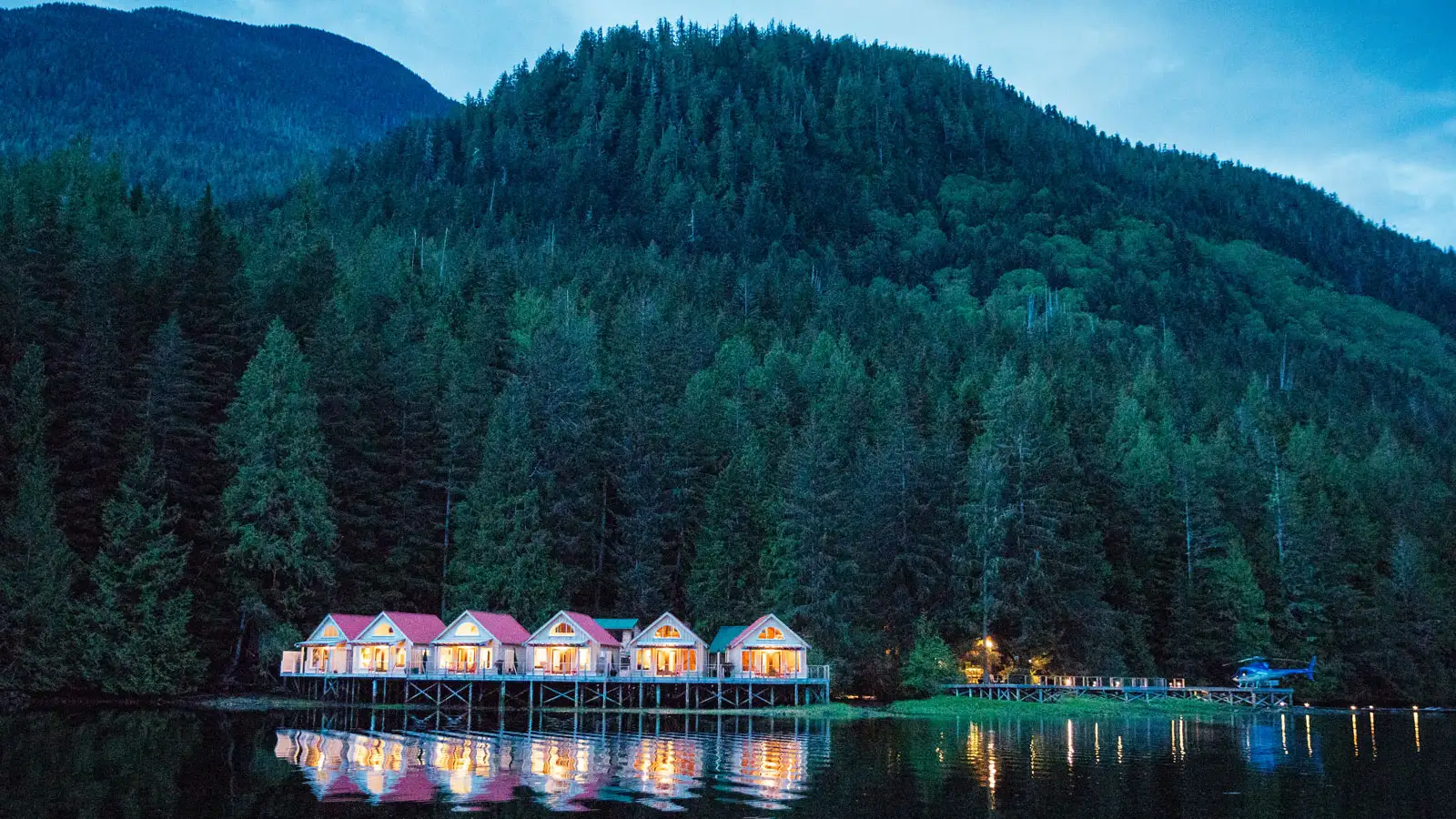 Dreaming about the ultimate outdoor escape to one of the best fishing lodges and resorts in the U.S.?
This guide will get you hooked on your next big adventure!
Our hand-picked list of fishing lodges in the U.S. has all you need to find the perfect getaway for hooking the big one.
A vacation at one of the country's premier fishing lodges is a superb way to spend quality time doing more of what you love while improving your fishing technique.
It's also an ideal opportunity to catch more than just fish—a fishing vacation is one of the best ways you can truly relax and rejuvenate in nature.
Whether you visit with family and friends or take time out for yourself, a fishing lodge getaway is a great way to use your vacation time without burning all your vacation energy!
So dust off your favorite fishing pole and prepare to be wowed by some of the world's best fishing resorts.
Why Now Is A Great Time For A Fishing Getaway In The U.S.?
No doubt, it's been a tough couple of years for everyone. But travel is on the rebound, and folks are starting to seriously think of ways to shake off their Cabin Fever and get back to doing what they love.
With spring and summer just around the corner, now is a great time to start planning your next big outdoor adventure, especially if you've got eyes on one of the top fishing lodges in the northern U.S.
But don't wait too long. The best of the best books are up fast!
1. Cheeca Lodge – Islamorada, FL
We're not going to waste any time getting down to the cream of the crop. Cheeca Lodge & Spa has a hard-earned reputation for being one of the very best fishing lodges in the world.
Cheeca has been wooing presidents, leaders of the industry, and anglers-in-the-know since the 1940s, and it's little wonder why—this place has it all!
Located in the "sportfishing capital of the world," Cheeca Lodge wows anglers with its 27 oceanfront acres of pure bliss that includes a stunning palm-lined beach and even a 9-hole golf course!
Visitors have three options for fishing at their fingertips:
Fishing from the resort's pier
Snook fishing from a boat in the backcountry
Offshore big game fishing
And let's not forget Cheeca's three world-class restaurants offering everything from local seafood to steak, sushi, and even pizza.
What is it good for? –  Those looking for a warm-weather winter angling getaway with many of the upmarket amenities of a luxury resort.
Location – Islamorada, Florida.
2. Woodstock Inn & Resort – Woodstock, VT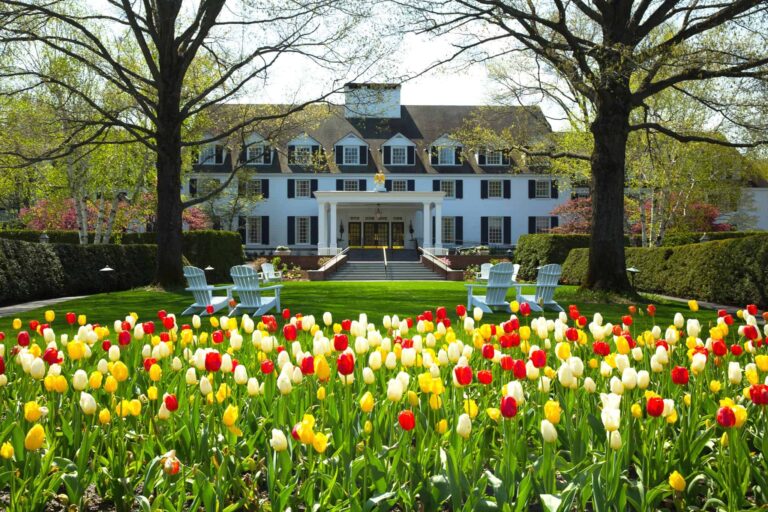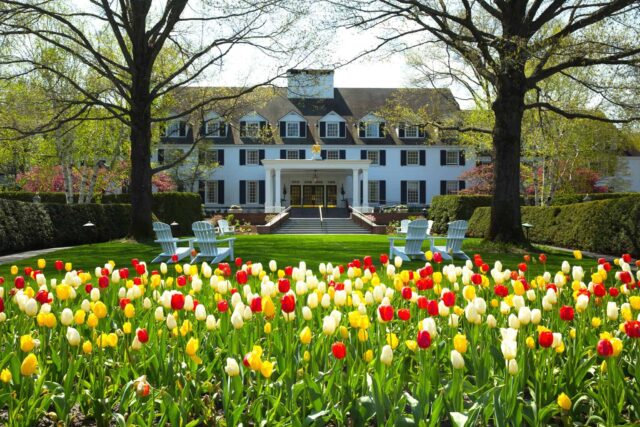 Fishing enthusiasts and serious anglers looking for an old-school New England getaway with some of the best fishing in the Northeast should look no farther than Woodstock Inn & Resort.
You may think you've died and gone to fly fishing lodge heaven particularly if your idea of the Hereafter resembles one of the most beautiful corners of Vermont and a stately and historic inn that's aged like a fine scotch.
But a beautiful property set in a charming village on its own doesn't make a place one of the best fishing lodges in the country. It's fishing, of course!
Woodstock's Orvis-endorsed fly-fishing program is one of the best you can come across.
This highly-rated program caters to beginners and experts alike, intending to help guests get the most out of their time in the supremely picturesque meadows and streams of Central Vermont.
Want more? Sign up for an unforgettable excursion to the Ottauquechee River, White River, and Black River for some of New England's best fishing! Know what fishing means at WildOnTheFly.
What is it good for? – Beginner to expert anglers looking to up their fly-fishing game while experiencing some of New England's supreme natural beauty.
Location –  Woodstock, Vermont
3. Taylor River Lodge – Almont, CO
Next, we head to Colorado for one of the more recent additions to the country's best fishing lodges: Taylor River Lodge by Eleven Experience.
This novel lodge is at the top of its game, boasting a superb combination of high-end comfort and some of the best wild trout fishing in the region.
Choose from one of eight luxurious cabins with easy access to the striking main lodge. Excellent cuisine awaits with delectable dining options.
As for fishing, enjoy easy access to the Taylor River and its tributaries. Taylor River Lodge offers endless opportunities for hooking native cutthroat and more.
To get the most out of your fishing vacation, we recommend heading out with one of the lodge's highly-recommended and uber knowledgeable guides.
What is it good for? – Anglers of all skill levels looking for an under-the-radar mountain lodge with all the amenities and easy access to world-class trout fishing.
Location – Almont, Colorado
4. Salmon Falls Resort – Ketchikan, AK
We couldn't list the best fishing lodges in the U.S. without Alaska's representation. And Salmon Falls Resort in Ketchikan is one of the best in the Land of the Midnight Sun!
Ketchikan is known as the "Salmon Capital of the World." Many anglers agree that it'll become pretty darn clear how the town earned that distinction once you've fished these waters.
While serious anglers frequently come here hoping to hook the legendary Chinook (King) and Coho Salmon, numerous other fish species such as Halibut and Lingcod also await enthusiasts of all experience levels.
For over 30 years, Salmon Falls' service, amenities, and renowned guides have been wowing fishing enthusiasts worldwide. Now it's your turn!
What is it good for? – Discerning anglers and travelers with their sights set on Alaskan Chinook and Coho and Halibut, Rockfish, and 20 other species.
Location – Ketchikan, Alaska
5. Ruby Springs Lodge – Alder, MT
Last but certainly not least on our list of best fishing lodges in the U.S. is Ruby Springs Lodge in Alder, Montana.
Named for its ideal location along the legendary Ruby River, the lodge offers plenty of solitude, miles of stream for trout fishing, and even the chance to snag the big one right from the back deck of one of five well-appointed cabins!
If you catch a bit of cabin fever, countless options for offsite fishing await a short distance away.
In addition to the epic fishing on-hand steps from the lodge, Ruby Springs is renowned for its awe-inspiring mountain views and top-rated cuisine.
What is it good for? – Solitude seekers of all skill levels who enjoy upmarket comforts and prefer not to spend the better part of a day trekking to the best fishing spots.
Location – Alder, Montana
Why Should You Consider Hiring a Guide?
Guides aren't just for beginners or upmarket tour packages. Hiring a first-rate guide can mean the difference between an okay fishing trip and the trip of a lifetime.
It is recommended spending at least one day with a guide (i.e., your first day), particularly if you visit an area for the first time.
Guides excel at finding fish because they best understand geography and water conditions.
No matter what level your angling is, it's always good to have someone who can give you the latest intel and most knowledgeable insights – especially if you plan a getaway at one of the best fishing lodges in the U.S.