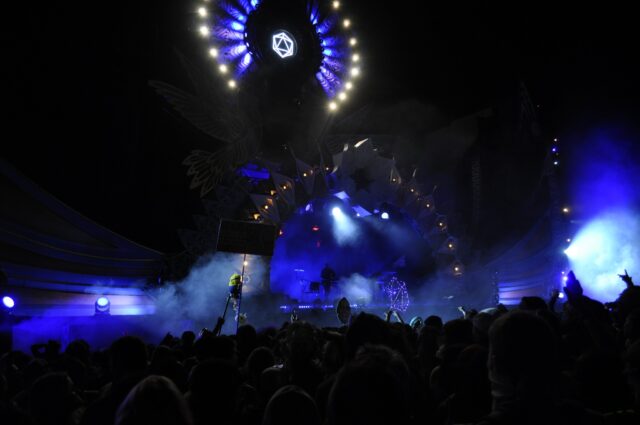 Mysteryland is a go-to festival in your lifetime. Mysteryland is in Bethel Woods, where the legendary Woodstock Music Festival took place back in 1969. These grounds truly do have magical feel to it, from it's picturesque panorama, to the art that Mysteryland establishes, to the wonderful bazaars, Mysteryland should be on your bucketlist for festivals.
The setting
The setting was absolutely beautiful.  Based in the Hudson Valley, nomads are surrounded by trees, mountains, and green scenery. Mysteryland doesn't allow car-camping, so nomads are expected to carry their things in to the holy ground. If you aren't too prepared, the trip into the holy grounds can be a brutal one; thankfully, this year Mysteryland\'s staff did a wonderful job getting people in the holy grounds effectively. There is always an influx of people trying to come in, but the staff was very time efficient. As nomads come into the holy grounds, they are taken aback how big the campsite really is.
Nomads have to walk from their campsite to the venue, and it is usually a 15-20 minute walk. It is not a walk nomads would like to do 2-3 time a day because the venue is on a hill;  they had to come prepared with their night time attire.
After the festival, nomads could have gone to silent disco, or could have relaxed with their neighbors and friends. Silent Disco was one of my favorite features of Mysteryland because it hosted DJ's with music that was catchy and unique. This year silent disco was smaller, but still worth it to go.
The venue
Mysteryland is known for its creative art and its healing garden. There were many workshops that were involved in the healing garden, such as yoga sessions, learning to dance, and much more. Around the stages, there were also art that nomads could have taken pictures with, such as a huge teddy bear, zebras, signs, busses, a moon, and a TV screen. Mysteryland used its art well to market itself.
There were 4 music stages in the venue. Mysteryland's stages are very original and creative. The boat stage was literally a boat with speakers, the main stage were 2 birds that intertwine in the middle, the Big Top tent looked like a circus tent, Spiegeltent reminded me of a 80's-90's disco, and BangOn! NYC stage that had a school bus that nomads could party on. Griz had a surprise set on the BangOn! NYC stage on Sunday. The stages weren't enormous, but they were perfect for the crowd of Mysteryland.
One aspect that struck me about Mysteryland was its clothing stands. Mysteryland had a fashion bazaar; the stands  had great products to buy, such as clothing, accessories, hoola hoops, and even hammocks. Usually I don't pay attention to the  clothing stands, but the stands at Mysteryland were worth it with its good prices and even better products. I definitely had to buy myself a sweater (since it was chilly during the night).
The Music
Mysteryland is an EDM festival, but it is not as mainstream as other big music festivals are. Mysteryland expanded to the United States from Europe, and nomads can sense that this festival is different than something like Ultra or even EDC Las Vegas. Mysteryland had big artists such as Bassnectar, Skrillex, and Zeds Dead.  Mysteryland organized its line up especially to  give nomads time to try out artists that aren't usually at an EDM music festival. A treat to see at Mysteryland were XXYYXX, The Floozies, Autograf, and John Digweed. Mysteryland strategically ended with Griz, Zeds Dead and Bassnectar, knowing that its crowd would stand there until the show ended.
Overall, I was really impressed with the line up. Big Top focused on the techno, the Boat focused on trap/bass heavy artists, and the main stage was for the headliners. My top headliner would definitely have to be Odesza. Odesza always brings its audience through a magical time. When it comes to non-headliners, I was impressed with XXYYXX. XXYYXX is sexy with it's catchy R&B, chillstep feel.
It's always sad when the 3 days of Mysteryland are over. Mysteryland is definitely worth the experience. Until next time, Mysteryland! I Can't wait to see what's in store for next year.