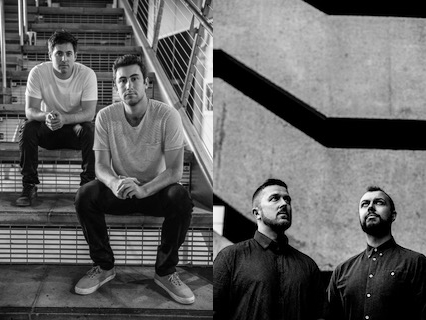 Fresh off their debut EP, Out of Love, Matt Halper and Eli Sones are taking the electronic music industry by storm as Two Friends. The artists have sprung out of their bedroom production studio to one of the most innovative DJ talents of 2017. With support from the likes of Tiesto, The Chainsmokers, Krewella and many more, as well as many up-and-coming releases, Two Friends is sure to be here to stay. The Aston Shuffle, who have been around for over a decade, are continuing to innovate on their sound with tracks like 'Pass You By' to complement the classic songs that catapulted the Australian duo to all-star status. I sat down with one-half of The Aston Shuffle, Vance Musgrove, and Two Friends at their sets at Matoma & Friends at Concord Music Hall to chat about inspiration, the state of electronic music, and future plans.
Thank you so much for being here with EDM Chicago today. I'm a huge fan of you guys – especially the remix of Mr. Brightside by The Killers!
Eli: We'll definitely be playing that one today so stay tuned!
Awesome – I'll be right up front! So can you talk a little bit about the beginnings of Two Friends and how the project came together?
Matt: Two Friends really only started in college. We got together the month before graduation (high school) and we decided to do something fun. We weren't really playing sports, the music scene at the time was growing, and we just decided to become DJs! We put a lot of effort into coming up with the name too.
Eli: Matt played guitar his whole life, did some choir, plays clarinet and had music theory classes. I had done some basic DJing, basic DJing, and we picked up some more speed. By the time we finished school, we decided to really go for it right afterwards.
Matt: When we started college it was a slow progression learning how to produce and it ramped up every year and by junior year we thought we had a chance of doing this after school. So we put on the pedal and now we've been doing it for a year and a half. It's been quite the adventure.
When would you say was that moment where you were like "we can really do this"
Eli: It wasn't necessarily a moment – it was more of a period of time where our songs were getting on the radio, people asking to manage us, and getting shows. And it all happened very fast and so we built that momentum out.
Matt: Junior year some good things were coming up, and so we really thought "this is going to happen".
Very cool! And I feel like you guys have a really unique style. I've tried to categorize it in some way, but can't really seem to fit it into a specific category. So how do you think about your music and its style?
Matt: We've been all over the place. In 2015, 2016 we were doing more soul house/piano house. But now the defining factor is we're songwriting with live instruments and different forms of experimentation.
Eli: It's been very refreshing not to have to think about categorizing a song and just working on something for what it is.
Matt: Yeah, I feel like this is sort of what's been going on in recent years with producers and DJs in that they try not to stick to a genre.
Eli: It's worked out well. Some of the songs we're releasing now, we actually started a long time ago. But back then, we were a little afraid of how people were going to react to it. Now, people are very open to different sounds so it really played in our favor.
So any sneak peeks into the future? What's in store for Two Friends next?
Matt: We're definitely going to be playing some new stuff tonight. We actually just released a song today, it's called "Out of Love". Then we have some other unreleased stuff. It's hard because people don't really know the vocals, so it's more for people to listen and enjoy. But it's really fun introducing new music.
Eli: And this place is very exciting, it's our first time here at Concord. This is our second time in Chicago, but our first time was a long time ago, so we're pumped to be back.
I then sat down with Aston Shuffle's Vance Musgrove after his set.
That was an awesome set! Thanks so much Vance for talking with us tonight. Can you talk a little bit about the inception of The Aston Shuffle and how it came to be?
Vance: It's a really long boring story, but me and Michael were both separately involved in the Canberra music scene in Australia and we had both been DJing and producing for a while; I had put out a record and he had put out some production. Michael was working at a record store and I was out there buying records every week. That's a big thing that doesn't exist in the current dance culture scene anymore – making the trip out to the record store and meeting people there. That's basically how it started – I would buy records from him. Knowing the record store guy was key because he would put aside a record for me because there are only a finite amount of records. And then we kind of found our musical common ground, and we put parties together as well and a whole other bunch of stuff.
Definitely. So I know you're from Canberra and The Aston Shuffle kind of sounds like The Melbourne Shuffle… does the name come from there? Is there any connection?
Not at all (laughs) – It's kind of unfortunate that it ended up having notoriety outside of Melbourne because people make that connection. We wanted to start out a record label for ourselves way back. And we wanted it to be something other than "something something recordings" because that sounded boring. That's when the shuffle came in because it sounds like a dance move. But then what kind of shuffle is it? It ended up being Aston because that was the best way to mash up the suburbs we were living in – Ainsley (where Michael lived) and I lived in a suburb called Weston, so Ainsley + Weston became Aston. Once we heard Aston, we just figured that was it – and we didn't want to find another one.
Ah, interesting!
So we only started doing music under that name because we wanted to promote the label with music under that name. And then we stopped because our DJing and producing took off.
Very cool! There isn't much of a genre classification for The Aston Shuffle. Can you talk a little bit about your inspiration and how you think about your place in Australian music?
Yeah that's something that's been said about us a lot. It's probably a good thing in the sense that as styles change we've managed to keep ourselves fresh when genres come and go. At the same time, it can be a downside when someone is trying to pinpoint which genre you belong in. It can be a downside when the name doesn't immediately ring a bell. It's a double-edged sword in that way. But I guess that's the reason we've stuck around for so long. On some level we want to be not pinned down to something. But 2017 vibe of what we're doing is very much house music, some of what we've been doing is quite deep and some more main-stage/radio-oriented with full vocal tracks. It's been an evolution.
So what do you have planned in 2017 in terms of touring?
We're doing this run of Matoma shows. We're living in New York, so I'm kind of handling US shows. Michael does Asia and Australia shows. I'm doing US and Europe shows and we're dividing it up a little bit. We've got another track coming out on Magician's potion label. He's another guy that we feel a lot of affinity with. We've got a lot of love for him, we did a lot of shows with him last year. So yeah the very next track is with him and beyond that we've got to get the pilot demos out.
That's really great that you're able to manage the project from a long distance. Do you feel like with the duo, you have different styles that complement each other? Or how do you think that dynamic plays out?
Without getting too analytical about it, with any sort of collaboration there's always common ground with what we're trying to achieve creatively, so where the common ground exists is where the collaboration exists. But each person is coming at it from their own place. So we still even now hear the same demo that we're working on in a different way. I'm coming at it from one place and he's coming at it from another place and I'm coming at it from another. So we both definitely have different tastes and sense of where a track should finish, but the combo of that is what makes it great. It kind of extends to having different skillsets. It wouldn't be us if it wasn't the combination. We've shifted our style but we always know when it sounds like Aston Shuffle or not.
Very cool. So being from Australia, how do you feel about the way Australian music is headed towards and how do you feel it influences the way people go out and such?
That's a really good question because most people on the Keep Sydney Open level, on that topic, the general question is "do you support it or not?" and it's really easy to give a soundbite. And of course everyone in my industry everyone wants the venues to stay open, but it's a very interesting question because it's happening in Sydney, it's happening in London, it's going to happen in New York. But it is creating a little bit of anxiety because on one hand music culture is in a very healthy place now. Streaming platforms have created the total dollars of the music market. As the audience grows and the music industry as a whole is growing, politically, there is no appetite for allowing night clubs and a big push to clamp down on festivals from the drug, violence and alcohol angle. Every territory has got its own particular circumstances that creates political attention on trying to shut it down. And it's a bit of an anxiety causing thing to see how you have fans and your culture means something to people, and it's growing. But the interface between the industry and the fans is something that is being clamped down on and it's a bit frustrating. There's no blanket solution. But the one thing that Keep Sydney Open has done is putting a positive protest movement on. Giving that scene a voice has been fruitful, but what I think is essential moving forward is making a broader political voice around the music-going crowds and venues as a legitimate sector on its own. In Australia, it gets absorbed under the umbrella like lockout laws just to venues that sell alcohol which is pubs. That is what dominates the political conversation, so politicians only hear from that part of the industry and the idea that there is a sub-section of venues that sell alcohol but are really trying to sell tickets to people to see their favorite bands and DJs. The alcohol is incidental to what they're trying to do. But the way it's regulated and the politics around it makes people only see that side. I hope Keep Sydney Open helps create a step towards putting a viable, credible voice behind that. Musicians inherently are more liberal and they have political views, but it's not always the case that you want to get out there and talk politics. I see this as an underlying cause of what's happened. There should be initiatives to prevent abuse of alcohol and drugs at the venues, not just shutting them down. I definitely feel anxious about all of this – the music industry being on a high and the venues/locations having difficulty in this political environment.
That's super fascinating. I could talk about this all night with you, but I know you have places to be and people to see so I'll wrap up here! I think you guys are truly veterans of house music, and have evolved your sound through time. I remember the 2011 Swedish House Mafia-esque remixes and productions, and it feels like you progressed with industry trends. How do you think about that shift?
It's a classic DJ's mentality – to think about what the next sound is going to be and what's going to capture people's imagination. Deep down that's where we've always had our heart. We look at trends and hear records and think – is it old? Is it weird? Is it never going to work? But yeah, we've been putting out records for ten years, but I think the truest expression of what we do is as DJs.
Thank you so much, Vance! It was awesome talking to you and getting your perspective on some of the most pressing topics in the electronic music scene!