Always liked the smell of wood shavings? Think it's cool to make things with your own hands? Want to introduce your guests to a home world you have made yourself? Great reasons to start woodworking as a hobby. But to start doing things, you need tools. And choosing the right ones will save you a lot of money – just by avoiding too professional (and expensive) or too specialized ones.
You can simply visit a review site like electrogardentools.com and decide whether you need this or that tool. But before you do it, you need to have some idea of what you are to make in your workshop. Let's see which tools are necessary for your weaponry and which are optional.
The general rule is that in the beginning you will need the most common tools. The set of these, though, will include dozens of titles. So, let's start crafting your workshop from scratch.
Very Necessary: The #1 Tools
Here are the tools that are necessary for your workshop. Without them, you may feel helpless.
A thickness planer and (optionally) a jointer. With this pair of tools, you can make the opposite faces of your wood block flat and parallel to each other. This is necessary so frequently that I mention this pair of tools first. But if you cannot afford or find a good pair, you can be good with just a planer.
A worktable. It's the basic furniture piece that you will need for most operations. Select one that fits your height or is adjustable.
A sawhorse. Cutting lengthy logs or boards is easier in it, as it lets you access the wood piece with a saw from different angles, unlike a table.
A table circular saw or a miter saw. I would recommend a table model unless you're into fine works that require a finer approach. A table saw is great for rougher works: less precise, it can cut deeper and handle thicker wood pieces. As for miter saw, it's great for more precise cuts and for beveling edges. Despite that difference, though, chances are you will only need one of these as you begin.

Source: This Old House

A hand saw. It will require more effort than a circular one, and working with it may take more time. On the other hand, it requires no power, it's rather precise, and you can take it almost everywhere.
A jigsaw. It's great for making curved cuts no straight saw is capable of. This tool will require some time to master. But when you do, it becomes irreplaceable.
A random order sander.
A router with router bits.
Chisels with different blades.
A power drill. Making holes in wood is possible with a hand drill, but a power one saves time and effort. Usually it comes with a set of bits, but you may need extra ones of different thickness.
A plane. It's necessary for smoothening wood or for adjusting its thickness finely.
A hammer (two, or three) and nails of various length and thickness. If you join wooden parts at all, you will sometimes want to connect them with no nails, by precise cutting. But it requires some level of art a beginner rarely achieves soon. In addition, using nails or screws is just simpler.
A power screwdriver and screws of various length and thickness.
A measuring tape.
This list may look rather long and frightening. But visit your neighbor's workshop to see it's far from complete. On the other hand, it has some hand tools that are not expensive at all.
Nice Options
Lots of accessories are made for tools, as well as for workshops. Some of them are provided by manufacturers of the tools themselves, and this goes as far as complete incompatibility of accessories across brands. Under one brand, accessories are mostly compatible with entire lines of tools.
A vacuum. It's great that power saws and planes have special adapters for connecting a vacuum, so it removes the dust in real time. It's a must unless you prefer to clean your workshop manually like in good old times.
Crayons and pencils for making marks on the wood. Probably you have some at home already, but it's better to have dedicated ones.
A headlamp, in case you need to work in the dark, or just need the area to be lit better.
A rail guide or two if you prefer a miter saw. They let you use the biggest advantage of miter saws – high precision – and make your cuts even more precise in less time.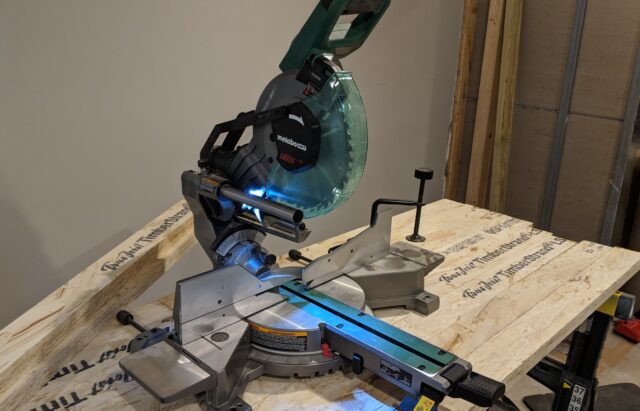 Thinking in General
Some think that the cheapest tools are best for learning. First, you can get them for less; second, you won't regret so much if you give up the hobby. I wouldn't say so. Cheaper tools are likelier to disappoint you if they suddenly break or turn out to be improper for some operations. So opt for cheaper ones only if you get them as a gift.
Light matters. So provide your workshop with daylight unless it's deep in your basement. Make sure electric lights do their work and light up the entire room.
Where are you going to store all your tools and materials? Start planning your workshop with the room. Not only should it have enough space for your projects and inventory, but also provide storage for those you do not need at the moment.
When you choose manufacturers, you better opt for well-known names. Makita, DEWALT, BOSCH, Milwaukee, Ryobi, Dremel, Husqvarna – the list is not definitive, but these deserve their praises. Saving on Chinese tools can be seductive, but you need to gain some expertise to find really good offers.
Buying used tools is a risky business. As you are a beginner, you probably lack the expertise necessary to rate their conditions. So, unless you have an expert friend, you better avoid even the most attractive offers on eBay and other marketplaces.
Last but not least. There is always something you need but have not bought. You will find it out the very moment you start your first (second, third, next) project. So don't spend your entire budget on initial purchases. Stick to the tools you will definitely need and leave some amount to purchase what you eventually find out you lack.
Word to the Master
If you have some experience and expertise in shaping your workshop from scratch, we'd like to hear from you. What can you recommend to the beginners? What mistakes from your story can you share for others to avoid? Feel free to comment, and it will be a nice talk workshop.