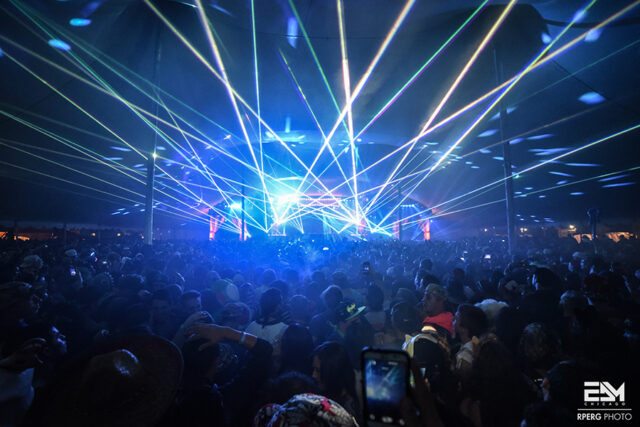 Hard Day of the Dead. Escape. Voodoo. Freaky Deaky.
Halloween weekend has turned into one of the biggest festival weekends in America, and Chicago finally has one of its own. The three day React Presents festival at Toyota Park in Bridgeview went smoothly for a first year fest, but honestly, I was expecting more.
The setup was extremely basic and looked more like a neighborhood carnival rather than a music festival. Taking place in Toyota Park's parking lot, the setup had two main stages, known as The Big Top and The Shrine. In the middle was a tiny stage known as The Crypt, which had themes including Trance Arena, Beatport Stage, and the Underground Stage. I was disappointed that the festival didn't utilize the inside of Toyota Park, similar to how Soldier Field is used for Spring Awakening.
The festival was severely lacking in food options, and barely had anywhere to sit other than a few picnic tables. It had a ferris wheel and swinging ship, which almost never had lines and cost $7 for each ride. The food options included Harold's Chicken and generic food stands that traveled with the carnival rides.
This was basically an experiment; it was Chicago's first cold weather festival, and first music festival held at Toyota Park, a venue normally used for soccer games, local events, and concerts like B96 Summer Bash and Jimmy Buffett.
Friday was a beautiful day and the lineup was impressive, but after the cancellations of Tchami (car accident), Action Bronson (surgery), and Paper Diamond (delayed flight), the schedule was a bit lacking, as the artists were simply replaced with local DJs. Grandtheft, Sub Focus, and Bassnectar were some of my favorites of the day.
Saturday brought a much different vibe, as it was rainy, windy, and cold. With Halloween falling on Saturday, the place was a bit overcrowded following Cash Cash and Tritonal's back to back set at 4:30. For example, it was nearly impossible to move inside The Crypt at night, which had a negative effect on DJs like Hannah Wants and Shiba San, who make music that people are supposed to dance to (not stand around to). Gesaffelstein's set was even more crowded, and he played like he was looking forward to Day Of The Dead in Los Angeles the next day.
Unfortunately, I was getting this vibe from several DJs this weekend. For many of them, it was a jam packed three days full of travelling, and a parking lot festival in suburban Chicago simply wasn't their first priority.
Other DJs, like Justin Martin and A-Trak, delivered memorable sets and seemed to have as much fun as the crowd. Sunday was much better, as the warm weather was back, and there were considerably less attendees. Datsik threw down an absolutely wild set and possibly drew the biggest crowd of the day.
Although the festival did a good job of bringing a diverse lineup, the festival had a very mainstream vibe to it. Three of the most energetic crowds I saw all weekend were at Borgeous, Borgore, and Carnage (this says a lot about the festival and people it drew, in my opinion). Hip hop shows from Vic Mensa, Mac Miller, and more were scattered all over the lineup, but were extremely empty compared to the electronic sets.
This diversity was most apparent during the closing sets on Sunday night, which put Pretty Lights, Carnage, and Richie Hawtin all at the same time slot. It was fascinating walking from stage to stage and seeing how different each show was. The Pretty Lights crowd was just chilling and vibing out, the Carnage crowd was turning the fuck up, and the Richie Hawtin crowd was dancing and there for the music. EDM is in an interesting place right now, with countless different scenes and genres, many of which have little in common and constantly talk shit about each other. How cool would it be if we all got along and respected one another and our music tastes?
Toyota Park did a good job with Freaky Deaky; security wasn't too tight but they did their job. There were medical personnel always on hand; thankfully, they didn't seem too busy this weekend.
Overall, the first year of Freaky Deaky was average. Although the stages were spaced nicely and didn't interfere with one another, the festival grounds were too small, and it needs a better layout. If a festival is gonna be held at a faraway location like Toyota Park, it needs to fully utilize the facility. If not, they might as well just have it in any parking lot downtown. I also hope next year brings a better and more experienced crowd. The drug users were a bit obnoxious at this fest, and I've heard many stories of stolen phones and disrespectful people.
Again, Freaky Deaky was an experiment, and considering that, it went pretty well. It will be interesting if Spring Awakening is held here instead of Soldier Field due to Copa America. React will seriously need to up their game for that one. Until then, I can't wait for Reaction NYE.
View the full EDM Chicago photo album from Freaky Deaky below:
[foogallery id=\"31916\"]