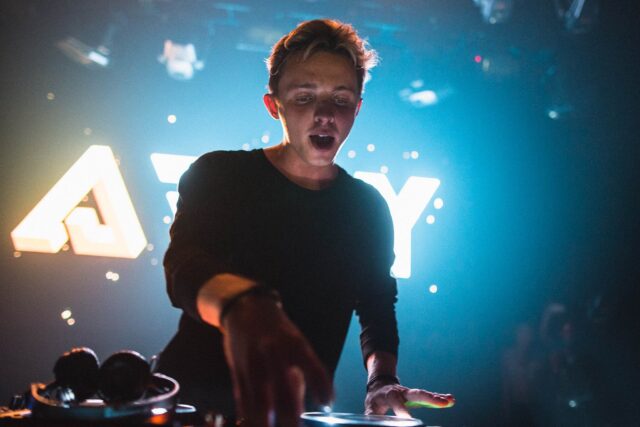 How was your summer?
Great. Lots of work!
What\'s it like being one of the few big electronic artists from Russia?
I love my country, and love to think about the fact that I represent my country as well. But it\'s not about nations right now. The coolest thing about he music right now is that it\'s so blended.  You can do whatever you want, and it doesn\'t matter where you\'re from. As long as your music is good, that\'s what matters.e
For our readers who might not be familiar with Arty, how would you describe the music you make?
Music I love. Some of the general themes are progressive house and house, but with my album I went way deeper, with a lot of themes that I can\'t even describe that well. I play everything that makes me happy, and everything that makes my fans happy.
So your debut album, Glorious, is a lot deeper of a style?
Definitely. The music my release on my album is much different than the music I release otherwise. That\'s the coolest thing about the album, I could express myself in so many different ways….not just as a house DJ or a trance DJ. As a producer, it was really fun for me to make.
Do you plan on playing a lot of the new songs today during your set?
Most of that, yeah. But a lot of the tracks are different, and they have a wide range of BPMs, so I can\'t always fit the whole album in my sets since they\'re much more progressive. It really depends on the crowd reaction. That\'s a huge part of my live shows…I don\'t want to see the people falling asleep! I try to make my sets dancey.
Do you have a favorite song on the new album?
No. I love all of them. I want to people to decide.
Where have you played in Chicago before?
Concord and The Mid a few times. Also Spring Awakening a few times and EDC Chicago.
What\'s it like playing in America opposed to back at home?
It\'s a little bit different. For example, when I play in my hometown, not only do people enjoy the music, but it\'s still my homeland community. They give me so much support. It\'s hard to explain, but you feel bonded with these people in a different way.
What can we expect from Arty in the coming years?
A lot of music. I\'d like to take a break for a bit after my album, since I was working so hard on it for so long. But I\'m already going back to the studio next week. There\'s no break for me! At the moment, I just can\'t see myself not making music.