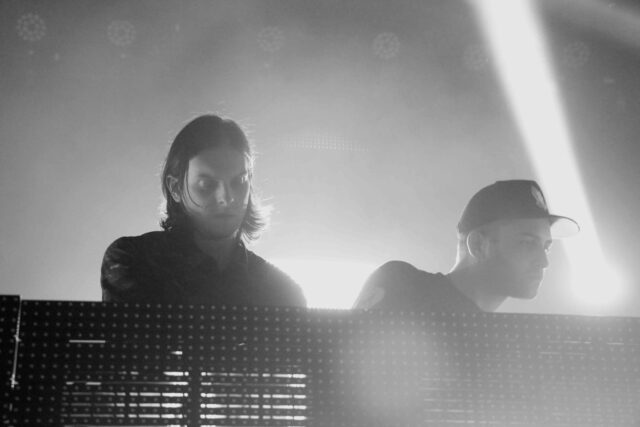 \"Zeds Dead baby, Zeds dead.\"
The fact that the Montreal bass duo consisting of Hooks (real name Zach Rapp-Rovan) and DC (real name Dylan Mamid) based their performing name off of those five words from Quentin Tarantino\'s cinematic masterpiece, \'Pulp Fiction\' says a lot about them.
Firstly, it shows they have great taste. Obviously in movies, but in music as well. Their latest EP, \'Somewhere Else\' represents their indifference to conforming to genres as there are expertly produced tracks from all across the spectrum of electronic music including disco, rap, dubstep, house, and trap. Like Tarantino did with film, these two producers have consistently pushed the boundaries of electronic music, and come up with a few monster hits in the process.
This great taste also extends beyond their own productions into their performances, as they are one of the few \"mainstream\" electronic acts that has no qualms about incorporating non-electronic songs into their live sets. One second you\'ll be listening to some raucous bass track, and the next you\'ll be hearing Jimi Hendrix.
Lastly, the second word of their name describes the audience\'s state of mind after one of their performances, because they always kill it just that hard. This past Saturday (11/21/15), the second of two consecutive nights at the Fonda in Hollywood, was no exception.
After opening their set with a recording of Bruce Willis\'s utterance of those five words, Zeds Dead proceeded to craft a set that both reflected their premier taste in music, and their versatility as producers.
All throughout the night the songs being heard would be morphed around their own original tracks. When they wanted to play \"Hadouken\" and \"Collapse\", they cranked up the low end and went through dozens of tracks from the bass spectrum including dubstep classics like \"Equinox\" by Skrillex, and Skream\'s remix of \"In For The Kill\" by La Roux. When they wanted to show off their groovy side with house tracks like \"Lost You\", and \"You Know\", they got the crowd moving with upbeat bangers like Nero\'s \"Two Minds\" and Oliver Dollar\'s \"Pushin\' On\".
Not to say they didn\'t indulge their roots in the underground as well. At one point during their set, DC announced to the crowd:
\"We\'re about to go old school with the dubstep right now!\"
Right after he said that, all the lights were cut except for the glowing white \"ZD\" logo behind them, and they played the deepest, most minimal dubstep for about 15 minutes. Most of the crowd consisted of younger adults who were already having the best time, but once the old school dub started playing everyone over the age of 30 started going completely wild.
The rest of their set explored literally every genre of electronic music including drum and bass, hardstyle, moombahton, breakbeat, and bounce music. However, they didn\'t stay in the realm of electronic music the whole time.
As was mentioned prior, no more than 15 minutes would pass without the inclusion of a non-electronic piece of music. A few of these songs were \"Boyz \'N The Hood\", by N.W.A., \"A Day In The Life\", by The Beatles, \"Ain\'t No Sunshine\", by Bill Withers, and \"Otherside\", by the Red Hot Chili Peppers.
By selecting such records to play live, Zeds Dead accomplished two things. They took a break from the nonstop thrill ride of EDM by providing a retro vibe, and they reminded the crowd of something most EDM fans and DJs alike often forget: that any song that has ever been recorded can be played by a DJ.
That\'s the one thing DJs have over instrumentalists, there are no limits to be what they can play up there. If they wanted to play Carmina Burana as a lead-in to a dubstep drop, they could. If they wanted to mix Taylor Swift and John Coltrane, they could. As long as they have it on their usb or laptop, there\'s nothing to stop any DJ from doing that.
However, most DJs have their image wrapped in what they play, and they can\'t risk going against it. If Tiesto only started playing dubstep live, there would probably be riots and 80 percent of his fan base would likely disappear.
The difference between Zeds Dead and Tiesto is that the image Zeds Dead made for themselves from the beginning was one of utter versatility. When they step on stage, the only thing that you know for sure is that you\'re going to have a damn good time, but the soundtrack to that damn good time is decided right then and there.
Oh did I forget to mention, they also brought out Skrillex at the end of their set.
Check out some photos from their show below. All were taken by Harry Levin.