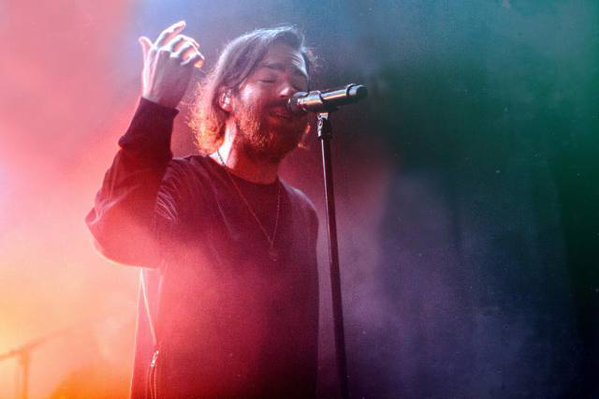 Chet Faker (real name Nicholas James Murphy) is a man of many talents. Singer. Songwriter. Multi-instrumentalist. DJ. Curator of countless one-liners on Twitter. In a relatively short career, he has defined his own sound in addition to contributing to the sound of others. Murphy is working hard to display his skill as both a solo artist and a collaborator. This applies to his work in the studio with artists like Flume and his live performance.
A Chet Faker show can take many forms, but the one most indicative of his abilities is when he brings the full live band, which is what he brought to the Observatory on Monday. After a brief yet funkified DJ set from Marcus Marr, Chet Faker took the stage. Joining him was a drummer, and two guitarists/keyboardists.
Now, in my extensive research into live music, I've come to the conclusion that there are two essential kind of live performances, both of which can be equally impressive. The first where the band replicates the record in pristine and brilliant fashion, and the second where the band uses the stage to its full potential and turns each song into something completely new. Following the trend of displaying the talent of those around him, Chet Faker chose the latter.
Because Murphy writes, composes, and produces his work, his use of a live band emphasizes the elements of soul, funk, and other genres to a heavily electronic style. With his band, he would slightly alter or extend songs like "Release Your Problems" by adding another chorus or backup vocals while his sultry voice and irresistible stage presence melted the hearts of every lady (and most of the men) in the ridiculously packed house.
Throughout the night he continuously gave homage to his influences and collaborators. Even when the band left the stage and Murphy used the beat pads and keyboards in front of him by playing "Drop The Game", the lead single from his EP with Flume, "Lockjaw" right after his breakthrough hit, "No Diggity", which he covered from Backstreet. He covered Jeff Buckley, he brought out Marcus Marr to perform "The Trouble With Us", and when it came time for the downtempo serenade, "Dead Body," the lead guitarist matched Murphy's energy for the entirety of his solo.
Just as he did when he chose the name under which he would make music (Chet Faker is a play on the Jazz trumpeter Chet Baker) Murphy feeds off the people he works with. With his ever-growing body of work, Murphy continues to expand his style and develop his sound, and the people he works with benefit in the same way. The people who benefit the most though are definitely the people in the crowd.