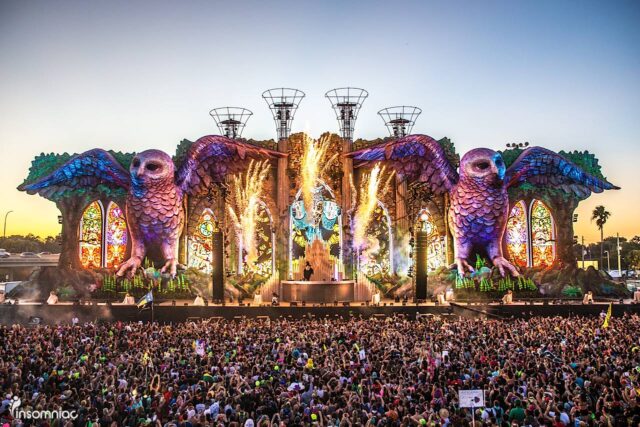 The excitement for EDC Orlando is starting to slowly, but surely, take over my body. We are now less than a month away until we are all reunited under the electric sky in Orlando, Florida. This year will be the fifth installment of this production, and it is scheduled to make its return to Tinker Field on November 6th and 7th. This will personally be my fourth time attending this festival, and I have a feeling that this year Pasquale Rotella, who is the founder of Insomniac, has some surprises up his sleeve to make this EDC another magical and unforgettable experience for us ravegoers. Here are just a few reasons as to why you should be excited for EDC Orlando this year.
1.) Lineup
It is no surprise that when it comes to EDC the lineups are always so unique and original. The reason behind this is because Mr. Rotella believes in a festival where YOU are the headliner; that a festival experience is more than just booking the best DJs in the industry. This year's lineup for EDC Orlando had my jaw drop because of just how much variety Mr. Rotella will be providing us ravers with. The genres range from trap to trance, to house, and even to bass.
EDC Orlando brought a lot of new and upcoming artists as well. For instance, Alison Wonderland, AWT, and LOUDPVCK are just a few to name from the lineup. Some EDC Orlando veterans have also been booked to play this festival, including Kaskade, Tiesto, and Calvin Harris. Who is performing on each day has also been released. Take a look below for yourself.
2.) Bassrush Experience
This EDC Orlando is promising its headliners a festival full of bass. The Bassrush experience is making its return to EDC Orlando on Friday November 6 and the lineup has us just wishing we were already raging. Doctom, Snails, Crizzly, Bro Safari, and Excision are just a few names that will be a part of this experience. Bass heads will be in heaven from start to finish all weekend long.
3.) Production
Insomniac productions are known for being some of the best in the electronic dance music community. As I previously stated, this will be my fourth time attending this festival and there's a reason for that. Tinker Field is transformed into a ravers playground with decorations and art installations set up throughout the entire venue. The three stages at this festival always have such different designs every year and never disappoint. The sound and lights that EDC Orlando always brings helps to create the EDC experience and transports ravers into a new world.
4.) Carnival Rides
EDC Orlando doesn\'t just provide music to their headliners, they also provide a full carnival of rides as well. This is one of my favorite features from this festival. Some festivals just include a ferris wheel or so, but EDC brings a multitude of carnival rides. Nothing is better than being on a carnival ride while your favorite DJ is playing on the main stage. The best view of the show is hands down, on top of the ferris wheel overlooking the festival. It is a breathtaking view, and you need to experience this because it will give you chills like no other. I suggest doing this the first day, though, because the line for the ferris wheel can get long at times.
5.) People and Vibes
Each year EDC Orlando attracts the best ravers to come together as one under the electric sky. The rave scene in Orlando has gotten big over the past couple of years. With each EDC Orlando getting bigger and better the people at this festival are the most down to earth people ever. EDC Orlando is a festival that really brings out the creativity to because everyone that attends this festival dresses up too. Customized bras and daisy\'s flood Tinker Field during this festival. I always connect and meet so many new ravers each year because everyones heart is in the same place.
These are only a few topics to as why you should be excited for EDC Orlando. I know just typing this up, I started getting flashbacks of previous years and got even more excited for this year's EDC Orlando. If you have not gotten your ticket yet don\'t worry, because tickets are still on sale now for both general admission and VIP. However, I would recommend you hurry up and buy them now, because it won\'t be long before EDC Orlando is sold out! The link to purchase tickets is given below.
Ticket Pricing
I cannot wait to be reunited with everyone under the electric sky again.
http://orlando.electricdaisycarnival.com/tickets/
Source: Facebook
Photo Credit: Facbook