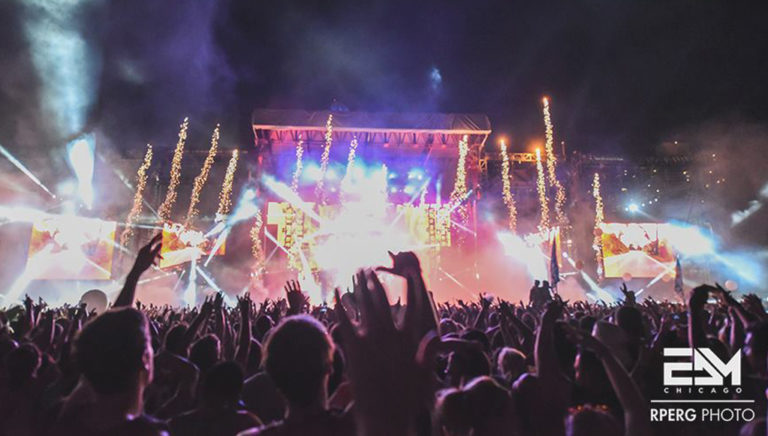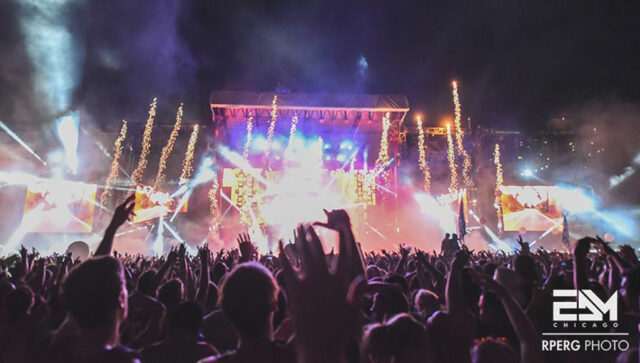 It\'s the most well known and popular festival experience in Chicago. But it\'s far from perfect.
Lollapalooza occurs in the middle of the city in Grant Park during the first weekend of every August. This was my sixth year in a row, and somehow, this huge festival keeps growing. Three day passes sold out within roughly 15 minutes. Keep in mind that this festival packs 100,000 people into Grant Park every day.
The intense growth of festivals in America and need for increased revenue (last year resulted in an expensive cleanup) has made Lollapalooza into a stressful, jam packed environment. Walking from stage to stage is a journey. Be ready for long lines at all bars, water filling stations, and most restaurant stands.
You\'ll also be guaranteed to see countless (very) underage girls crying into their phones, lost from their friends, and others crying to their friends about how they lost their phone. You\'ll constantly see passed out, blacked out children leaning up against trees with their heads facing down, currently facing their worst (or first) hangovers.
I think one of the main reasons for the increased amount of underage kids here is the strict age restrictions most other Chicago events have enacted. The only EDM event I can think of worth going to in this city last year that wasn\'t 18+ were shows at Navy Pier (Skrillex, Above & Beyond) which I believe were all 17 and older. Other concert halls in the city are 18+, while Spring Awakening enacted an age requirement for the first time this year. This had a wildly positive effect on a festival [review] that was known for the exact thing I couldn\'t get away from at Lolla.
Which brings me to the EDM scene here: Perry\'s Stage.
When I first started going to Lollapalooza in 2010, Perry\'s was a small club-like stage on the outskirts of the festival. It might\'ve been the smallest stage there. However, within less than five years, Perry\'s is basically the third main stage.
The worst part is, they\'re doing it wrong.  They\'re making EDM look bad and justifying the complaints from most festivalgoers, who believe it should stay as a alternative rock and live band type of event. The main stages are packed with people seeing the likes of Twenty One Pilots, alt-J, and Paul McCartney, who described the heavy bass from the stage as \"the shit that\'s playing over there.\" If you like Alt Nation on Sirius XM or Q101 in Chicago, then Lolla is your ideal festival. Walking around Perry\'s and the surrounding area, I was absolutely embarrassed seeing what our culture has become known for.
At Perry\'s, if you\'re not fucked up with all of your friends and nonstop jumping up and down, you\'re out of place. No one is really dancing, and crowd interaction is rather low, other than mosh pits. The left side of Perry\'s was full of the older crowd from the main stages, taking pictures of these kids and a whole new culture they have never seen before. The right side is full of high schoolers either standing around awkwardly or jumping up and down and taking pulls of brown liquid out of water bottles.  Although entrance security and patdowns are sometimes non-existent here, drug use didn\'t seem too out of control, which is a good thing considering the inexperience of this crowd.
Unfortunately, I feel like Lollapalooza is almost encouraging this \"get fucked up and fist pump\" culture, as it\'s the exact direction they\'re going in based on the performers they\'re booking. Perry\'s stage is focused on the most mainstream aspect of EDM. DJ Mustard, DJ Snake, Dillon Francis (PLEASE go back to moombah), and Kaskade had some of the prime slots on Friday, while HARD founder Destructo played early at 2 P.M.
Alesso headlined the stage Saturday. RL Grime and Carnage played earlier in the day, with Boys Noize in between. This was the only non rap/typical EDM show in a prime time slot at Perry\'s, and it was ridiculously empty. Caked Up and an embarrassing performance by Travi$ Scott came before.
Sunday was dominated by Galantis, The Chainsmokers, and Nicky Romero. Perry\'s needs more variety. Going down this radio friendly road won\'t end well for anybody. It\'ll only attract more of the crowd most festivalgoers would like to avoid, while successfully upsetting the Lollapalooza faithful that want nothing to do with EDM.
Although the EDM scene at the fest isn\'t ideal, the main stage areas are much better. Kid Cudi and The Weeknd were incredible at the Bud Light stage, as were Sam Smith and ODESZA. Bassnectar was impressive on the same stage Sunday night, who followed an unforgettable trap/bass set from NGHTMRE at Palladia on the opposite end of the field. Hermitude and Banks were some of my favorites on the Pepsi stage, while I heard only positive reviews from friends who ventured into the sea of people to see Paul McCartney, Metallica, and Florence headline at Samsung Galaxy. Most of my favorite times were spent away from Perry\'s. It\'s just not an environment that most festivalgoers would like to be in, and hopefully, C3 Presents will take notice.
The first step in the right direction would be an 18+ age limit, which will probably be non-negotiable within a year or two. With the incredibly high demand of Lollapalooza tickets, there\'s no chance that an age limit would prevent it from selling out. According to this study done by Lurie Children\'s Hospital, 102 teenagers visited the ER in 2014 over Lollapalooza weekend in 2014. I wouldn\'t be surprised to see an even higher number this year.
Next, I hope that future lineups have greater variety when it comes to EDM. There\'s generally always impressive electronic music and electronica around the festival, but Perry\'s needs something more. Bring back house/techno like Duke Dumont and Gesaffelstein last year, and let acts like Black Tiger Sex Machine and SNBRN play later than 12:35 and 1 PM. Maybe bring a dubstep act or two. And please, get rid of Caked Up and Carnage.
The scheduling could be better as well; having Kygo, Bassnectar, and NERO at the same time made little sense to me, and there\'s little flow between acts. I also have a hard time believing that it\'s necessary to have 15 minutes in between each act at Perry\'s. It\'s a real vibe killer, and could be replaced with nearly two hours worth of music each day.
I still love Lolla, it just needs a bit of work.
Lollapalooza 2015 Pictures: 
[foogallery id=\"28062\"]