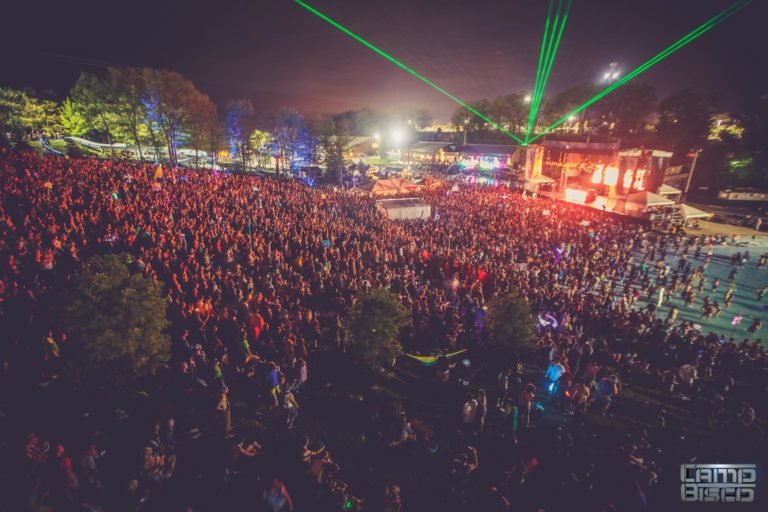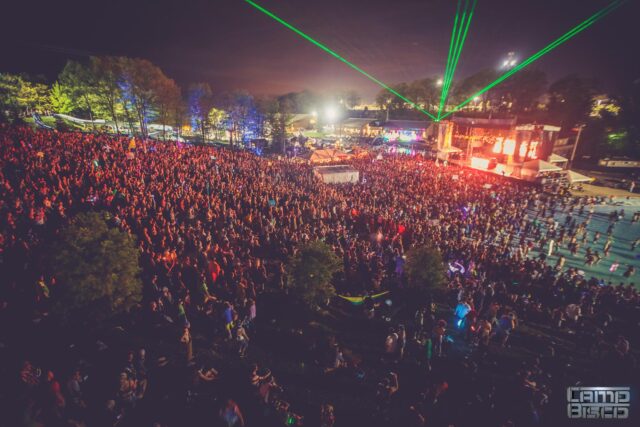 As the Disco Biscuits' closed their first set of the weekend, bassist Marc Brownstein gripped the microphone to leave a parting message of love to the sea of passionate fans supporting the reincarnation of Camp Bisco, and he said, "Please, everyone be safe out there!"
The emotion that flowed through his voice was strong and his message was received by the tens of thousands of people that flooded the amphitheater. This was the 13th Camp Bisco and the triumphant return after it was cancelled last year. There has been much speculation in the past about the Bisco crowd being a bunch of drugged out zombies in search for their own minds but the return revealed a shifted focus to the music, shedding away the allegations of Camp Bisco being a Fear and Loathing festival.
The crowd this year was vibrant, coherent, and present. Sure there were drugs, but not more than any other festival I've been to, in fact I definitely saw less. I had to fend off many more nomadic drug dealers at other festivals than I had to at Bisco. Drugs are a small component of all festivals and Bisco is no different, but this festival is more about the music, which is why Brownstein wrote this at the end of his welcome message in the 2015 booklet, "Music can really lift your spirits all by itself." Especially with a lineup like this.
Venue
Montage Mountain, the new home of Camp Bisco, is a ski resort water park nestled in Scranton, PA and the folks at Camp Bisco transformed it into one of the most unique festival grounds around. Ski hills became seats for Tipper, forests became camping areas, food courts became concert halls, ski rental huts became the only room in the festival with AC along with power, and the entire facility was transformed into an electronic wonderland. Although the location was quite a spectacle, getting to the top of the mountain became a huge problem on Wednesday night.
The line that was forming to get onto the buses that take you to the tractor shuttles that take you to the festival grounds on top of the mountain was bombarded with "cutters" who parked in a near parking lot causing the line to be drowned in congestion and basically motionless for up to 8 hours. I got in line at 10:30 and gave up at 3:30. When I returned from my car I saw a man who had been in the same place at 10:30 and it was 5 a.m. It was bad, but it was resolved after they got more buses and in their defense the booklet reads that shuttle system was only supposed to operate until 1 a.m. on Wednesday. This was one of the only problems of the venue if you don't struggle climbing steep hills but the scenery was breathtaking, with tall trees towering over you in all directions. The festival grounds also offered water slides, zip lines, and lift rides to the top of the mountain. The grounds were a 15-20 minute walk across with three stages and a disco lounge showing some of the best artists in the electronic world.
Music
The lineup at this year's Bisco was incredible, featuring sets from Pretty Lights, STS9, Emancipator, Jauz and so much more. I must mention the sets delivered by Bassnectar and Tipper on the final day. Lorin, basically a resident at Bisco, gave the Bisco Bassheads the Mudson revenge set with a mind melting compilation of songs that eradicated all sense of time and space leaving those in attendance in a filthy bass trance that lasted 75 minutes. He played at the Electric City Stage (Main Stage) which is an amphitheater full of seats which seems silly at first but turns out to be quite amazing once you stand on your chair and get a perfect line of sight to every headlining act. Tipper closed out the festival with an hour of glitched grime-bass that took total control of the crowd, forcing them into a dance frenzy.
Many artists dropped new music at Bisco such as Big Gigantic who unleashed their long-awaited collab with Griz, "Good Times Roll" while Manic Focus showed off a new track he made with Artifacks. Other notable happenings include Filibusta busting out some rhymes during his set and Mr. Carmack   DJ'ing silenly for 10 minutes in the middle of his set with headphones on canceling out the "WE CAN'T HEAR YOU" chants, his attention was enveloped by his set. The disco lounge was dishing out bass bombs until 4 a.m. every night with gnarly sets from artists such as Exmag and Freddy Todd. As for the cherry on top, the Disco Biscuits played six sets throughout weekend with jaw-breaking light shows making this an incredibly satisfying musical gathering as well as a haven for good vibrations.
Vibes
Camp Bisco was a very open, accepting place with people who wanted to get to know you and experience your person. Most conversations ended with solid embraces signaling the connection that had been made. Bisco was on top of a mountain this year and it took work to climb it. But once everyone finished the journey and settled in, it became a place with happiness splashing around in every corner. On top of that mountain you felt free to show your true colors, allowing the love that flows through you to join with everybody else's in a pool of bliss. It was a great experience that I will not soon forget, thank you Camp Bisco! Check out some photos below.