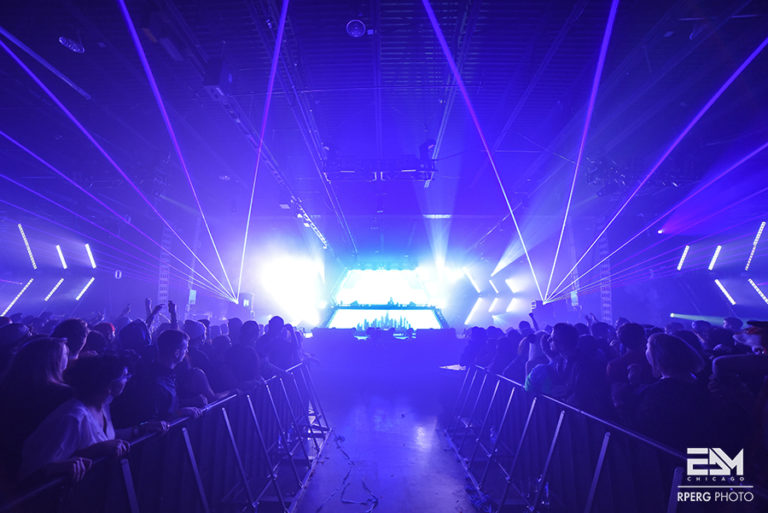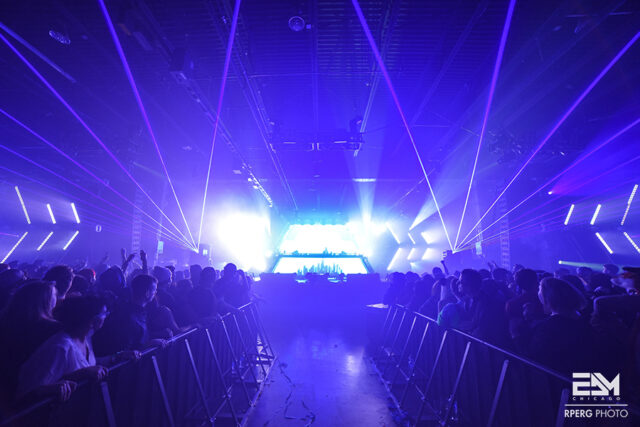 Chicago is no stranger to massive, two-day New Year's Eve events in the EDM scene. For the past four years, React Presents has thrown some of the best parties in the city on December 30th and 31st.
NYE 2011 hosted Rusko at Congress Theater for two nights. 2012 brought in Porter Robinson before the transition to his "Worlds" persona, along with up and comer Hardwell. Aragon Ballroom welcomed Zedd in 2013; last year had Zeds Dead with incredible support from Loudpvck, Seven Lions, Jauz, and Djemba Djemba.
But now, it's 2016, and EDM and festival culture is bigger than ever and continues to grow. For NYE 2015, it only made sense for React and parent company SFX Entertainment to bring us another brand new, multi-day, multi-stage event in the city limits of Chicago. Similar to Halloween weekend's inaugural Freaky Deaky at Toyota Park in Bridgeview, Reaction: NYE was held at the Donald Stephens Convention Center in Rosemont.
After walking into Reaction on the first day, I was pleasantly surprised. Rather than the crammed, small setup at Freaky Deaky, Reaction's three stages were spread out nicely and did not interfere with each other at all. The main stage hosted the likes of Robin Schulz and Probcause, while the second stage in the adjacent room of the convention center had acts like REZZ and Cherub. A third "Arcade Stage" could be found as well, which hosted a variety of local acts next to about a dozen classic arcade games.
Jamie Jones stole the show the first day for me, as his hour long house set was easily the most captivating and impressive show that day. Deadmau5 was the main stage headliner, but his set probably would have been more appropriate for a tiny club rather than the headlining slot at Reaction. Unable to bring his full stage setup due to weather and time constraints, Joel played an unforgettable techno set, as well as several of his crowd-pleasing hits after donning his signature mau5head.
The second day's lineup had much more to offer, with Mija, Autograf, the Floozies, Chance the Rapper, and Skrillex all on the main stage. Autograf really stood out to me, as the Chicago natives graced us with an hour of beautiful, upbeat tropical house, followed by an always entertaining and funky set from the Floozies. Skrillex threw down a typical mainstage set with the same songs he's been playing for the last year (sick of this one yet?), but nearly all attendees I talked to were blown away by Sonny. However, Get Real was truly phenomenal closing out the second stage, with Claude and Velvet playing a perfect mix of their contrasting styles.
Overall, Reaction: NYE was satisfying. Although I saw the medical team pushing occupied stretchers countless times, I found the crowd to be rather mature and full of positive vibes. The stages were spaced out well, and other than a few acts that suffered from poor sound quality (i.e. Run The Jewels), the production was solid.
But honestly, I was left craving more. The first day's lineup was noticeably lacking, most likely due to the high price tag of Deadmau5, similar to what happened on the third day of Summer Set. The second day's lineup was better, but still, I just had the impression that Reaction could have been much more fun.
I found this event to be lacking an identity. React has basically monopolized the electronic music scene in Chicago over the past few years, but for Reaction, they went for a much more diverse lineup. Having a variety of acts is definitely not a bad thing, but there should be some type of pattern or common theme among these performers and the corresponding schedule. For example, on day one, the main stage closed with Robin Schulz to CHVRCHES to Deadmau5.
With Reaction's setup and artists, I would be much more satisfied with one stage catered towards live music (Cherub, Thundercat, etc.) and another one towards electronic music (Cashmere Cat, Mija, etc.). This would be sure to please fans of both styles, and allow for more creative production as well.
Lastly, although I'm biased, Reaction needed a much better selection of EDM. Skrillex and Deadmau5 were enough to bring in thousands of EDM fans, but the undercard needs to be better to really deliver an unforgettable two days. You couldn't find electro house, trance, dubstep, trap, or anything along those lines on the schedule (besides Mija & Skrillex). Some may say that's a good thing, and that those genres attract the wrong crowd, but I know I'm not alone in wishing there were more electronic genres to choose from. I would have loved to see something like the themed stages at Spring Awakening, such as the Bass Kitchen or Beatport Underground Stage.
React Presents threw a very successful large scale event in Reaction: NYE. The warehouse was packed both nights, and nearly all attendees left with a smile on their face and a great start to 2016. I've never been to an indoor event quite like it, and it definitely has a lot of potential. Hopefully, next year, Reaction returns with a stacked lineup that makes it one of the can\'t miss New Year\'s Eve events in the country.
[foogallery id=\"34267\"]