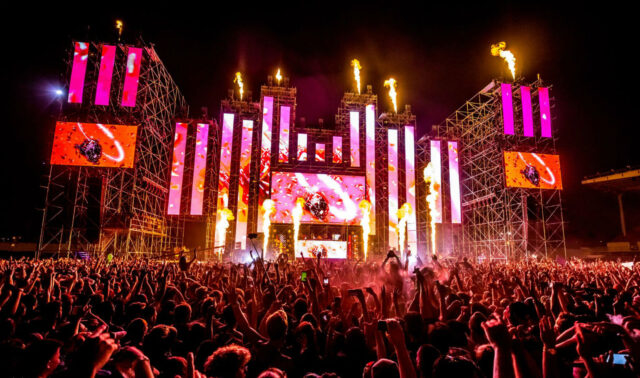 This year\'s HARD Summer saw another regretful close at the Auto Club Speedway near Fontana, CA with three deaths, over 300 arrests, and numerous individuals transported to nearby hospitals.
This is the second year in a row that a HARD Summer event faced several casualties; which stirred up several bans on EDM events in the greater Los Angeles area, as well as prompted HARD organizers to move it\'s location from Pomona, CA and cap the event to an 18+ festival. The news comes as somber and, sad to have to say it, unsurprising since HARD banned kandi fashion from the event for it\'s mainstream association with the 1990s underground drug culture of raving.
Many of those who worked this weekend's event have taken to social media to express their grievances – particularly a man that claims to be the EMT that worked medical at EDC. He wrote in a post on Reddit yesterday:
Man, that was bad. Last year I was a massive fan of the venue and lineup, and had a ton of fun. This year, not so much. The layout was absolutely awful, and the medical staff didn't seem to be on par with what was needed. Let me put things into perspective about what EDC did versus what hard did medical wise:

All medics and EMTs carried a jump bag with supplies, and drugs. For instance, a drug called Versed can stop seizures (something that I saw quite often this weekend). NONE of the staff walking around had any drug boxes on them, as told to me by one of the medics who assessed a friend of mine. Also, at EDC we had 3 medical tents: Main medical, right medical, and left medical. Each place, had IV supplies, TONS of bags of fluid for us to give IVs and drugs, and other necessities. I would have people walk in to me, I would give them an IV, they feel better, and walk out and go enjoy the show. HARD ONLY had supplies at main medical, making the other medical tents virtually useless.

I usually don't bitch about things like this, but I've never seen worse planning than this, and it frustrates me, especially since a lot of these heat related illnesses and sicknesses could have been avoided.
The post has since been deleted, but prior to its disappearance, it has made its rounds on the internet and stirred up a number of conversations around safety and medical services at music festivals. Others have taken to the internet to speak out against HARD\'s zero-tolerance policy, as well as share their frustrations with HARD\'s medics in general — which lead to debates between HARD and it\'s rival company, Insomniac. Keep in mind, despite EDC Las Vegas\' extremely well-executed medic set-up that their 2016 event still saw one death of a young female.
One reddit user links these drug-related deaths to legislation problems inherent in the RAVE Act, which links raving to crack house culture:
Unfortunately federal laws discourage venues from providing adequate harm reduction at these events. If they provide medical and harm reduction services, many venue owners believe that they will be accused of "maintaining a drug involved premises" under the act if they institute such measures, opening themselves to criminal or civil prosecution, thanks to language in the federal RAVE Act which was written to expand federal \"crack house\" laws to underground raves where illegal drugs were common as a way of cracking down on club drugs.

Visit https://www.amendtheraveact.org/ if you\'d like to learn more and sign a petition calling for an amendment to the RAVE Act that specifically protects venue owners from liability for providing medical and harm reduction services.
Dede Goldsmith, whose daughter died of a heat stroke after taking MDMA at a rave in 2013, has created a petition to amend the RAVE Act that would allow venues to take the "safety first" approach to drug usage at events. With over 15,000 signatures, the petition would create a more open and safe environment that could save innocent lives that did not deserve to be lost.
Beyond legislative action, EDMTunes.com offers a positive, fruitful resolve about safe raving that begins at the micro-level, or simply watching out for one another:
[W]e can all take a moment to share the love and compassion that is embedded in the rave culture – PLUR is still alive and well, after all – by keeping an eye out for those who are struggling. The movement can start with us. Offer water to someone who looks like they're dehydrated or check in on the individual sitting alone and looking sick. The venue may not be able to offer the proper medical needs, but we can watch each other's backs.
Please take the time to sign the petition to amend the RAVE Act, and let\'s work together to rid the collective rave consciousness of flawed \"zero-tolerance\" policies that went out with the 1980s D.A.R.E. campaign.
Beyond that, mere drug tolerance alone is not enough to cure the ethos of the rave scene at large. We need to move toward education like the kind seen in the Bassnectar community, where bass heads come routinely together over reddit threads to discuss, debate, and educate one another on safe drug use.  After all, bass heads are known for testing their limits the most of any other electronic subculture…yet events like Basscenter saw zero deaths.