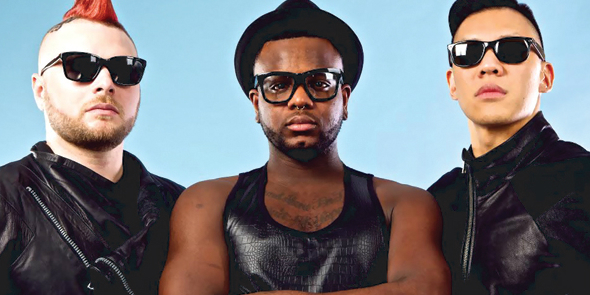 "I had a relaxing night catching up on some TV and getting to bed early." Nothing could be further from the truth. I don\'t even watch TV. But when my managers ask me how my night was on a Tuesday morning, the truth might be a bit much to handle. Certainly, I would struggle to explain why my night involved a man dressed as a Chicken pouring liquor into the mouths of others. I don\'t think they would understand why I was ordering drinks from scantily clothed bartenders dressed as My Little Pony characters. A DJ announcing \"When I tell you to take your shirts off, you take your fucking shirts off!,\" could also potentially go misunderstood and without a doubt, I couldn\'t possibly explain to them why I was surrounded by televisions showing various pornographic films. While this sounds like some sort of outlandish party that could only be depicted in Hollywood films, it is just an average Monday at Evil Olive. While my employer is under the impression I had a warm and cozy night at home, I had actually attended one of Chicago\'s most infamous parties – The Porn and Chicken Dance Party, and lucky for me, Dom Brown\'s enforcement of the \'No Cameras\' rule ensures that the truth may never come out.
To those who have not been introduced to the party previously, Porn and Chicken is a weekly dance party held on Mondays at Evil Olive that is every bit as crazy as it\'s name implies. The party is hosted by Orville Kline, Fei Tang (Phives), and Dom Brown, who collectively perform as a trio sharing the same name as the party they have become known for. But don\'t mistake the three for simple party hosts. While they have achieved a commendable reputation through the hosting of their weekly party, Dom was quick to establish that their ambition goes beyond the just growing the party, but focuses on the expansion of their brand as a whole. It would seem that this ambition has been met with an equal amount of success. Not only are their weekly parties one of the largest to be hosted on a Monday, the crew has also found success by bringing their sets to the festival circuit and touring through international destinations, most recently returning from a trip to Japan.
As we sat down to discuss the successes of the group, our conversation began with looking at the the backgrounds each of the artists have come from prior to the formation of Porn and Chicken. Orville, a certified Ableton instructor, has had an extensive history in music dating back to playing saxophone in the 4th grade. As his music experience progressed, he began to play other instruments, such as guitar and bass, and became involved with various rock bands. As he was drawn more and more into electronic music, he made the appropriate transition to producing and performing as a DJ. Phives found his calling in through Trance and began his DJ career performing within the context of the genre, quoting inspiration from legendary Trance artists such as Sasha, Paul van Dyk and Paul Oakenfold. While he had taken a short break from the music scene, his reintroduction progressed quickly and he found himself moving beyond Trance, especially as he became involved with the other members. Perhaps the most unexpected background comes from Dom Brown, who erupted the group into a friendly laughter when he announced his introduction to music came from Gospel. While it certainly seems like a drastic transition coming from one of the founding members of the \'Porn and Chicken\' brand, Dom went on to explain that he has always had a love for house music and his involvement quickly escalated once he had relocated to Chicago from San Diego.
While the party itself has grown to become a household name among Chicago party-goers, it\'s history may not be as well known. The party originated out of Risque in Wrigleyville, and was based on a special for $6 all you can eat wings and soft core porn playing on the TV screens. When they decided to amp up the party with live DJ performances things began to get out of control. While the party was successful, the popularity exceeded the capacity limits leading to the venue being subjected to fines. Even after an effort was made to connect the bar next door for expanded capacity, the popularity still proved to be larger than anticipated and the reception of additional fines led to the party receiving the kick from Risque. The crew realized they were onto something big, however, and wouldn\'t let the unfortunate news deter them from pursuing it\'s growth. With a successful party under it\'s direction, the Porn and Chicken brand was already established and the debauchery would be relocated to a venue better suited for it\'s size, Evil Olive.
The move was successful to say the least. With the limitations on capacity no longer a prominent concern, the party continued to grow through word of mouth. Suddenly the party that grew out of a chicken wing special became one of the most popular destinations for a Monday night out (and as a the name implies, still carries the tradition of playing pornography and serving friend chicken). As the group reminisced about the growth they experienced, they recalled various moments which proved they were on the right path for success. One such recollection detailed, among various other celerity appearances, partying with Sharon and Kelly Osborne on celebration of the party\'s 2nd anniversary. An additional focus was also placed on the music side of their brand as the group expanded efforts behind their productions as well as bringing their performances to festival stages. The transition towards the festivals came easy to the group as the they combined the knowledge gained from their successful party with their own experiences of attending festivals. As the brand continues to evolve on a weekly basis, it seems their potential had no limit..
Their roots, however, are not to be disregarded. Even with the additional travel that has come from touring or the demanding requirements of being a festival performer Orville was adamant in stating that they still return to performing for the weekly party they grew out from. The homage to their roots does end with their dedication to the party, either. The music itself that is performed throughout the night follows a progressive path from deep house when the party opens to the \'banger\' style tracks with an electro-house focus played during the party\'s peak hours. As the music progresses towards the heavier party-orientated tracks, the back room of evil olive opens it\'s curtain and the group hosts various Chicago house artists to perform, including artists such as Gene Farris and the Pool House collective. As Fei would describe it, it is a way for them to pay their dues to the music that made what they do possible and also to take on an educational role for younger and less experienced attendees. This approach is certainly commendable, especially to a party that calls the birthplace of house music their home. Although the room fulfills the goal of paying tribute to the music, that shouldn\'t imply that it is done so simply to fulfill that purpose. The artists seem to appreciate being able to host artists they find inspirational, but wouldn\'t necessarily fit the main-stage expectations of their party. Perhaps Dom said it best when he added, \"Plus, who the fuck wouldn\'t want to have a legend like Gene Farris playing at your party? It\'s an honor!\"
To experience a Porn and Chicken Dance Party is to step into a world of experience beginning with the various artists invited to perform each week alongside to Dom, Fei and Orville and the eccentric staff who do not hesitate to fully dedicate themselves to the revolving theme of each party. From the various performers that grey the lines of reality and imagination, including fire-eating and creating a shower of sparks from a performers metallic outfit, the Porn and Chicken experience is sure to leave a lasting impression upon those in attendance, which is just as the crew intendeds for it to do. When I inquired as to what experience or thought they wanted an attendee to walk away with, among the various responses were \"What the fuck was that?\", \"I can\'t let my mom know I was here!\" and \"I did what?? on a Monday??\" As for the brand itself, the group sees no limitation to it\'s growth. As Dom described, the music and popularity of electronic music doesn\'t seem to have an expiration date so they feel no need to apply one to themselves. With a party that is continually growing and a brand that is spreading it\'s reach further and further each year, the lack of limitation will certainly work to their benefit and the party continues on, creating an exhilarating Evil Olive on Mondays and attendees lying to their employers on Tuesday mornings.
I want to thank the Porn and Chicken crew for hosting me and taking the time to speak about the group, and also for hosting a great party, allowing me some fun time afterwards with friends. If you have not yet experienced Porn and Chicken, you are missing out on one of the craziest weekly parties in this city. I also welcome you to stay tuned to EDM Chicago as the next Porn and Chicken track
release will be announced right here!
Also, make sure to follow Porn and Chicken to stay up to date on upcoming events:
Facebook
Twitter