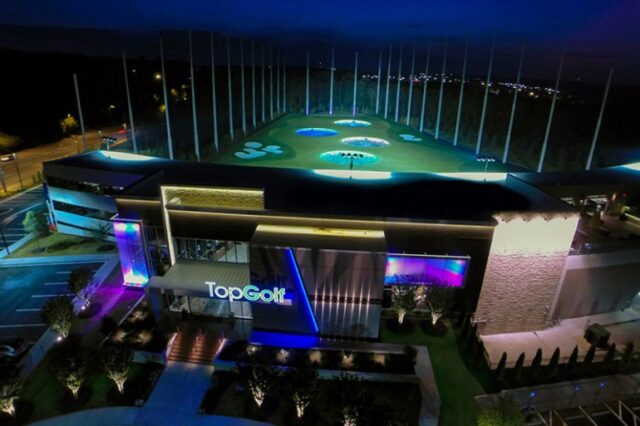 If you\'re like me, you cringe at the thought of having to play golf simply because it is one of the hardest sports to play due to the amount of skill and accuracy that is required.  However, if you told me that food, drinks, and live music would be incorporated into the game, well then I\'d surely reconsider.
At a news conference last Wednesday, MGM Grand President and COO Scott Sibella, announced a partnership that would be taking place with the popular golf entertainment facility TopGolf.  The two plan to collaborate on a new location going up in Las Vegas, NV making it TopGolf\'s largest property at 105,000 square feet.  The facility will be designed by YWS Architects, the same company behind the Hakkasan complex, and will include a four-level driving range with 102 hitting bays that face a 215 yard outfield.  The facility will also contain a full-service restaurant, multiple bars (this is Vegas afterall), a 3,000 square foot private meeting space, and a stage for live musical performances including DJs.  Some of TopGolf\'s original features will be integrated as well – like their micro-chipped golf balls that track each shot\'s accuracy and distance while players attempt to hit lit up targets.
With an expected completion date in the spring of 2016, the new property plans to serve upward of one million visitors during its first year of operation and is expected to exceed over $700 million over a 10-year period.  Nearly half of TopGolf customers consider themselves \"non-golfers\" so this seems like a good option if you\'re looking for a fun night out filled with entertainment.  As of now, there\'s been no mention of what DJs will be performing. Whether they be local or big-time artists, I\'m excited to check it out either way!
For more information, visit their website here.
---
Picture Source: Vegas Chatter