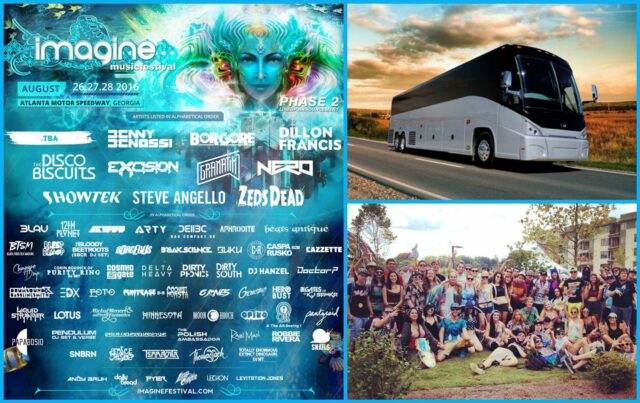 The 2016 festival season has sure been one wild roller coaster so far and by no means is it stopping. One festival that is highly anticipated this season is Imagine Music Festival hosted in Atlanta, Georgia. This will be the third installment of the festival with plans to transport festival goers into an aquatic fairytale. The festival will be held on Aug. 26, 27, & 28 2016 at the Atlanta Motor Speedway which is sister to the Las Vegas Moter Speedway home to Electric Daisy Carnival Las Vegas.
Camping add-ons, a change in venue, and even a third day have all been added to this year\'s installment to ensure an unforgettable experience for festival-goers. It came as no surprise to ravers when Imagine announced camping with the recent high demand in camping festivals over the years. Not to mention the sad news of TomorrowWorld not returning to Georgia Imagine knew this was a perfect time to jump on this opportunity. The huge jaw-dropper though was when Imagine announced the new venue they were keeping a secret for so long. The Atlanta Motor Speedway will be the new home for Imagine Music Festival giving off the vibes and feels of Electric Daisy Carnival Las Vegas. Festival-goers will even have a chance to set up a tent where they can even watch mainstage from their campsite.
The lineup for Imagine has always been diverse and selective. This is where this festival stands out because of the music choice they have decided to supply to their attendees. Headliners such as Steve Angello, Adventure Club, Benny Benassi, Nero, Thomas Jack, and even Pendulum (dj set & verse) will be present at Imagine. With so many new changes coming to Imagine it is without a doubt a whole new Imagine experience is about to be formed.
Music Festival Trips (MFT) is a Florida-based travel company and was established in May 2013. Their mission is to have festival-goers sit back and relax while they handle all of the dirty work like book the hotel and provide transportation to and from the festival. Some of their past trips have consisted of TomorrowWorld, Counterpoint, Imagine, Life in Color, and much more. Their ultimate goal is to turn your \"dream trips into reality.\"
Brian Thomas, who is the owner and trip coordinator of MFT, has planned another music festival trips to Imagine this year from Fla. and seats are quickly selling out left and right. Packages start at $110-$290 plus fees. These packages vary depending on what the festival goer is looking for. There will be two buses taking festival-goers from Fla. all the way directly to the Atlanta Moter Speedway. One bus will be leaving from Pompano, Fla., and the other one will be leaving from Tampa, Fla. This is not only a safe alternative in making sure one gets from point A to point B, but this is also a time to make new friends and become a part of the Music Festival Trips family.
Tickets are still available for both Imagine and Music Festival Trips but are running low. Tickets for Imagine can still be purchased on their website as well as Music Festival Trips packages can be bought online too. If one is having a difficult time deciding on transportation than jump aboard Music Festival Trips because you will be in for the ride of your life. Buckle up and sit back and enjoy the ride into the aquatic fairytale.
Take a look at the Imagine Music Festival 2015 after movie and prepare yourself.
Follow Imagine Music Festival:
Follow Music Festival Trips: