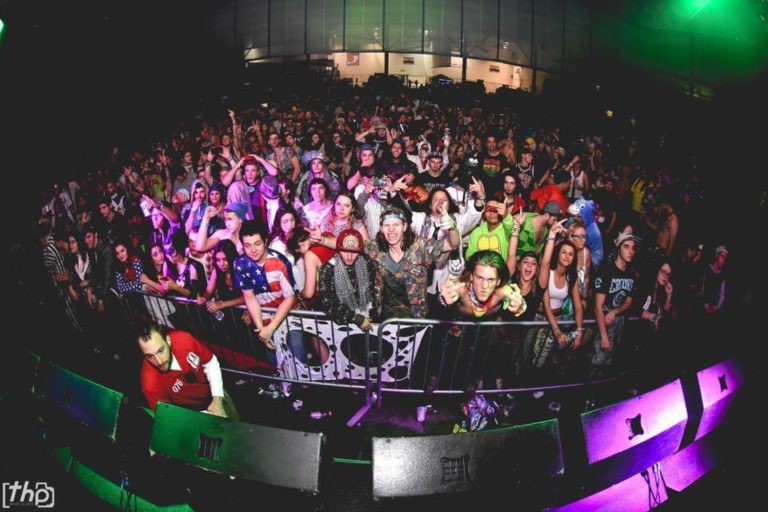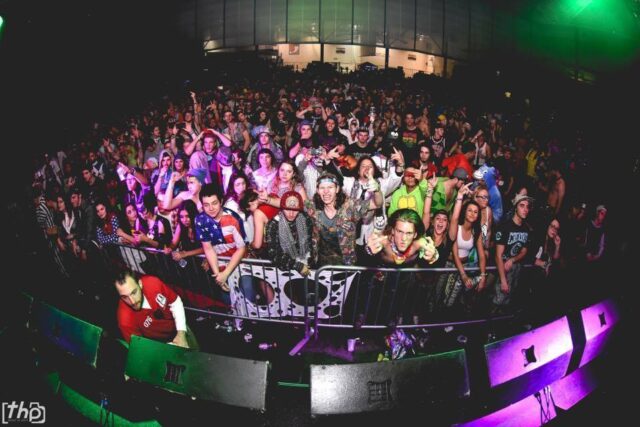 Freaks of all shapes and sizes gathered at XDI Event\'s Midwest Freakfest IV on October 31, 2015 with a zombie-like hunger for filthy drops–to say the least, they left satisfied. When I arrived at The Max in McCook, IL, I was greeted with bass so loud that it seemed illegal and I realized I was under-dressed.  This was the real thing, a hardcore rave. No one seemed to care that they were literally on a turf soccer field, the music was  blasting and they were moving like animals possessed by the beat.  I had stepped into a dubstep wonderland, a nirvana of bass, a church of rage. This room was converted from a  field of games to a valley of PLUR and I took it upon myself to investigate this microcosm of the incredible electronic scene. Throughout the night I had separate interviews with Jphelpz, Badklaat, Mantis and Andre Fernandez of Truth in order to figure out how this scary, robotic music called dubstep can bring so many amazing people together, but I ended up deducing that this niche of electronic music could be the purest there is.
All of these artists recognized the amazing fans that support their music and allow them to travel around world, spreading their creativity while also inspiring others. The relationship between dubstep fans and producers is super personal, this was evident by the swarm of fans that surrounded these artists as I tried to ask them questions. A friendly bystander even felt the need to hug Fernandez during our chat and decided to stay a while to show his love.
We're really lucky to have so many awesome fans out there, in the states especially, a lot of young blood getting into the deeper stuff because historically the states have been more about the heavier terror stuff so for us bringing that deeper vibe has been a bit of a process to let people know about it, even a lot people would never heard that kind of music. Then there's people like this guy who love that shit.
Truth
The fans are fucking badass because without them being there to support everyone, this shit wouldn't be happening so shout out to the fans that come out.
Jphelpz
With the huge amount of love that these artists receive from their fans, they would much rather play a smaller event rather than a huge festival, which sacrifices the intimate vibes that could be attained with a small concentration of people who simply have sincere passion for the music.Badklaat summed it up nicely saying that smaller events are \"just love\", just people who love the music.
Honestly I prefer playing smaller shows like when I play a big ass show and there's a sea of people, it's cool but I don't feel like there's that connection with the crowd and when you have that many people, they are probably there for all sorts of genres and music, whereas when it's a smaller show with a smaller concentration of people, they're all there for the same thing, the same vibe and there's a lot more energy going on than when you have a bunch of random people.
Jphelpz
Playing shit like this is sort of underground-ish and fucking dope! I think the difference is that [big fests] just book everyone on your top tier, A roll EDM list and this is a true event for the heads with real artists that actually make their own music. Other people don't make their own music and just play the same goddamn songs at mainstages. They won't book us because we're not on the top tier shit, they just want to make money.
Mantis
For me it's not a matter of size, I've played some pretty big festivals and I've played some tiny little clubs around the world and to be honest some of my favorite shows are in small venues, intimate vibes and I like being in amongst it when I'm DJing, I don't like being up high on a stage separated from the crowd, I like being in it. So for me I'd much rather play a party like this than some giant thing down the road with lots of wasted kids. Here, at least people are genuinely here for the music, that's why I like it.
Truth
In order to gain a little more perspective on the mindset of the modern dubstep producer, I asked them what they would change in the electronic scene if they could change anything. Despite conducting completely separate interviews, all of these artists wanted to see less corporate involvement  to eliminate the fake djs with bad attitudes that only serve to hurt the scene. These artists would rather focus on the music.
The main thing is the corporate greed that's getting involved in the music. I think that's affecting the culture a lot. Modern DJing has become more of a popularity contest than like something that's based on skill and music. That's one thing I think is kind of fucked about the music scene, just the greed in it and the corporate involvement.
Truth
 The clique mindset that people have. I'll never forget where I came from and I'm always down to support the up and comers, I'm never going to be like 'I'm too important to give a shit about you now.\' It really has gotten like that though. We used to have some really tight homies and they started getting big and it's like, we're not tight homies anymore. Like why?
Mantis
I would change the realness of everything. There is always ghost producers and there's always people fake mixing, if you take those people out of the scene, I feel like you would have nothing but really down to earth, cool people instead of all these people just trying to make money.
Jphelpz
Chicago\'s hottest young bass producer, Treepeoh, was throwing down when I first walked in and the severity of bass made me reconsider my thoughts on ear buds, but the drops were grimy so I didn\'t mind. A defining quality about the dubstep scene is the recognition of young talent which makes for innovative collabs and opening sets with so much energy. Subject 31 and Lady Raven took over after Treepeoh, then it was time for Milas. This crazy Parisian has no chill and really kicked up a frenzy within the crowd, this was just a taste of all the slimy bass that would pierce my eardrums throughout that night. After Milas, Axilon gave their hometown an excellent mix of trap, dubstep and future bass. It was then time for the first headliner of the night, a B2B set with Jphelpz and Bommer.
I was expecting a lot from these two as they are the some of the biggest names in Dubste
p to come out of St. Louis but what ensued was a flawless mix of dark wobbles from Jphelpz and droid-like bass bombs from Bommer.  The ridiculous set had everyone headbanging in full force, ignoring the future neck pain we would all experience the next day. The two bass fiends took turns making the crowd scream in terror at the sound of their horrifyingly beautiful drops.
Once their set concluded it was time for Glaston, England to be properly represented by none other than Badklaat. This Never Say Die heavy-hitter kept the party going and showed this American crowd how the British enjoy their dubstep. Having seen Badklaat once before, I could tell he was  feeding off some spooky Halloween forces that night. Badklaat was running on no sleep but he still sparked the crowd with a fiery energy that night. Then it was time for Mantis.
This duo from Atlanta meant business and spared no time before ahniliating the crowd with drops that could just make you want to go home early. I asked them what the inspiration was for their incredibly dark, heavy sound and they could only think of one word, Meshuggah. Like many artists within dubstep, Mantis came from metal, which is evident by their remixes of Linkin Park and a new song they dropped at the end their set.
Up next was Truth and the name of their record label perfectly described his set; deep, dark, and dangerous. Although many people associate dubstep with what Jphelpz describes as \"alien sounds or robot sounds over drumbeats\", there is definitely a deeper side to dubstep.  According to Fernandez, this deeper dubstep is \" a lot more focused on the bassline other than the mid-range sounds so it's less noisy and more feeling the music, rather than hearing it. Its vibrations, good vibrations, that's the focus.\"  Wild reptilian dancers accompanied Truth on stage and their dark flows matched the intensity of this impressive producer from New Zealand.
It was almost three in the morning and Araab Muzik took the stage. Those who had only seen the YouTube videos were about to see the true skills of this performer, live and direct. He was all concentration as his fingers flew across his pad making wonderfully concise beats, but this wasn\'t a dubstep set. It was more trap than anything, which coincides with his quotes in his NPR interview concerning trap as the new flavor of month. Whatever the genre, it was awesome. To see someone with such mastery over his craft was a spectacle in itself and it was a great way segue for the headliner of the night.
Everyone in attendance was expecting Megalodon but before he came on, the founder of XDI Events brought out Shiverz as a surprise guest. The crowd could not control itself and ended up going so hard that they broke the rail gate.  Luckily the security aided by the friendly McCook Police Department were able to fix the gate quite quickly and the party continued. Megalodon eventually took over and if it wasn\'t for the bursting energy of his set, this reporter probably would have fallen asleep like many tired ravers did by this time. By this point the blasting bass was comforting, and the wobbles seemed like tender lullabies. These sounds weren\'t transformers making love, they were fantastical melodies over the hardest hitting 808\'s and coincidentally the song of my heart.
Midwest Freakfest IV was absolutely bonkers and there are talks of making this a two-day event. One can only dream. Check out some photos here and peep XDI events for more shows.