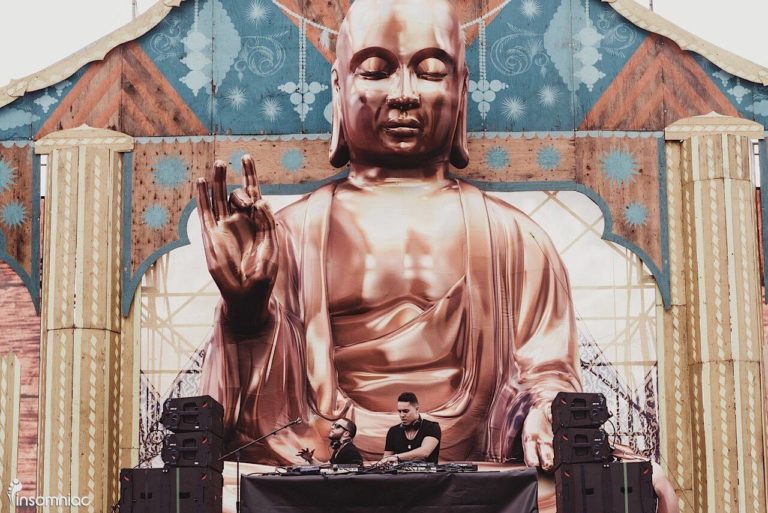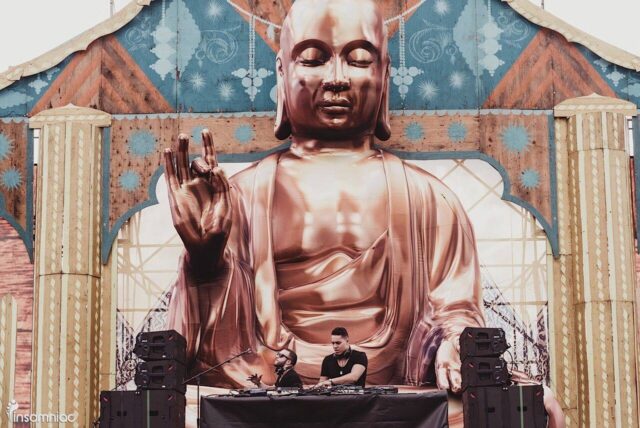 The duo Venice made their Electric Daisy Carnival Orlando debut this year at Tinker Field and boy did these two make a statement. Their debut set was Friday at the neonGARDEN stage; a special stage that has be a part of EDCO from the start. Alex Marrero, 26, and Gino Souto, 25, are the names of the two gentleman that make up Venice and these guys prove that anything is possible as long as you work for it. The duo even played at Miami Music Week this year in March. These two guys have even had the pleasure of playing alongside artists such as, Dash Berlin, Skrillex, Fedde Le Grand, 3LAU, and even more.
Their music takes your ears and mind on a trance rollercoaster ride. Once you press play all the worries are out the door. Once I started the interview, I witnessed how genuine these two gentlemen were. I saw it in their eyes and heard it in their voices of just how humbled they were to get to play at a major festival like Electric Daisy Carnival Orlando. These two guys really care about making great music for their fans and are willing to put in the long hours it.
In this interview you will get to learn who have been Alex and Gino\'s big influencers from the start, the meaning between their name Venice, and of course what is in store for the year 2016. Enjoy.
First question would have to be for you guys why electronic dance music? What attracted you to this scene? Was it a specific artist? A special event that you attended? What sparked the match to start your story?
Gino:
\"Electronic music has always been one of my top genres since the beginning of time. It has always been something I loved. I always had a passion for it. It was the one type of music that I felt could reflect on my emotions.\"
Alex:
\"My teen years is when I started to getting into dance music. I started listening to trance at first. Before the \"EDM\" boom I started getting into music production. I didn\'t have a lot of access to a lot of instruments, so producing music digitally was my only option. That is how electronic dance music became a thing for me.\"
Is there any special meaning behind the name Venice and what inspired you two to pick this name to represent you guys and your music in this industry?
Alex:
\"Well initially when we were brainstorming for names we threw a few ideas around and we told one of our friends Tommy to help us and he came up with the idea of a name that does not really have anything to do with either one of us. A name that has nothing to do with the brand or the music.\"
So you have accomplished a lot in the year 2015. Not only did you dj in Miami during one of the biggest weeks for electronic dance music in America (MMW), but now djing here at EDC Orlando. Did you expect 2015 to be the year of Venice?
Gino:
\"Our expectations are limitless right now. We are confident in behind our sound. We can make a difference in the genre. The possibilities are endless for us. \"
Alex:
\"With us we started early 2014 with Venice. 2015 is where was saw it get serious. We saw it get serious with the branding, we have a whole time behind us. Yes we are the two faces but really its a team effort and takes a lot of people believing in you to really do it. Now that we signed with a label we are doing bigger things like festivals like this.\"
What is the message you want to get across to people who listen to your music?
Gino:
\"When we make our own music we have own story that goes with it. No matter if it is the lyrics or the melodies that we make it is something that comes from the heart. I want people to listen to our music and relate to something from it. Everybody has their own perspective on it.\"
Alex:
\"Every song has a different message. Sometimes we will produce a song and it will be a bad week or who knows whats happening. We want to stay true to our sound. We want to give people something that makes them feel good.\"
I want to congratulate you on your newest single \"Always Here\", which was published on Youtube on October 28, 2015, and wanted to know if you guys were behind any of the planning for the music video?
Alex:
\"Our whole team kind of puts in an input. Our management team they are also involved a lot in the creative process for our music. They have been able to help us out and create the vision for what we want to do. We have brainstorming sessions where each person kind of throws ideas out there. We also linked up with a really cool film crew in L.A. that was able to put the whole vision together.\"
This year you have worked alongside with huge names in the industry such as, Dash Berlin, Skrillex, BassNectar, Madeon, 3LAU, Audien, Excision, The Chainsmokers, R3hab, Fedde Le Grande, Galantis & many more. As you can see from my tank my biggest role model is Pasquale Rotella. Who would say individually your biggest role model in the electronic dance music industry?
Gino:
\"The good thing about me and Alex is we have a lot of similarities with the music that we like. Obviously we are not going to agree on every single thing, but for the most part we agree on everything. I think Above and Beyond is one of the biggest influences for our production. We are a firm believer in that sound.\"
Alex:
\"We are big fans with a lot of the top 40. The main dj that actually signed us just recently is Andy Moor on his label AVA Recordings which is a sub-label for Dutch record company Armada Music. We have been listening to his music for a long time drawing influences from his sounds. He is one of the pioneers of doing the heavy base lines in trance music. That has a lot of influence in our sound.\"
If you could describe in three words the feeling of playing your first Electric Daisy Carnival what would they be?
Gino:
\"It felt like a homecoming, inspirational, and it was awesome.\"
Alex:
\"If this was a text interview (Bleep)(Bleep) (Bleep). We try to visualize what we want to be and what we want to accomplish, and seeing it actually happen is awesome.\"
Sadly 2015 is coming to an end. What are you plans for 2016. What can fans expect from you next year? If you could pick the one festival, show, or club to spin at where would it be and why?
Gino:
\"I know personally and I know Alex is also a big fan is Ministry of Sound. I think that would be a dream for the both of us. We would both be mind blown completely if and when that becomes a possibility for us in our careers. We would be blown away from the opportunity.\"
Alex:
\"I think that Insomniac has given us such a big opportunity to do this festival and some of the stuff we are doing with them. I would like to continue our relationship with them and eventually be on the main stage. That would be really cool to do. Really any show we do whether its for 1500 or 10 people we give the same energy each time. 2016 is going to be good because we are unleashing our sound. We have been able to craft something original that we are really riding on hard. It is going to be fun to see how people react to it. So far it has been great. Its a good time for dance music. People are starting to pay attention the music itself.\"
It was both an honor and a pleasure to sit down with these two and talk about not only their music but also their plans for next year. These two guys are so well spoken and I could tell are really true believers in the dance music scene. I know right now their song \"Run To Me\" ft. Anki is currently on repeat for me. Venice\'s latest single \"Another Like You\" with vocals by Anki is set to release on December 12. Take a listen to these guys because I promise you will not be disappointed. Venice\'s EDC Orlando set is also available to listen on their soundcloud account.
Mark your calendars. December 14th "Another Like You" feat. @anki_vocalist @blackholerecordings //@avarecordings pic.twitter.com/v130oJH7JV

— Venice (@VeniceEDM) November 23, 2015
Photo Credit: Facebook/Photo from EDC Orlando by @theholymountain for Insomniac Events.