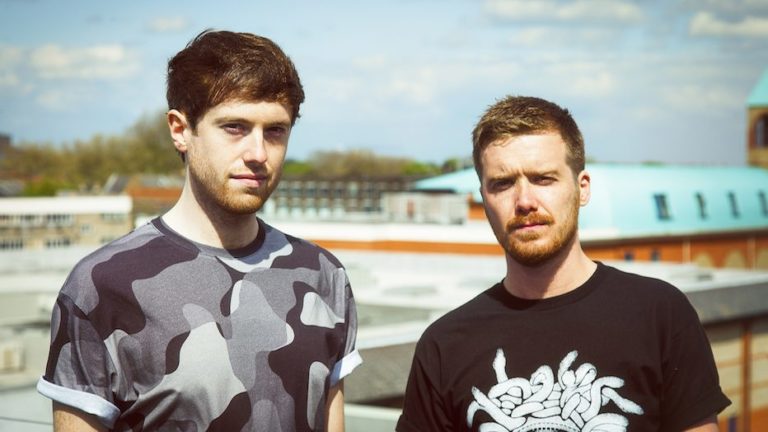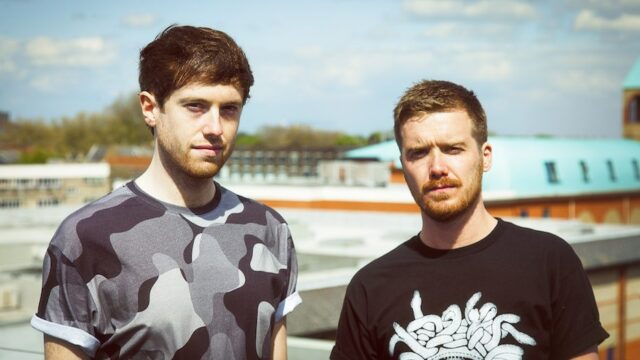 Gorgon City stopped in Chicago to play at Concord Music Hall on Wednesday, February 18th for their Sirens album tour. The show was the second stop on the tour; the duo performed in New York City the night before, and were travelling to Los Angeles the next morning. I got to sit down with Matt Robson-Scott, one half of Gorgon City, just before their 10:45 set.
Glad to see you guys made it here okay, it's rough out there. How was New York last night?
Haha yeah, it's pretty awful. It was amazing, man, yeah. Really good turnout, really good crowd. Really diverse. It kinda felt like one of the most diverse crowds we've ever played to. Just really mixed, and it was really cool and interesting to play to that sort of crowd. It creates a good vibe.
Sounds like a good start to the tour then.
Oh yeah, definitely.
Nathan [Gorgon City's manager] was telling me that you guys are playing Jimmy Kimmel tomorrow night.
Yeah, it's gonna be an early start for us. We have to leave the hotel at 5 A.M. after this show so it's gonna be a long day, man.
So you guys played a show at Double Door last October, and just a couple months later, you're playing at Concord, a much bigger venue. What do you think that says about you two as a group, and how are these two shows gonna be different?
So this is the first time we've ever brought this live show to Chicago. It's quite a different experience. Because obviously when we DJ, we play our tracks, but we also play tracks by different producers and do DJ sets. Now, with the live show, we have a drummer with us, and we basically have a full live band. We're playing all the stuff live, and we're playing a lot of the album. It kinda just shows what we've been doing for the past 2, 2 and a half years. It's all that Gorgon City's about in a live show. We're really proud of it.
Can't wait to see it. Your new album, Sirens, reached #10 on the charts in the UK, and several singles charted as well. Congratulations. However, the album hasn't seen that type of commercial success here. What's your opinion on the electronic scene in America and the UK?
It's an amazing time for electronic music in America at the moment. It feels really exciting for us here. Obviously, America's a really, really big place. And to get that kind of commercial success is tough. It takes a long time. It's very different in the UK, where we have like, BBC network. If your track's on Radio One, everyone in the country hears it, and if they like it, they'll buy it, and it gets into the charts. Whereas out here, you don't have that. It's a very different way of having a hit. Having a hit over here is a lot more complicated and takes a lot more time. It's a different market, but I do think it's a really good time for us out here right now, and we're looking forward to just keeping it moving, ya know?
Yeah, it's a perfect time to blow up. Do you have a favorite song or collaboration on the album?
Yeah, we're both really big fans of the Maverick Sabre tracks on the album, "Hard on Me" and "Coming Home." He was a really good person to work with. We're obviously really proud of "Go All Night" with Jennifer Hudson. That's a big thing for us. To have that sort of mega-star on a track of ours is kinda crazy.
Going off of that, "Go All Night" is amazing and it's the first time Chicago native Jennifer Hudson has been featured on an electronic music track. What was it like working with her?
It's funny, a lot of the tracks on our album feature vocalists that haven't done dance music before. We always find that's when we get the best results. They bring a fresh vibe to it, rather than just a generic dance record.
I think you guys are so unique that it's a perfect start for someone like her.
Yeah, she's amazing. We actually wrote the track originally with Kiesza. Then we sent it over to Jennifer. We had produced a track for her album previously. That's kinda how it happened. She just sent the vocal and we were blown away. It completely transformed the energy of the track, and it makes it sound like a sort of classic sounding dance record. It was amazing man, we're really really happy with it. And we've done some live performances with her already. She came over to England we did some stuff for BBC. She's an awesome person to work with.
Who are some vocalists you'd like to work with in the future that you haven't yet?
There's a guy called George Ezra who's doing really big things in the UK right now. He's another guy that hasn't done dance music before. It would be interesting to have him on a dance record, he has a unique vibe. It'd be cool.
What are some festivals or events you'd like to play here in America? Also, what are you looking forward to this upcoming summer out here or back home?
I think we've both always wanted to go to Burning Man. We did SXSW last year, and that was really cool. Definitely looking forward to going back. Obviously, Coachella is cool. We're doing that this year and bringing our live show too. Pretty big for us. There's a lot of festivals in America, man. I probably don't even know half of them.
Yeah, it's getting so popular. What's the coolest show or venue you've ever played? Do you have a favorite?
We love playing in Ibiza. Space in Ibiza is a really good place. That whole world of house music in Europe is a really good vibe. But playing in America is amazing as well; we love San Fransisco, L.A. Chicago's great, this place has got so much history when it comes to house music. It's where it's from. We're having Roy Davis Jr. support us tonight. He's playing now, and he's a legend. Having him supporting us is completely mind boggling for me. It's crazy!
That's awesome. One more question then I'll let you go. What can we expect from Gorgon City in the near future and next coming years?
Well, we're just getting back into the studio to start writing the second album.
Damn, right back to work.
Yeah, there's no stopping! And just touring, man. We're touring the live show for the rest of the year. Just looking forward to getting the second album done. Hopefully we'll be starting a record label as well, putting out some underground house music from some cool new producers.
When we can we expect the new album?
Hopefully it'll be finished and out by the end of the year.
Photo Credit: Future Music Group