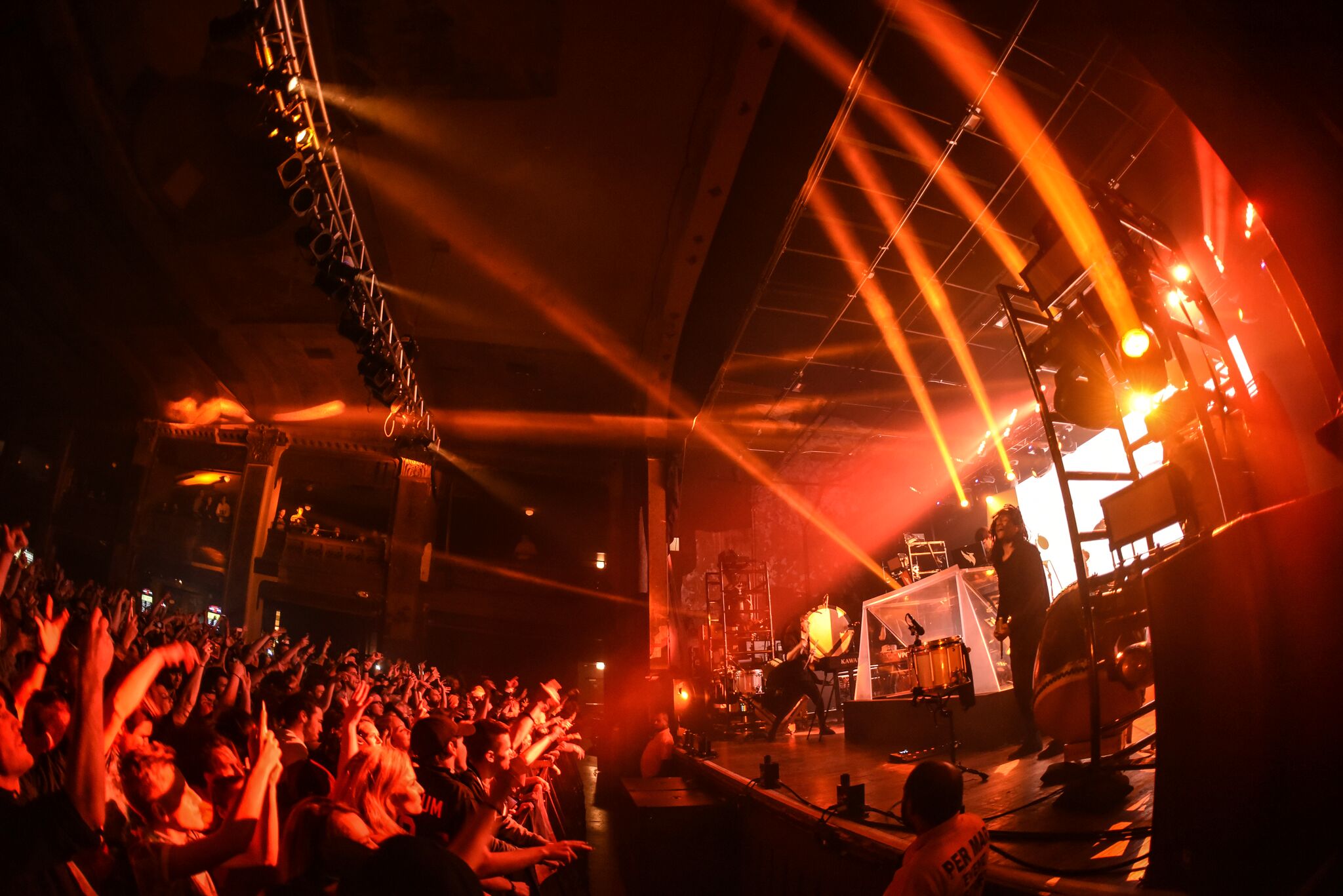 The stage was set – a crowd of hundreds of Illenials stood packed inside Turner Hall. Flower crowns, Spirit hoods, and LED lights filled the room as everyone bounced to the intermission music waiting for Illenium to hit the decks. The backlights of the stage glowed a fiery yellow and orange until it was finally the moment we had all been waiting for! Illenium took the stage to instrumentals with his drummers jamming on percussion, just feet in front of the audience; they erupted – roaring with excitement as the music started flowing in and around the ballroom located in downtown Milwaukee.
This was my first Illenium concert so I didn't quite know what to expect. Immediately, I was blown away at how connected the crowd was when the first words of "Crawl out of Love" hit their ears. Every single person was singing at the top of their lungs like it was their own show. Cameras filled the air recording, Snapping, and Facebook Live-streaming that first burst of CO2 sky-rocketing out of the stage. Emotional melodies gracefully floated through the room until the Denver-based EDM artist led us into his remix of Flume's "Say It."  The stage became dark and haunting, only a sporadic flash of lights guiding the crowd through the song.  Just mid-way through, crisp, colorful lasers beamed across the venue illuminating the faces of fans filling the floor, wall to wall.  The energy in the room spiked even more once the now 25-year old incorporated a keyboard and drum pad into his performance during his rendition of Kaskade's "Disarm you," bringing the concert to life.
Luckily, melodic bass isn't all this kid masters and I found that out when the beat took on a trap-like style, paired with dozens of lasers, once again, spattering the scene. It's apparent that there's an eloquence he has while seamlessly stringing different genres of EDM together as if they were made that way from the beginning. Soon enough, Illenium brings the show full circle, diving deep back into the softer, tranquil tunes that he is known for. The entire concert was reminiscent of a feather falling to the ground – each song pulling the crowd in an entirely different emotional direction, yet it was all gracefully linked together until the very end.
Signature introductory notes of "Tiny Fractures" began to wrap up the 2-hour concert. The audience of teenagers and twenty-somethings lit up, belting every lyric as loud as they could. With a couple shouts of "Thank you, Milwaukee!" Illenium left the stage with everyone buzzing. It wasn't long before the "Encore!" chant started, shortly followed by the reappearance of the Main Event. He closed the show with his 2017 release "Beautiful Creatures" and a massive confetti drop that ended it all on a high note. Concert-goers cheered and applauded the musical genius until the venue lights came on, confirming this show was one for the books!
[foogallery id="50049″]