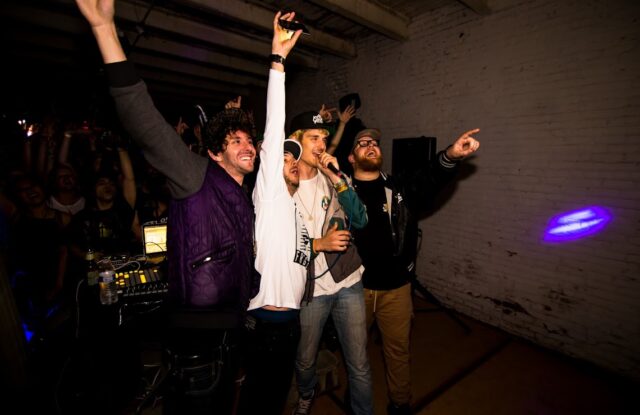 If you\'ve never been to an All Good Records show, there has never been a better time to check em\' out. Grant Kwicienski, known as the always funky electronic music producer Griz, believes that a record label should mean more than just the music it produces. All Good Records represents a group of artists and fans that believe in the power of positivity, love, and creativity. They empower people to become the best that they can be, and \"get the funk down\" while they do it.
Last Saturday, the second monthly All Good Family Affair took place at the Pickle Factory in Detroit. New to the label, All Good Records hosts monthly family collective shows hosted by its own Muzzy Bearr featuring surprise guests. Previous special guests have been fellow electro-funk groups such as Exmag, Mind Cntrl, and Statik. This time around, fans patiently waited in excitement to see who the surprise guests would be as the night started strong with Manic Focus and Late Night Radio at the Detroit music venue Populux.
Griz and Muzzy Bearr, All Good Family Affair
Walking into the Pickle Factory, everyone was smiling, dancing, talking with friends, and having a great time. The venue was perfect for the event, as it featured an open courtyard, bar and vendor area, and stage in the back. As the venue started to fill with fans fresh off of Manic Focus\' killer performance, the show was about to begin and Griz took the stage. Surprise! Griz does it again, showing his hometown some love. What a guy.
Griz, All Good Family Affair
One of the best parts of All Good Records is the love and sense of family that it represents. Living by the motto \"Show Love, Spread Love\", the team has shown the highest amount of love to its fans since day one. With surprise shows, appearances, live stream sets, free album downloads, spectacular stage productions, and more, All Good Records is home to a pretty awesome group of people. As fans came together to share this message of love and positivity, the Liberators were formed. Organizing food drives, fundraisers, and other events to give back to the community, the Liberators represent what All Good is truly all about. They do it for the love.
Chill Harris, All Good Family Affair
Alongside Griz, Muzzy Bearr, Chill Harris, and Manic Focus also rocked the house in that small corner of Detroit that felt like home. Being present in the moment with everything that is All Good Records is truly an experience to try for yourself. If you do, you\'ll see that you\'ve become surrounded by a group of kind, creative and talented minds. All Good Records represents the idea of everything that a family is. Looking for a group of musicians and producers with heart? You\'ve got your crew.
Purchase tickets for Griz\' largest show EVER this November at Navy Pier, Chicago here.
Photos by David Chaben (@visualsbychaben)