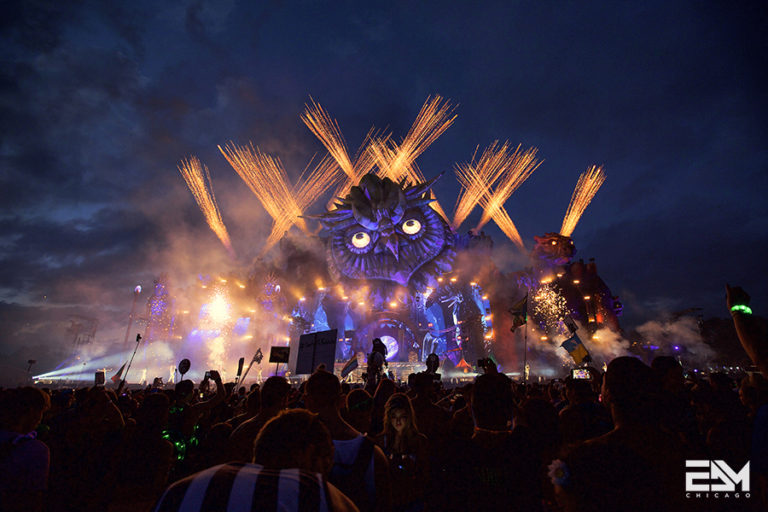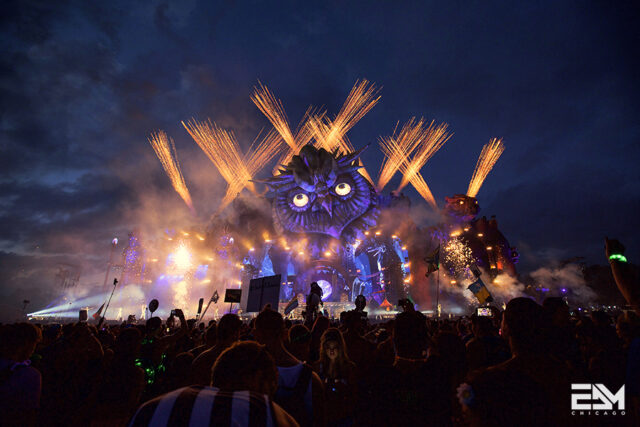 Headliners, sadly the time has come where festival season is just about over. As I am in my apartment writing this article trying to hold back the tears, I was thinking that I wouldn\'t have wanted to end my journey anywhere else but Under the Electric Sky at EDC Orlando here in the sunshine state. As many of you know, Pasquale Rotella is one of my biggest role models; so attending one of his festivals is always a pleasure, and I cherish every single moment that I am there. This would mark my fourth consecuive year at EDC Orlando, and boy did this year just blow every other year out of the water. Buckle up headliners, and hold on tight- like you did on those carnival rides- because this review is about to bring back those memories at Tinker Field.
The week of the festival I received one of the best emails of my life. I was sitting at my parents house, up late doing homework of course, when I got an email notification. I clicked open the email, and it was from Insomniac informing me that I was approved for media coverage at this festival. At that moment I actually had nothing to say. I was literally at a lost for words. I would have never thought the first festival I would be covering for EDM Chicago would be an Insomniac production festival run by my idol, Mr. Rotella himself. Kandi was made, bags were packed, and just like that I was off to start my EDC experience in Orlando, Florida.
Friday started off with waking up pretty early, because I needed to pick up the media wristband at the artist hotel in downtown Orlando. I arrived at the hotel where artists and Insomniac staff were buzzing all over the hotel. I saw Crizzly walking in the lobby and taking pictures with fans. The feeling of being at this hotel was unreal. Once I got the wristband, it was back to our hotel to change into festival attire.
In the Uber on the way to the festival, all of my pre-festival jitters were kicking in. I was so eager to see all the new advancements this year that even my Uber driver noticed it. When I got dropped off at Tinker Field, I quickly learned that his year we were entering through the stadium to get into the festival. This gave me chills because I felt like they wanted to implement the feeling of walking into the Las Vegas MotorSpeedy Way for EDC Las Vegas. Even though I have yet to experience that rush of energy, and I know it probably is not even relatively close to the feeling in Las Vegas. However, it still created an overwhelming feeling.
If you were a VIP ticket holder, once your wristband was scanned you were given a lanyard that had the schedule on the back for each of the three stages. The VIP entrance brought us right into a place I like to call \"kid heaven.\" A giant ball pit and a huge life-size Connect Four and chess board game were present in the VIP section, alongside with food and drink vendors, and an elevated viewing area of main stage. I immediately had to go and jump into the ball pit and relive my childhood. This is what I love so much about EDC, the whimsical atmosphere it gives off to its headliners. Your EDC experience is all up to you, because you are in control of experiencing so many different levels of fun at this festival.
The Crystal Village was the name of the main stage year. This stage was gorgeous and ranged from displaying a full on waterfall to the left, to a moving dragon head that blew steam out of its mouth towards the crowd on the right. It was announced over social media that Orlando would be receiving a smaller version of the Crystal Village, and I have to say I was really thrilled about this because I remember watching the live stream and saw just how beautiful it was on a computer screen. The owl head was colossal and over looked every raver with these two enormous yellow blinking eyes. The animation of this stage was persistent and very interactive. Whomever was in charge of controlling the lights deserves a medal because the timing of everything was just too good for words.
EDC Orlando with 1/5th version of the Crystal Village. Let's goo!!?? pic.twitter.com/C1yxFs71iv

— Λero (@Aero4Real) October 14, 2015
This year the main stage was moved back to where circruitGROUNDS was in 2014. I believe this was a great change because that is where main stage was a couple of years ago, and personally I believe it is a better fit for a main stage crowd. Vendors surrounded the stage and created an easier path to get in-between people. 7 UP had a tall cell phone charging viewing deck in the back right corner of main stage. I liked the addition of this deck because the location made it convenient and had a great view of the whole festival grounds. Being up at the top I saw the all mighty beautiful circuitGROUNDS overhang stage and lost it. I quickly ran down the steps and started running to this stage.
Out of the other three times I have attended EDC Orlando, all the other stages were not really as big as the main stage. This year, our raving souls were blessed by Mr. Rotella bringing down the circuitGROUNDS stage from EDC Las Vegas. Not only were we given one Las Vegas stage, but were given two. Let me just say to that the circuitGROUNDS stage was not a hammy-down stage at all. This stage was massive, the bass volume was at an all time high, and there were lights everywhere. It is truly something being able to witness how much this festival has grown over the years.
The first time I attended EDC Orlando was back in 2012 when the festival was just a small rave with a couple of rides and three stages. Now this year at this EDC Orlando performers were flooding the streets. Stage designs from Las Vegas were brought down, and the layout was just more accessible for headliners to walk around at. The ferris wheel was moved to the center of the festival grounds so when you were on top you got an incredible view of all the stages. This year the bathrooms were pushed to the back so, as I mentioned before, walking was made easier for us. The amount of walking room this year was a great improvement from previous years. This EDC Orlando was like Insomniac finally figured out how to properly set up everything inside the festival grounds, and how to utilize Tinker Field all the way to the fullest.
The neonGARDEN stage had the tremendous buddha just like last year. Walking to this stage there were photo booths that you could wait in line and get your picture taken in it with your friends. There was also a dandelion forest you could walk through that was over in the main stage area. I enjoyed that there was more interactive art at this EDC Orlando because it's the little things like this that help enhance the experience for headliners. The trees also had lights strung all across them lighting up the sky. Now that the picture is painted for you of what the festival grounds looked like, let's get down to the music that was featured at this festival.
The weather was perfect for listening and raging out to electronic dance music. Mother nature finally worked together with ravers this weekend by actually given us a weekend with no rain. This weekend I was reminded just how marvelous it was to have a weekend with great weather and just be surrounded by ravers and electronic dance music and not have to worry about getting stuck in mud, or having to evacuate. I spent most of my weekend at circruitGROUNDS  because that stage just was a gift from the rave gods. Snails, Bassnectar, and Seven Lions were all perfect candidates for this stage. Snails I was front row deep for, and it just felt like I was in another world.
This years EDC Orlando\'s production was just phenomenal. I really could not believe I was in Orlando. The Crystal Village hosted an opening ceremony, four minor ceremonies, and then of course a closing ceremony each day. These ceremonies began the transformation from day to night with fireworks, pyrotechnics, and some stage play. I understand the purpose of the ceremonies, but I am not sure if having a total of six ceremonies is necessary. Each of the ceremonies, however, were carefully crafted works of art and told their own story.
EDC Orlando really stepped up their game with this year's installment. The amount of fireworks that kept going off while a DJ was playing were countless. CO2 cannons, confetti, and streamers were also constantly just being popped off to the crowd. EDC Orlando did a great job of always keeping the headliners pumped and wanting more. I also found a new respect and love for the performers on how much work they put in at this festival.
These performers are always in character and their primary goal is to keep making you happy having a great time. The performers that were my favorite were of course the iconic clowns, the marching band, and then the bumblebees. This year I saw a lot more of these performers roaming around the festival grounds and I definitely enjoyed it. Previous years I really didn\'t get to run into performers, so this year I am glad I got to dance with them and create some memories.
Calvin Harris stole my heart on Friday night. Harris opened with his and Alesso\'s collab \"Under Control,\" and really brought the love for headliners. His set that night connected and unified the crowd as one. In my opinion probably my favorite set all weekend and quite frankly I was not expecting that. The bright lights and fireworks just blended so well with his music it created a magical experience Under the Electric Sky.
Saturday felt like it didn\'t even happen because of how fast it went by, but I will never forget this day of the festival because I really ventured off in the festival with my media wristband. The feeling of being backstage at a music festival is a feeling I promise you I can\'t even describe. The feeling of seeing everything from a view of DJ and looking all of the people screaming and jumping up and down had my hair standing straight up on my arms. Dannic and Quintino delivered sets that had me shuffling from start to finish. I then got to live out another dream and I got to interview my first DJs.
Venice, a duo formed in 2014 in Orlando, Florida granted me permission to sit down with them and interview them for EDM Chicago. Alex Marrero and Gino Souto were truly genuine guys who have a strong passion for electronic dance music and are doing big things. They totally brought the trance and progressive believers together Friday at the neonGARDEN stage. Be on the look-out for a separate write up about their interview, coming soon! Once the interview was done, it was time to get ready for Audien.
Out of the three other times I have seen Audien, he threw down one heck of a set at this festival. I even heard trap being dropped in his set, and my expectations were more than met. EDC Orlando also was us headliners' last chance to catch Blasterjaxx together before the splitting up, which was announced online later last month. I, of course, stayed after Blasterjaxx so I could enter \"A State of Carnage.\"
Ravers can say what they and have their own opinions about Carnage, but let me just say his set was lit. Carnage may do a lot of things many individuals do not approve of, but he knows how to get a crowd of ravers off their feet and  jumping up in the air screaming his name, because I was one of them. Once he started dropping festival trap there was no other place I wanted to be. At one point during his set, a huge gust of wind formed. I thought of it nothing at the time because the sky seemed tamed but apparently it was a storm that was circling on the outskirts of Tinker Field.
Mr. Rotella took to social media on Sunday after the festival was over, and posted a picture with a caption explaining that Insomniac was ready around 10:30 p.m. to evacuate headliners to safety, but the rave gods blessed everyone by keeping the storm away from Tinker Field and prevented a downfall of rain. There is even a picture of the radar from that night showcasing how everywhere but the festival grounds was affected. It could be said that the good vibes at EDC Orlando actually combatted the storm.
However, this EDC Orlando brought a mixture of vibes in my opinion. Like I have said before, I have been to this festival many times and one of my favorite parts are the types of ravers it attracts. This year I made a new festival best friend ("Festie Bestie") and got some stories from new ravers on my solo adventures. However, I sadly saw a lot of non-PLUR behavior going on throughout this festival. It seemed to me no one really wanted to engage in conversation as much as most festivals I've been to.
This really disheartened me, because this festival has a special place in my heart as one of the first festivals that introduced me to this culture. I really do not want to see it go downhill and continue to carry on bad vibes. For instance, some of the people that I stayed with at Music Festival Trips said that a fight broke out during Kaskade\'s set. If that is true, I really do not even know how someone could even get put into a bad state of mind during a Kaskade set. I myself was walking past the ferris wheel and witnessed two girls screaming at each other and were about to go at it. I sadly was just not feeling the love this year that I felt in past EDC Orlandos.
As I finish up writing this, I am just wishing I was back Under the Electric Sky because like I said before, despite the vibes, this EDC Orlando still really blew it out of the ball park. All of the DJs also brought their "A game" and I was thoroughly impressed by each set. I am salty that I unfortunately missed Alison Wonderland and Kaskade, but seeing Slander and Seven Lions at circuitGROUNDS was a perfect ending Under the Electric Sky. I will never forget that stage. That stage was a symbol that these festivals are getting bigger. There are no limits anymore with any music festival because this is a competitive business and Insomniac just showed everyone why they are on top in this industry.
I have already stated a countdown on my phone for the next EDC Orlando. I predict that next year headliners will be presented with even more surprises. The question to ask, is if each year will we be getting the circuitGROUNDS stage. I always have such an extraordinary time at this festival, so thank you Mr. Rotella, Ground Control, artists, and everyone else who works for Insomniac for another historic year Under the Electric Sky. See you all next year headliners.
Check out EDM Chicago\'s full EDC Orlando 2015 photo album below: Photos by Jason Tuno.
[foogallery id=\"32571\"]