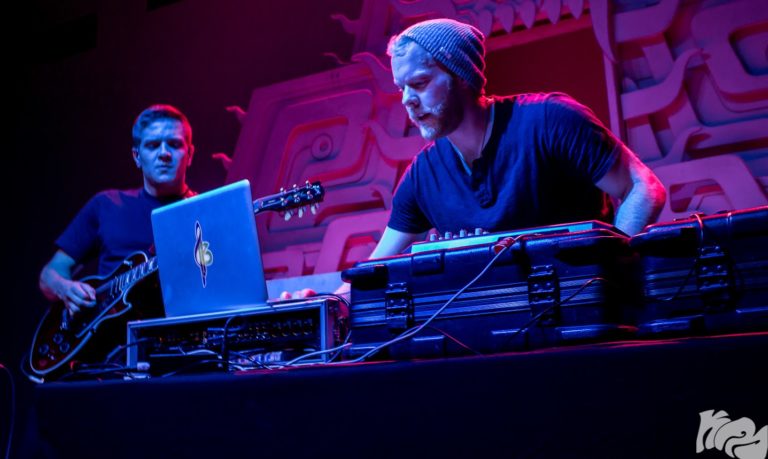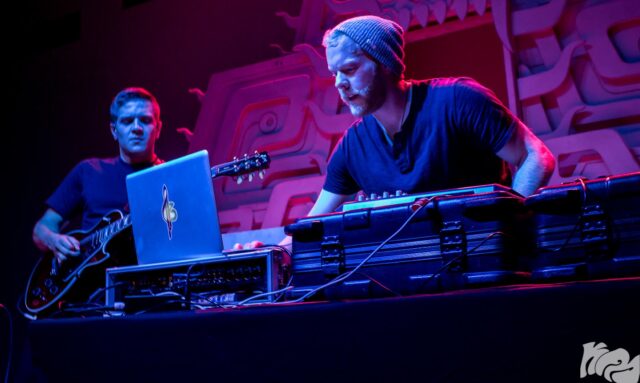 When Luke Sims and Arja Adair became Bass Physics, they brought together a myriad of influences ranging from trance to STS9 to hard rock and their collaborative sound combines \"hard hitting electronic drops with the softer elements of a live jam band."  Although, this simple phrase can\'t explain the various elements that morph together to make the beautiful sounds of Bass Physics.
Luke: I personally have listened to trance for a long time. Above & BeyondTrance Around the World and other trance podcasts were my intro into electronic dance music. I became interested in making my own electronic music and this trance background brought a lot of melodic/euphoric sounds into Bass Physics. But i also really liked hard rock, specifically those heavier bass lines, and tried to mesh the two together in my own projects.

---

Arja: I started in a five piece funk band called Rocky Mountain Funk (RMF) playing guitar and piano. My biggest inspirations were jam bands such as The String Cheese Incident and live electronic music such as Sound Tribe Sector 9 and Pendulum. I was also inspired by Gramatik, Ronald Jenkees, and Pretty Lights among many more. I wanted to create hard hitting electronic drops with the softer elements of a live jam band.
The dynamic duo hail from Denver, which in some ways spurred their interest in electronic music through their friends\' musical tastes and the vibrant electronic scene in Colorado that hosts many shows.
Luke: I was introduced to a lot of electronic music by friends in Colorado. Colorado shows so much love towards this scene that I wanted to get involved. I felt a passion inside me to create music, and ever since my first electronic music concert I have been inspired to do that.

---

Arja: Colorado is the best incubator for live electronic music in the world. The fans and people there spread music like wild fire and they also know how to enjoy themselves at a show. Growing up and making music in CO has been such a pleasure and a blessing because there is such a strong market for our style of music. On top of this, I grew up going to shows every weekend, which is where I acquired my taste in music.
As Sims and Adair brought these diverse influences together, the result was an easy-listening electronic rock hybrid that fills the listener with positive vibrations. They have been noticed by other groups who are heading in the same direction, such as Savoy, who invited them to to be a supporting act for their Red Rocks show in April 2015.
Luke: I feel like electronic rock and soul tell a story. Rich melodies along with heavy bass combine so well to create a great sound experience.

---

Arja: Electronic Rock and Soul separate from other genres of electronic music in that they rely heavily on atmospheric feel good tunes that do not carry the same 4/4 beat, but break up in to hip hop/soul and rock elements. To me, the major difference is that it brings a live aspect to the performance through intricate layers of samples, live instruments, and beats.
The musical journey of Sims and Adair has never been focused on popularity but instead has an emphasis of truly connecting their listeners with the positive energy that they have heavily sprinkled throughout all their music.
Arja: I would want to eliminate the need for competition in this space, there is too much focus on how big certain artists are and how successful they are as a result of their "credibility". We are all on the same mission which is to spread positive vibes and energy through music to make our world a more conscious, better place.

---

Luke: I want to see more and more people doing what they love and going to shows to support the music. A lot of times people get caught up in the party at the show they forget to really focus on the music that is playing.
This emphasis of connecting with the listener is clearly shown in their latest EP, Revelations. Every song is dedicated to a certain emotion that is transcended through the melodies and they stem from experiences from their own lives.
Arja: "We always try to make a song more than just the thought of the song. When I make music, I try to think about the way things make me feel, such as something that happened that day or in the past, take that emotion and put it into what ever I am creating. It makes the music more fun to make because there is meaning behind everything we do. We never sit down and say lets make this song for money or exposure, but rather we focus on the message we want to portray with the song.

---

Luke: The Revelations EP has a lot of stories behind it. Using the experiences in life Arja and I have been through, we wanted to create something that told a story. Each song is based on a deeper meaning than just the title. Revelations as a whole, is the story of how experiences in life come together to create who we are today and where we are going tomorrow.
The future is surely bright for Bass Physics. They hope to collaborate with artists they have gained a lot of influence from such as STS9, Gramatik, and Linkin Park, but they have one goal that they have been dreaming to achieve for a long time.
 Arja & Luke: "Our first goal, which we already achieved, was to play main stage Red Rocks. Our most ambitious goal right now is to headline and sell out Red Rocks."
Recently, Bass Physics spread their beautiful sounds to Chicago fans in support of Phutureprimitve\'s Searching for Beauty in the Darkest Places Part 2 Tour. One could easily tell by the facial expressions of these two musicians during their performance, they had a profound love for music they wished to share with all. Check out some photos from their show provided by Kayla Mitchell Photography.