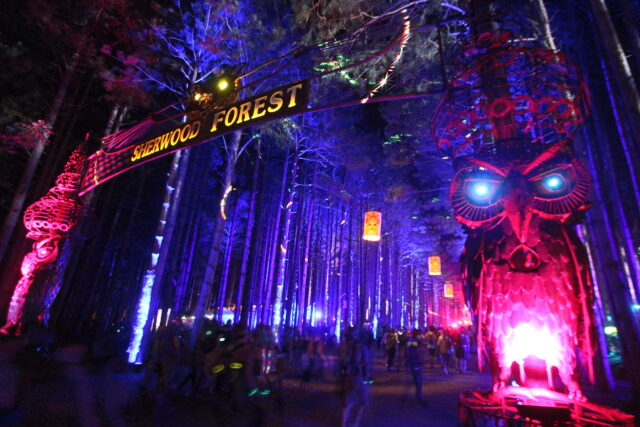 Electric Forest Festival in Rothbury is just a few days away! With a deep four day lineup, it wasn\'t easy to narrow these artists down to a list of 10 (or 11). This list doesn\'t even start to dive into the talent of the music you can find in the Forest. In addition to these electronic acts, be sure to explore the festival grounds, and find new music, stages, and experiences. Catch some String Cheese Incident, and check out acts such as Lettuce, Break Science, Shpongle, and more. If it\'s your first year, check out this comprehensive guide from the r/electricforest subreddit.
Here\'s my list of top acts for an EDM fan this weekend in Rothbury, Michigan:
10. [Tie] Carl Cox and Flume (Thursday 12:30-2 AM, Sherwood Court & Tripolee) –  I was really looking forward to seeing both of these guys. Carl Cox headlines stages around the world, playing for several hours at a time at EDC Las Vegas and Ultra this year. Australian superstar Flume is extremely talented and making his first stop in the Forest. They\'re at the exact same time slot, and you can only pick one, since these stages are literally the two that are furthest apart. Good luck!
9. Wiwek (Sunday 11:15-12:15 AM, Tripolee) – The genre \"Jungle Terror\" can be heard in literally every mainstage set this festival season. It\'s a trend, and reminds me of trap a few years ago. It\'s basically electro house with jungle and animal noises, and Wiwek invented it. He already has his own record label, several EDM tracks that you probably recognize, and a collab with Hardwell in his young career. His sets have nice flow, and aren\'t just a bunch of loud sounds in your face like you might expect.
8. Galantis (Thursday, 5-6:15 PM, Ranch Arena) – Coming off the release of their new album, Pharmacy, electro house duo Galantis are some of the first performers of the festival. Not sure why a duo with this much buzz is scheduled in such a poor time slot, but these guys are talented and will do a great job setting the tone for a fun weekend.
7. Kaskade (Thursday, 12-1:15 AM, Ranch Arena) – Chicago native Kaskade will close out Ranch Arena the first night, bringing energy, good vibes, and one of best (and probably crowded) EDM shows of the weekend.
6. Odesza (Thursday, 10:15-11:30 PM, Ranch Arena) – Hailing from Seattle, this duo has been embraced by all types of music lovers and should bring a great crowd to my favorite stage. This is definitely some music appropriate for the Forest!
5. Claude von Stroke (Saturday, 1:45-3:15 AM, Triploee) – Dirtybird founder Claude von Stroke brings his unique blend of \"booty-shakin\" house music to Triploee into the wee hours of the morning on Saturday night. His music is incredibly fun; this is the function you don\'t want to miss. Green Velvet is playing right before – expect them to spin together for a bit as the duo Get Real.
4. Skrillex (Friday, 12:30-2, Ranch Arena) – Skrillex was so excited to play Electric Forest this year he tweeted it and instantly deleted it because the announcement wasn\'t official yet. I\'ve seen Skrillex countless times, and he\'s an expert at playing to different crowds. I\'m expecting a circa 2012 Skrillex set that will make Carnage at Bassrush at the same time look like a joke.
3. Snails (Friday, 10:30-11:30, Triploee) – Friday\'s Bassrush has a heavy and diverse lineup. Canadian up-and-comer and \"vomitstep\" creator Snails has one of the prime slots of the event. This might not be a show for everybody, but take a listen to his music and see what you think.
2. Big Gigantic (Sunday, 12:30-1:45, Sherwood Court) – Performing with The Motet, Big Gigantic brings their funky live performance to the biggest stage of the Forest to close out the entire weekend. This is something that would only happen in Electric Forest lovers\' dreams. It\'s tough to miss Paul Oakenfold at Triploee at the same time, but Big Gigantic is sure to be an unforgettable experience. Big G and Snails have a popular new song together, \"Funk With Me\" – expect a special appearance at one of their shows.
1. Bassnectar (Saturday, 12:30-2, Ranch Arena) – I\'m a firm believer that everyone should experience a Bassnectar show at least once. I don\'t even need to explain this one, just go.
Missed the Cut: Mr. Carmack, Dubfire, Pete Tong, Brodinski, MartyParty, Mako, Mt. Eden, Datsik, Flux Pavilion, SNBRN, Matoma, Autograf, Gramatik, Alison Wonderland, Paul Oakenfold.
Have a great weekend everyone, and stay safe.