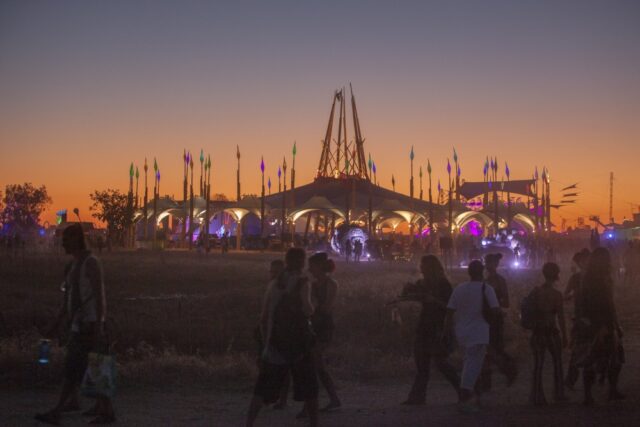 All words and pictures by Harry Levin
Symbiosis Gathering celebrated its 10 Year Re:union this past weekend (Sept. 17-21) on a dusty peninsula called the Woodward Resevoir. I left that place with a lot of realizations about a number of things. Music, community, festivals in general; but one thing that stuck out in particular was that SG is the only festival I have ever attended where the title actually described what it is.
Most festivals choose a title by putting exciting words together that wouldn't mean anything in any other context. (Sonic Bloom, Electric Daisy Carnival, Sun Coast Music Festival) Some integrate a small amount of truth into their names. For example, Coachella takes place in Coachella valley, and a man burns at Burning Man, but the words "music and arts festival," have to be added somewhere on the announcement poster.
However Symbiosis Gathering was just that: a symbiotic gathering.
The dictionary defines "symbiosis" as: "any interdependent or mutually beneficial relationship between two persons, groups, etc." At first, this paints a quite obvious picture. Obviously Symbiosis benefits from 14,000 people attending their event, just as those in attendance benefit from the music and everything else that convinced them to buy a ticket, but the idea of symbiotic relationships doesn't end with being beneficial to one another. It goes all the way to working to improve one another, and if you worked to embody the spirit of Symbiosis Gathering, you would feel Symbiosis working for you.
It became immediately clear that Symbiosis was working for me on Thursday evening. Not just because our entry into the car camping area was smooth as butter, or because the lake that surrounded the festival was open for swimming on Thursday as well, but because unlike most festivals, Symbiosis was in full swing on Thursday. While most full weekend camping festivals open their grounds on Thursday for the early birds to get a good spot, Symbiosis opened four out of the six stages and had music bumping from 3pm till midnight. Plus, the music bumping wasn't just a bunch of second-rate background DJs providing some danceability. There were monsters like EPROM, who was spinning his unique brand of Earth-shaking bass at full volume.
It being my first time seeing EPROM, I had my moment of epileptic shaking to the tidal waves of bass being thrown at me, but then my next instinct was to spin some poi to this new genre of bass music I had discovered. In the festival spirit, most people who are avid at flow arts are more than willing to share with you, but sharing wasn't necessary because when i turned around, FlowToys had a mobile cart stocked with their whole inventory. Staves, poi, wands, hoops; the back of EPROM's gyrating crowd was now filled with dancing lights.
EPROM was the last act of Thursday night (what an opening right?) but I was not ready for my Thursday to end (especially because the trek back to my campsite took 25 minutes and there were no lights over the campgrounds). I tried convening with my group as to what our next step was, but I was soon separated from them by the mob of people returning to the campsite, and the sound of jazz music coming from The Hub. Instinctually, I had to follow it.
The Hub was the resident chill spot of Symbiosis. Completely covered in shade, there was astro turf shielding you from the dirt, an assortment of pillows and couches if you wanted to nap, and all the food and drink vendors were adjacent. However, when I arrived, the astro turf was covered in swing dancing couples and worn-out festival-goers who were only there for the pillows while an old-timey Jazz band called The Saloon Ensemble played ragtime covers of Eddie Van Halen with all the energy they had in the world.
I looked at the lineup poster and the field guide for Symbiosis dozens of times before pulling into the grounds, and not once did I expect to hear ragtime, jazz, or anything of the like, but for the rest of the weekend, whenever I would let Symbiosis guide me, as opposed to following a schedule like I would at most other festivals, I always ended up somewhere great.
For example, on Friday, other than purposefully attending Quantic's reggae and Latin themed island party at Swimbiosis (the stage where the number of mostly naked people dancing in the dirt was equal to the number of mostly naked people sprawled out over a pair art floats) I was left to traverse the festival all by my lonesome. It was during this time I realized the ingenuity of Symbiosis's layout. Each stage was rather close to one another, but the acoustics of each completely prevented soundbleed from affecting your experience. Combined with their creative stage production, (Juketown was a saloon in the old west) each stage curated a separate environment. Whenever I would arrive at one of them, the music I would hear and the visuals I would see, were different than anything I had experienced at another festival. Whether it was the alternative techno of Thugfucker at the Grotto (the giant faberge egg stage EPROM was at the night before), The Big Island's (main stage) beautiful opening ceremony, or the infectious grooves of the Emancipator Ensemble, I really did feel like Symbiosis was working for me.
The only time the small number of faults became clear at Symbiosis was when I would rely on the schedule. After waiting all day to see G Jones and Minnesota go back-to-back at the Big Island, I ran out of water half way through their set, and I was forced to find the nearest refill station which was a ten minute walk, both ways. Nicolas Jaar's headlining set was boring at best, and on Saturday night/Sunday morning, I was overly ecstatic for the Dirtybird takeover at Juketown, but because of a sound ordinance, J. Philip, Christian Martin, and Ardalan had to dish out their booty-shakin' beats at half volume.
Not to say following the schedule only produced undesirable outcomes. Sylvan Esso, the pop duo for whom I was most excited, provided a much needed dose of unified energy with their light hearted bass music. At one point during their set, Amelia asked the crowd to howl at the moon, and the resulting roar was so loud, it was heard all throughout the reservoir.
While the symbiosis between myself and the festival was clear as day, the relationship would not have been as mutually beneficial if it wasn't for the people who had gathered together for the weekend. Everyone there was experiencing their own symbiotic relationship with the festival and every person you met there had a story to tell or a hand to lend. During one of my long treks into the festival from the campgrounds, a woman approached me and my friend and asked, "do you want a bike?" and before we could respond, she danced away from us in the other direction, trusting the festival just as I had been doing. At first I thought I'd see a rusty piece of shit laying in the dirt, but it was in fact the opposite. A perfectly good beach cruiser wrapped in fluorescent green wire was leaning against the fence, and I proceeded to use that bike numerous times throughout the weekend, including a sunrise bike ride around the entire grounds with Tipper's masterful surprise set as the soundtrack. There was one guy who told us all about the new flow toy he invented (the square), and a guy who camped next to us named David brought a typewriter and would write you a personal poem whenever you asked. (Follow him @poetryanywhere)
It was this gathering of alternative individuals that encouraged a lot more musical exploration from the artists. People weren't there to just groove to house music. Bigger names including Justin Martin opted away from their usual sound, playing a lot more downtempo, bass heavy tracks. Damian Lazarus sufficed the absence of the Ancient Moons by doubling his set time and adding just the right amount of ethnic flavor to his dark techno set for the final sunset on Sunday.
Unfortunately there is another aspect of gatherings of any type that is inescapable in nature: they are temporary. Sunday night driving back to LA I found myself trying to sort through the gigabytes of new memories in the overloaded hard drive that was my brain, but I also found myself doing something else. I was thinking about the ideas behind the symbiotic gathering I had just attended, and how those ideas can be applied to everyday life. There are many festivals out there that promote similar notions, but I have never before experienced the ideals of community, kindness, self exploration, and artistic creativity in such a three-dimensional way. Symbiosis Gathering is what happens when those ideas are put into action, because once you realize you have that same symbiotic relationship with everyone and everything, you'll want nothing more than too improve the world around you.
Featured Image by: Jamie Rosenberg