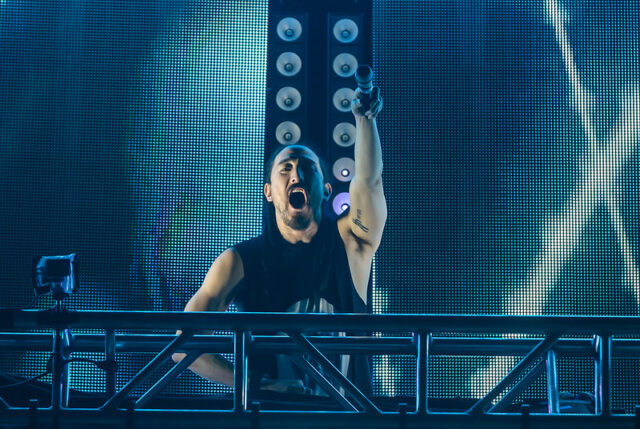 On Saturday, February 28th, Steve Aoki and the Neon Future Experience made its way to Aragon Ballroom to a sold out crowd. The tickets, priced near $50, didn\'t stop Aoki and his following of fans. The Aragon was packed on a night that saw John Dahlback, Mike Mago, Dr. Fresch, The Floozies, and more all playing in Chicago.
It was a great night of music in the city, and the Aoki experience definitely lived up to its high expectations. Openers Dirtyphonics and Caked Up warmed up the crowd, but the massive line outside prevented most fans from seeing either of these two acts. The final headliner, Headhunterz, took the stage around 10:45. Known as one of the most popular hardstyle DJs, Headhunterz (Willem Rebergen), instead wisely played to the mainstream crowd, playing various party tunes like \"NRG (Skrillex, Milo & Otis, and Kill the Noise Remix)\" and Martin Garrix\'s \"Virus.\" The set built up nicely into a ending full of hardstyle and Headhunterz tracks like his \"Mosh Pit\" remix and his collab with W&W, along with some new songs. Even though I was ready to hear hardstyle for a full hour, Headhunterz played a solid opening set.
After 15 minutes of awkwardness and nearly full lighting in the Aragon, Steve Aoki took the stage around midnight. The wait before his set made sense as soon as it started; the production around this show was truly impressive. With a high, epic view of the crowd, similar to what Flosstradamus had at their show in December, Aoki played until 1:30 with amazing visuals, LEDs, and dancers. There were two columns of lights which revealed themselves about 15 minutes into the show as \"Aokibots,\" which looked nearly identical to Optimus Prime and were pretty awesome.
The show was not without its signature Aoki shenangians such as cake, confetti, champagne, and rafts. There was a time where there were four rafts floating around the crowd, some getting all the way near the sound booth in the back. However, unlike past shows such as his performance in 2012 at Congress, Aoki didn\'t get on any of these rafts himself. Probably for the best; I think he\'s realized that doing such a thing is not worth the potential injuries and risks that come with the crowd.
The set itself was great. The party never stopped at the Aragon. Aoki played plenty of songs from his new album, Neon Future, along with other tunes and high-energy edits and remixes. He played nearly everything a fan of his would want to hear, including the iconic \"Pursuit of Happiness\" near the end. He also brought out vocalist Moxie Raia to perform their new song \"I Love it When You Cry.\"
Steve Aoki is one of most polarizing figures in the electronic scene, and it\'s obvious why. His shows revolve around fun and party antics rather than real DJing and music selection like a normal performance. However, anyone with knowledge of Aoki and his style would never claim he\'s a good DJ, or even on the level of most other mainstream acts.
First and foremost, Steve Aoki is a producer. His tracks from 2015\'s \"Rage the Night Away\" with Waka Flocka to 2009\'s \"I\'m In The House\" with zuper blahq [will.i.am] and everything in between have never failed to get crowds around the world jumping up and down and have made him (and EDM) a global phenomenon.
Second, Steve Aoki is an entertainer and a businessman. The son of the Japanese immigrant who founded Benihana, he started Dim Mak Records nearly 20 years ago in 1996. As the result of hard work and dedication, he has turned it into one of the biggest global labels in the EDM craze. He\'s been able to do this because he\'s an expert on putting on a show and showing people a good time. Sure, he probably could stare into his equipment and play a set of impressively mixed electro but that\'s just not his style.
Third, Steve Aoki is a DJ. He does everything else so well that he barely needs to try at this part. And if you can\'t appreciate that, your loss. As for the rest of us, we\'ll keep raging the night away.
Photo Credit: Ryan Pergola