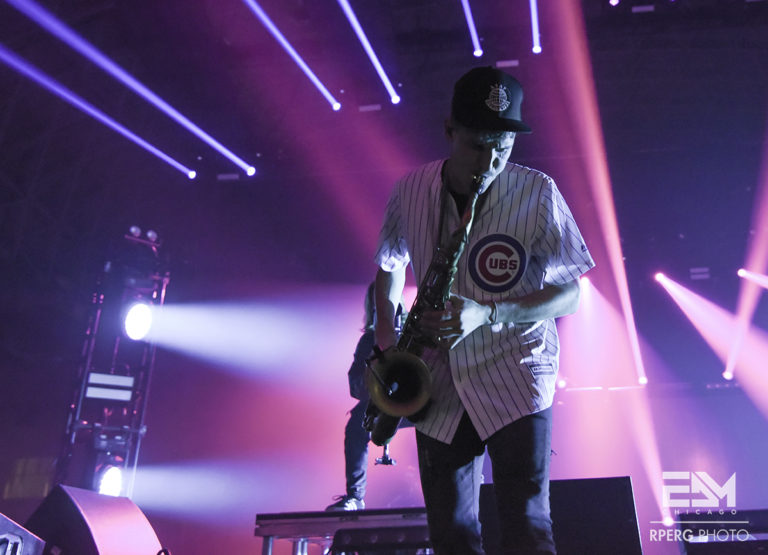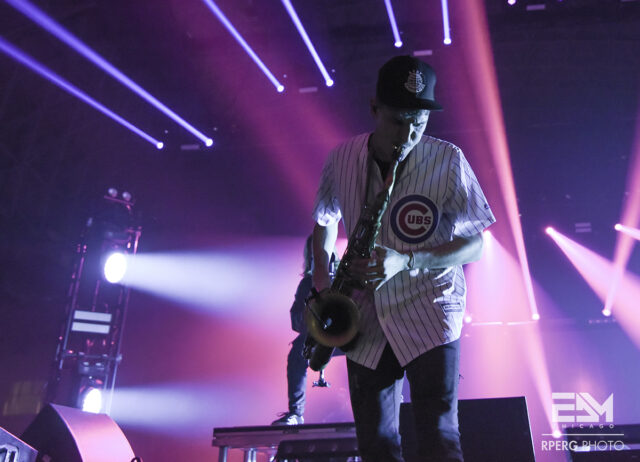 As the clock struck 9:15pm and the room went dark, all 12,000 of us cheered for what would be one of the best shows of the entire year. Not only did GRiZ bring his A-game to Chicago\'s iconic Navy Pier this past Saturday, he sold it out.
The evening started on a high note with \"Can\'t Hold Me Down,\" a powerful anthem off his new album
Good Will Prevail
. Throughout the show, Grant manned the table in a Rizzo jersey with his beloved saxophone while
Muzzy Bearr
jammed out on the guitar and vocals.
In addition to funky classics like hit with Manic Focus and SunSquabi \"Get Down\" and \"Dance With Me,\" the two played plenty of newer beats off Good Will Prevail and brought some friends out to join the party. iDA Hawk belted out a fair share of the hits she shares with GRiZ and Chicago\'s very own ProbCause came out for the catchy \"My Friends and I.\" Other guests included Brasstracks and Haywyre.
For the most part, the music was nonstop with little crowd interaction. If you\'ve been following GRiZ on social media during this election season, you know where he stands and the producer took a moment to share that once more with the Windy City. In that moment, the room shouted \"Fuck Trump\" in unison and the music proceeded with an image of GRiZ taking Trump out with a karate kick.
Along with the groovy tunes, the lighting and visuals were incredibly vibrant and matched the very-present theme of love. And when the night came to an end, we were sent off with shimmering confetti and the ultimate feels.
[foogallery id=\"43836\"]
The tour isn\'t quite over yet so if you have the chance, catch it in a city near you. Find the dates here.