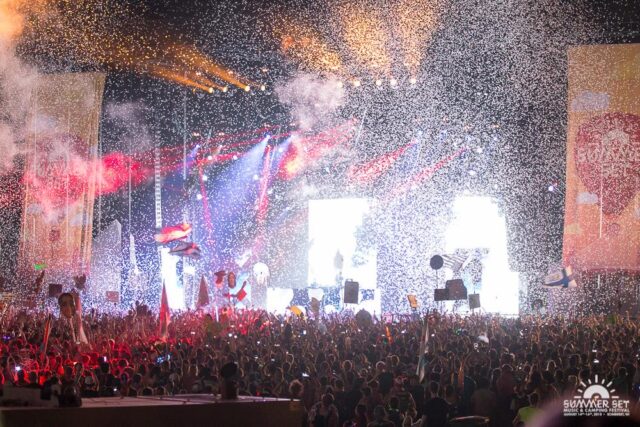 There are not many musical acts that can capture the intensity of an electronic show but having acts that span across different genres can truly enhance the experience of an electronic festival. Summer Set Music Festival recently closed out their fourth year of bringing out an eclectic lineup of predominantly electronic acts to Somerset, Wisconsin but a few of the most memorable shows this year lacked turntables and DJs.
The presence of non-electronic and electronic acts at Summer Set made the fest incredibly entertaining while also breaking stereotypes of electronic music enthusiasts. A vast majority of electronic festival goers favor electronic music over other genres but that doesn\'t mean they avoid listening to other genres. Summer Set\'s diverse lineup represented this unique musical taste of the modern electronic enthusiast by providing performances from rappers and rock bands in between a plethora of talented DJs. This genre gentrification of an electronic lineup shows that ravers don\'t need electrifying bass to be satisfied, but instead can be just as entertained listening to an indie band or a 90s rapper.
This lineup diversification also allows people from all walks of life, who wouldn\'t usually attend an electronic festival, to experience the PLUR\'d culture of one of the most vibrant musical followings today.  All in all, rappers and rock bands attract a larger, more diverse group of musical enthusiasts to electronic festivals and are great for bass breaks.
On the first day of Summer Set, hundreds gathered at The Meadow just before sunset to witness the awesome collaboration of BADBADNOTGOOD and Wu Tang Clan\'s Ghostface Killah. After about 20 minutes of upbeat instrumentals from the illustrious BADBADNOTGOOD, Ghostface strolled out onto the stage and the crowd erupted. From then on, those in attendance were blasted back into the 90s with Wu Tang classics such as \"C.R.E.A.M.\" and  "Wu-Tang Clan Ain\'t Nuthing ta Fuck Wit".  As the day progressed, Nahko & Medicine For The People graced the same stage and provided passionate fans with happy melodies and phenomenal vocals. Later on, Earl Sweatshirt occupied the Main Stage before Bassnectar and had girls on shoulders rapping with him word for word. By the first day it was easy to see that people didn\'t just come here for bass..
This fact was evidently clear when thousands flooded The Grove the next day to witness the stellar performance of Bone Thugs N Harmony. Besides executing flawless renditions of \"Crossroads\" and\"I Got 5 On It\", Bone Thugs N Harmony closed their set with an impressive Fetty Wap, \"My Way\" remix that had everyone fairly turnt. After the legendary rappers exited, an enveloping live set from Tycho followed, which seemed to stop time with a powerful ambient force. Big Gigantic closed the night with a surprisingly grimy set.
The last day of Summer Set featured Chicago\'s own Saba performing at the Saloon as one of the first acts of the day. Later on in the day, storms interrupted the South African group Die Antwoord\'s and Lettuce\'s set time and left a lot of people unhappy. But all those needing a rap fix were satisfied that night when G-Eazy and Action Bronson made performances to remember before Deadmau5 closed the weekend with a massive set.