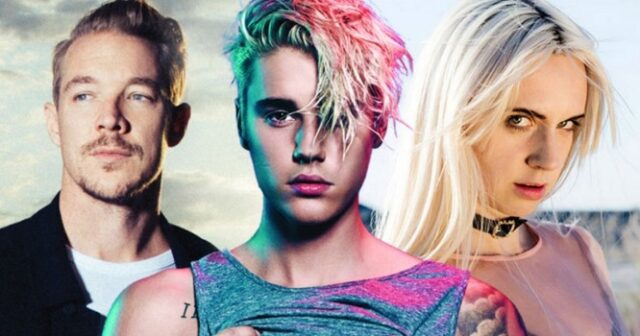 2016 is the year that Major Lazer has cracked the mainstream, and their most recent collab with Justin Bieber is only more evidence as to their household pop appeal. The dance music trio duetted the Biebs\' vocal power alongside rising Danish singer MØ as a teaser to their fourth LP, Music Is the Weapon, which is set for release later this year. The track, which is already poised to be the radio summer hit to round out 2016, has additional star power from producer Benny Blano and co-writer Ed Sheeran.
The overall track gleams a lighthearted, bouncey vibes in the style of sunset house, much like their previous popular hit \"Lean On,\" also featuring MØ. Beiber\'s vocals domiante the track on the whole; but when MØ finally graces \"Cold Water\" with her gorgeous vocals around the last 45 seconds, it\'s her cameo-like appeal and harmonization with Beiber that really makes the track shine.
Hopefully, we\'ll be lucky enough to hear this one performed live at the almost SOLD OUT Austin City Limits, which Major Lazer will headline this late September/early October. Only single day ACL tickets remain, so be sure to grab them fast. Stream the track via SoundCloud below, or use your favorite platform by clicking here. Cold Water is also available for download on iTunes and GooglePlay.
FOLLOW MAJOR LAZER:
WEBSITE – www.majorlazer.com
FACEBOOK – majorlazer.fm/Facebook
TWITTER – majorlazer.fm/Twitter
INSTAGRAM – majorlazer.fm/Instagram
SOUNDCLOUD – majorlazer.fm/SoundCloud
FOLLOW JUSTIN BIEBER:
WEBSITE – justinbiebermusic.com
FACEBOOK – facebook.com/justinbieber
TWITTER – twitter.com/justinbieber
INSTAGRAM – instagram.com/justinbieber
YOUTUBE – youtube.com/kidrauhl
FOLLOW MØ:
WEBSITE – momomoyouth.com
FACEBOOK – smarturl.it/MOfacebook?iqid=yt
INSTAGRAM – smarturl.it/MOinstagram?iqid=yt
TWITTER – smarturl.it/MOtwitter?iqid=yt
MAILER – smarturl.it/MOmail?iqid=yt