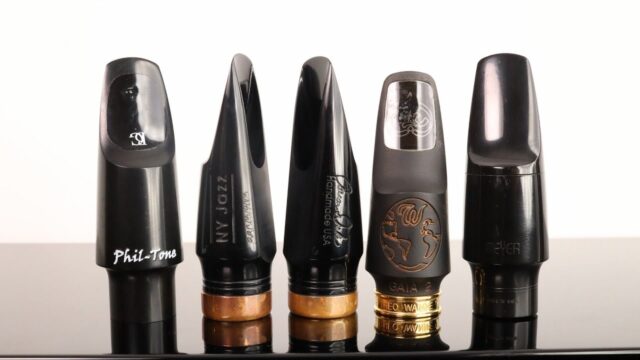 Are you a saxophonist in search of the best alto sax mouthpiece to heighten your sound quality?
Determining the ideal mouthpiece may leave you in endless pursuit. The process can be time-consuming, given the myriad of brands and designs available. And a worn-out, used mouthpiece may not be up to par, crossing it out of the choices.
In this 2023 guide, we are bringing you the five best alto sax mouthpieces on the market. From warm and mellow tones to fiercely bright and powerful sounds, these mouthpieces are the best for various playing styles.
Glory Alto Saxophone Mouthpiece Kit (Top Alto Saxophone Mouthpieces for Beginners)
Glory Alto Saxophone Mouthpiece Kit is a quality mouthpiece that provides superior sound. This kit includes a mouthpiece cap and ligature that are easy to install and ensure proper fit. Hence, making it a complete package for those starting to play the saxophone.
Besides that, the Glory mouthpiece kit produces a warm, rich sound that is perfect for beginners. As such, the mouthpiece has a medium-sized opening, allowing easier airflow.
Likewise, its design ensures consistent intonation, making it an ideal pick for those who want to play jazz and classical music. It also offers a smooth and balanced response, allowing the player to make various notes.
Yet, this kit is affordable, making it available to anyone who desires to learn how to play the saxophone.
Selmer Concept Alto Saxophone Mouthpiece (Best Jazz Mouthpiece)
In terms of sound, players praise the Selmer Concept Alto Saxophone Mouthpiece. As such, this alto sax mouthpiece has the following features:
Made of high-quality ebonite mouthpiece material.
Medium chamber and facing length of 22mm for a balanced sound.
Tip opening of 1.90mm allows for a more flexible sound and dynamic range.
Square throat design for precise intonation.
Streamlined, contoured design for better ergonomics and improved tone.
Variety of facing size options to suit different reed strengths.
While the Selmer Concept Mouthpiece excels in various applications, it is well-suited for jazz music. The mouthpiece's unique tonal quality makes it perfect for exploring the wide range of expressions often found in jazz.
Additionally, it allows players to navigate the complex chords and progressions in jazz tunes. Hence, making it one of the great jazz mouthpieces.
Vandoren SM711 AL3 Optimum Alto Saxophone Mouthpiece (Best Classical Alto Sax Mouthpiece)
Even the most skilled saxophonist will struggle to achieve the desired tonal quality and clarity without the best alto sax mouthpiece. This is where the Vandoren SM711 AL3 Optimum Series Alto Saxophone Mouthpiece comes in.
Widely regarded as the best saxophone mouthpiece for classical, it boasts several features that make it stand out, such as:
Made of pure hard rubber for added durability and tonal quality.
Unique design allows the reed to vibrate freely, ensuring maximum responsiveness and clarity.
Adjustable-height ligature for accurate and consistent performance.
Available in three different facings to suit the varying needs of other saxophonists.
When it comes to sound, the Vandoren Mouthpiece delivers a rich, warm, and expressive tone that is perfect for classical music. The mouthpiece's unique design allows for versatile and dynamic playing. Thus, giving the musician the freedom to control the tonal expression greatly.
For classical music, this mouthpiece truly shines. Its large chamber ensures a full-bodied and resonant sound. Likewise, it allows the musician to focus on the nuances and subtleties of the performance.
MR-402-7MM Rubber Meyer Mouthpieces (Versatile Alto Sax Mouthpiece)
As an alto saxophonist, finding the perfect mouthpiece is essential to producing your desired sound. The MR-402-7MM Rubber Meyer Mouthpiece is a versatile option even for tenor sax. This mouthpiece has features that elevate its position in the market, like:
Made of high-quality rubber, which gives a softer feel than a metal mouthpiece.
Versatile design that makes it perfect for various musical genres.
Tip opening of 0.07 inches that delivers exceptional sound quality.
The Meyer Mouthpiece produces a delightful, full-bodied sound that is warm and appealing to listeners. Along with this, 0.07 inches saxophone tips can create a bright sound and offer control to produce a mellower tone.
In general, the Meyer is a great selection for players seeking a versatile sax or tenor mouthpiece that caters to different styles. Additionally, it is a sturdy and trustworthy option that produces a lively, resonant sound.
Yamaha 4C Alto Saxophone Mouthpieces (Best Value for Money)
One such mouthpiece that stands out for its quality and value for money is the Yamaha 4C. As such, it comes with several features, making it a splendid selection for alto saxophonists. A few of these features include:
Made of hard rubber material, which is durable and comfortable to play.
Conventional design that fits well with any saxophone.
Opening of 1.5 mm, which provides easy and comfortable playability.
Besides that, Yamaha 4C offers impressive sound quality. For instance, it produces a bright and crisp sound across all registers of the saxophone.
Lastly, the mouthpiece produces a well-balanced tonal quality. It may not be the perfect option for expert saxophonists, but it offers outstanding value on a budget.
Claude Lakey CLA613 Hard Rubber Alto Saxophone Mouthpiece (Best in Durability)
If you want a bright and even sound, then Claude Lakey's compact mouthpiece with a wide-tip opening and medium-long facing length should suit your tastes.
Aside from the fact that you can use it with various sax brands, the CLA613 also looks great and sturdy, with its hard rubber body and sleek black finish.
And when it comes to genres you can perform, this alto sax mouthpiece best suits jazz, but also works with funk, rock, and other genres. It blends beautifully with ensemble playing, delivering a balanced sound with far-reaching projection.
With the CLA613, you'll enjoy:
Compatibility with different saxophone brands
An elegant and compact design
Replacement tooth guards
A wide range of tip openings to suit every player's needs
When choosing a mouthpiece, make sure that you consider the material used, its note production, mouthpiece room, and even your budget. But with a guide like this featuring a diverse set of alto sax mouthpiece selections, you'll be sure to find the right one for your needs.