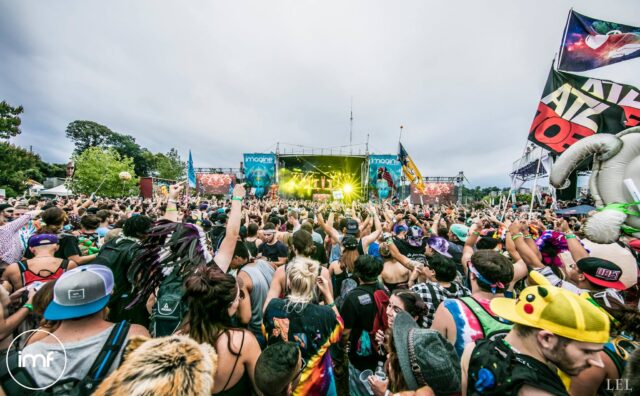 Imagine Music Festival is returning for its third year in Atlanta, Georgia and with many new surprises and advancements. Imaginers will embark on their fairytale into Imaginarium and new friendships, lifelong bonds, and memories are soon to form. This year it seems like each month Imagine is announcing a new addition to this year\'s installment. The latest announcement is the recent partnership between Imagine and Aqua for a 3D water hologram production at the main stage. Imagine guests this year are invited to experience this technological fairytale that has yet to be written together on August 26, 27 & 28 2016.
\"This year we continue the fairytale. Our aquatic experiences from misting domes, splash pool, fountains and more allow guests to become fully immersed in their environment while keeping cool,\" says Iris Presents founders Glenn and Madeleine Goodhand.  \"With your hearts fulfilled by the music we want to serve your mind as well. This year you will find more transformational arts and workshops that complement the music and forge a personal journey to something deeper."
As one of the country's last remaining independent festivals, 
Imagine
 is an all-encompassing, 360-degree sensory experience that blends music, circus troupes, performers, dancers, art, workshops, classes and more. 
Cirque USA
 will once again provide world-class cirque acts that include aerial artists, bungee performers, living statues, atmosphere artists and more. On the more interactive side, will be the Imagination Art Space curated by Jacob Hill. Scattered throughout the festival grounds, Imagination Art Space will exhibit works inspired and created at the festival. Building off of its immersive aquatic fairytale with an abundance of performers and live acts, 
Imagine
 will also include unique atmospheres such as The Imagine Beach & Splash Pool and Ocean View VIP Deck. Festival goers are invited to get wet and dance in the gigantic splash pool or just chill out on the beach chairs and VIP cabanas. The Ocean View VIP Deck offers premium bottle service and the best view of the Main Stage. Featuring elevated viewing, live entertainment, circus acts, special effects, premium wait staff, private seating, private air-conditioned bathrooms, and more – the Ocean View VIP Deck has it all. Finally, what festival would not be complete without amusement rides? The ultimate playground, the carnival rides at 
Imagine
 will include a ferris wheel that promises a view of Imagine that should not be missed.
Finally new this year, Imagine has teamed up with AQUA for the main stage take over with their 3D water hologram production. Dancing water fountains and mesmerizing 3D images will float next to the headliners, as they play out their set. In addition to a world-class water hologram show, the partnership gives back to third world countries. Founded with the idea that every concert goer can make a difference, AQUA produces international year-round tours where each ticket purchased results in clean water for a child in a third world country. This year, Imagine and AQUA are introducing Pocket Change, where the change in your pocket can make a huge impact on a child's life in Ghana. AQUA and Imagine are offering a special $200 package: 3-day pass, AQUA wristband, AQUA tank and one year of clean water donated on your behalf to a child in Ghana. Limited quantities of the package are available now.
The new venue for this year\'s Imagine will open new doors to more Imaginers and will triple the size from past installments with an estimate of being able to hold about 100,000 attendees per day. The festival will hold camping options like on-site camping, car camping, and even RV camping too. Time is ticking so do not wait on buying those tickets Imaginers!
Tickets are available now starting at $229 for a 3-day pass. VIP passes, with front row pit access, elevated viewing area, VIP access, air-conditioned chill lounge, bottle service, cocktail service, complimentary champagne toasts, private security, clean trailer bathrooms with running water and air conditioning, giveaways, meet and greets, and more are available starting at $399 for a 3-day pass. Camping passes are now available to purchase as an add-on to the festival tickets, with prices starting at $69. Tickets are available online at www.imaginefestival.com. Imagine Music Festival is an 18 and over event.
Check out the trailer for AQUA\'s 3D hologram movie right below.
FOLLOW IMAGINE:
Photo Credit: Facebook