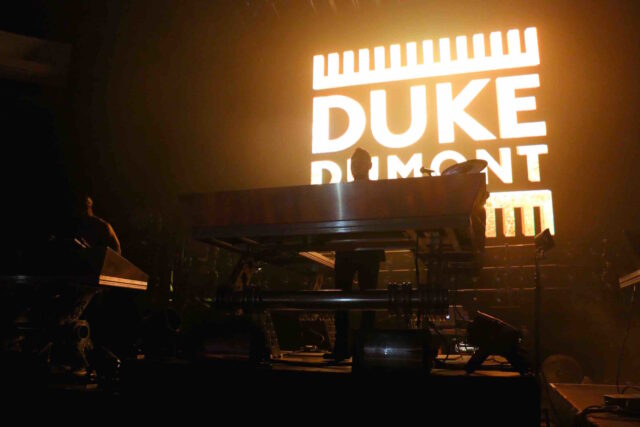 Live sets are cool right? When an artist does a live set, it shows their instrumental ability extends beyond a set of CDJ2000\'s and gives the show a kind of magic that can\'t be matched by a standard DJ set. The thing is, if the live set lacks the same energy of the DJ set, the instrumental ability, while appreciated, doesn\'t really contribute to the performance. In fact, it stagnates it.
If you had asked me about this subject a few days ago, I wouldn\'t have had a reason to think this. All the live sets I\'ve seen (Disclosure, Chromeo, Gesaffelstein etc.) have been jam-packed with energy compared to their DJ counterparts. It wasn\'t until I went to see Duke Dumont with his three piece band that I would have preferred to witness a DJ set.
Don\'t get me wrong, Duke\'s execution of his classic tracks was exquisite. Even though Yolanda Quartey wasn\'t there to sing her white-hot vocals on \"Won\'t look back,\" the piano riffs accompanying them were perfectly in sync. With eyes closed, one would not be able to tell the difference between the recording and what was being played live.
However, one of the reasons Duke is even able to do a live set, is that his music is all in keeping with the same mellow, piano driven style. It\'s this quality that gives his music its level of authenticity, but without a usb full of tracks to change the pace of the set, or a mixer full of effects to add some flare to the transitions, that style starts to get a bit stale after hearing it for 30 to 40 minutes straight (and his set was just over an hour long.) It wasn\'t until Duke played his reconstruction of \"Two Doors Down\" by Mystery Jets that the monotony was broken by dark synths and electrified bass. Maybe if the consoles in front of him weren\'t so massive to the point that the audience couldn\'t see him or his bandmates playing their instruments, then the crowd would have been more involved.
In addition to the dragging tempo of the performance, Duke definitely failed to utilize the stage to the fullest. Another staple in Duke\'s style are his use of vocals. In the studio he has the ability to push vocalists to a new level of emotion, and if he brought out a vocalist to perform tracks like \"The Giver\" or \"I Got U\" he could have demonstrated that to the audience, but instead he relied on the recordings. Perhaps he\'s a perfectionist and wouldn\'t do that unless the actual vocalist could perform with him, but Gorgon City uses to two vocalists (male and female) for their live sets, neither of which recorded any of the songs their singing, but that doesn\'t matter because the raw, live energy provided is more than enough to suffice for the different sound.
Overall, it just didn\'t seem like Duke took his live set very seriously. He played the songs you wanted to hear, but that\'s about it. People come to live sets because they want something more than that though. They want to feel connected to the artist in a way that simply can\'t happen during a normal DJ set. Duke was definitely connected to his console and the musicians on stage with him, but he wasn\'t connected to the crowd.