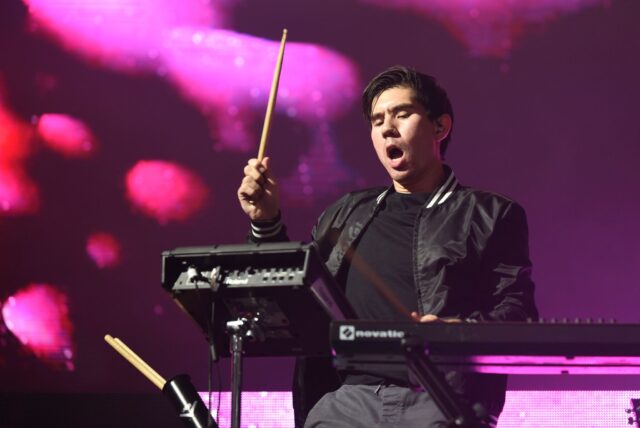 DJ, record producer and classically trained musician Gryffin just wrapped up his Whole Heart Tour. If you were lucky, you got to catch him on one of his many stops. The Whole Heart Tour featured Gryffin playing his heart out to the crowd, all while showcasing his amazing skill on instruments.
I had the opportunity to sit down with Dan (Gryffin) for a while to chat about things ranging from a new EP to missing his dog. An absolute class act all around, Gryffin gives his two cents to up and coming artists and following your dream. Check out our interview below.
What kind of music do you classify yourself as making?
When I first started releasing music, I would say maybe more a melodic house type vibe. More of the stuff I do is house based, but I\'m a really big melody person. I incorporate a lot of piano and guitar into my sound to make a hybrid of electric and organic type sounds. But I guess I would just classify myself as melodic house.
So you took a whole year off to just focus on doing live sets?
Yeah! I started releasing music a little over two years ago. I made it a point to not tour because I wanted to come out as a hybrid live DJ. I wanted to bring something different to the scene. So for that first year, I was trying to figure out how I was even going to execute the show and build up enough content to even perform my music in a set. It\'s why I waited a year. SnowGlobe in January ended up being my first live show.
Have you ever thought about having a full live band, or are you going to stick to all the instrument playing yourself?
I\'ve definitely thought about that, but I don\'t think I\'m going to go there actually. I was toying with it for a while, and I thought about maybe having a guest vocalist accompanying me on the music and singing tracks. As I\'m developing the show, I\'ve been realizing that keeping it more self sustaining while still live DJing is the lane I\'m trying to go in. I want to keep it more self sustaining. I think Porter Robinson is doing an amazing job of being a one man live show. I\'m going to keep it as myself for now, but who knows.
Since you started with playing the piano and the guitar, then moved to DJ sets, how did you get back to your live performance roots?
I\'ve always been more of an instrument player since I was a kid, I was always listening to rock music and sorts. DJing and dance music is fun, but I felt like when I was originally trying to make stuff, I was trying to make it sound like Swedish House Mafia. I didn\'t feel inspired by what I was creating. It wasn\'t until I brought back my earlier beginnings of playing piano and guitar into the music where I found myself as an artist. I guess it was a combination of listening to the music and bringing back everything I grew up on. A lot of artists were doing really inspiring things, like Disclosure and Odesza. It pushed me into this sonic realm of creating. Did that answer the question?
I know last year when you were here for the Mad Decent Block Party you were DJing, so obviously a lot has changed.
That was so fun. It\'s not like I don\'t like the DJ stuff. It\'s definitely more hype, so I mean kids go harder. It\'s a different experience. It\'s a completely different show when you go live.
So since you\'re in the middle of your tour, what has been the most memorable thing so far?
I mean selling out the Novo was an awesome thing. It\'s a huge venue in LA, and I had Bipolar Sunshine there to do \"Whole Heart\" with. He flew out from London to do it, and we got to shoot the music video last week. That was a definite highlight. Even in Atlanta. It was my first time being there and we sold it out. There have been so many good highlights that I just can\'t decide. I\'m looking forward to New York and San Francisco.
What is one thing you have to bring on tour with you?
I guess my shoes? Definitely my toothbrush. I wish I could bring my dog with my everywhere.
Are there any plans for an album or EP in the future?
Right now, its been hard since I\'ve been playing so many festivals, and then I went directly into the Whole Heart tour. I haven\'t had as much time to work on new music, but right when I\'m done in 2 and a half weeks, I\'m shutting down touring for 2-3 months. I\'m going to live in the studio. The plan is to come out with a few more remixes. I\'m already talking to some artists that I really want to remix. The goal is to definitely put out an EP early next year. I\'ve got two songs totally done, and I\'m already working on three others ones. I would love to put it out as a body of work next year. An album is still definitely a ways away, though.
What do you have to say to new artists looking to make it in this scene?
I think the best advice I could give is to just really try and find your own unique identity. Don\'t chase the hot sound of the moment, because if you do that, you\'ll end up a couple steps behind what is happening. Really try and focus on what sound and what identity you want to have as an artist. Fit your own brand. Don\'t be afraid to message other artists and producers about feedback, because nowadays, with Twitter and Snapchat and all, there are so many ways you can connect with the artist. If you want to reach out, you can. You\'ll be surprised at how many people will respond. Work hard at it. If it\'s your passion, go for it.
Dan, thank you so much for sitting down with me to chat. It has been an absolute pleasure, and I look forward to crossing paths in the future.
Photo via Ryan Pergola