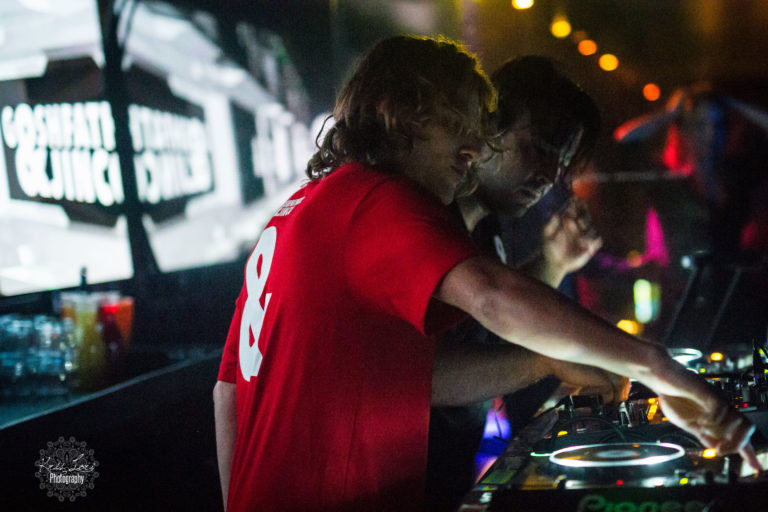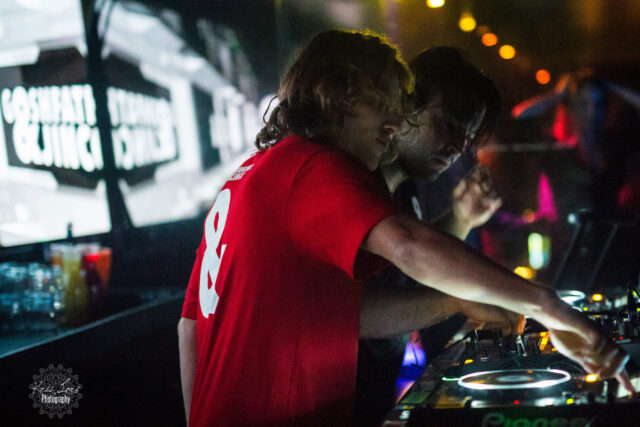 There\'s more to Goshfather & Jinco than being a politically correct old man, and a pair of jeans from the 90\'s. The duo have come into the scene by storm, demonstrating production versatility, and strength in multiple genres. They\'re uninhibited by labels, and pigeonholes, and approach their craft with the constant hope of surprising new and existing fans of many EDM subgenres. This past weekend, I had the unique opportunity of catching up with the guys prior to the kickoff of their first official U.S. tour starting in Chicago.
EDMC: I'm Cameron with EDM Chicago, good to have you guys here with us today.
G&J: Thanks for having us
EDMC: Let's get right into it. You guys are starting your first U.S. tour here in Chicago. You guys have never played here before. Was there any particular reason you guys kicked things off here?
Jeremy: I don't know that there was any particular reason, that was just how the bookings went, but I've never been to Chicago and have always wanted to come.
Victor: We were happy because, well, what a great reason to come here. We know a lot of people here too.

EDMC: That's the answer I was looking for.
Jeremy: So we get to play a show and go check out the city
Victor: Usually when we come to a city we have to leave right away; but we wanted to make sure we had the whole day (tomorrow) to check stuff out.
EDMC: Nice, do you guys have anything planned, or just whatever happens?
Jeremy: I want to go see the bean. And I have to take a picture right?
EDMC: (Laughs) Yeah, of your reflection.
Jeremy: I have to get the cliché Chicago photo.
EDMC: Now your latest tracks have been 'Uber' and 'Raj Revenge.' Let's talk about Uber for a second. I love the hook of that track. It just grabs you. Is there any particular inspiration or story from creating the track?
Victor: Well, we collaborated in the past with Cory Enemy who is one of our biggest mentors. He showed us an unreleased collab he had with someone that had a similar badass kind of lyric.
Jeremy: It was something so tangible that anyone could understand it
Victor: A lot of hooks in electronic music, especially in this genre are about 'put your hands up.' Look, I know we're not sitting here writing Beatles songs, but at the same time if you're going to listen to something in the club, let's at least find something different. Obviously we are bankrupt because of Ubers, but we use them all the time. We kind of wanted to make this an ode to this amazing thing, and at the same time, we wanted to make the song accessible enough. We want somebody who doesn't listen to deep house, G-house, or garage house whatever you wanna call this song, to grab onto it and think 'What is this?' Maybe someone will listen to it, and think 'This is kind of interesting, let's go a little deeper.' Then maybe they'll find Dirtybird or Carl Cox or something through it.
Jeremy: Maybe Ghastly or Jauz—
Victor: Yeah, maybe one of those more contemporary guys. It's like giving somebody a jump-off point. I think a lot of people try to make shit way too complicated out the gate, and we just wanted to make a song you could listen to at a party, in your car, or when you're working out.
Jeremy: It's a track we were thinking about making for at least a year. We conceptualized it a long time ago, and then one day Victor sent me an idea where he just sang it into his computer. I'm like, 'Dude that's the song, that's the idea.'
Victor: Then we sent it to 1DAFUL. By the way, shout out to 1DAFUL. They're incredible, and I hope one of the biggest things through us putting this collaboration out is that people will discover 1DAFUL music, because these guys are so talented and they're a huge reason why this song worked.
EDMC: Remix wise, you guys have remixed quite an eclectic bunch of songs, from Dido's 'Thank You' to Calvin Harris' 'How Deep is Your Love.' What was the thought process behind picking the songs you did?
Jeremy: For 'Thank You' I've always liked the Eminem version of that song, and the original as well. But Eminem took it to the mainstream, and when I got into the dance music scene, and I was like 'Dude, we've got to remix this.'
Victor: We were thinking we'd do a house remix, but it wasn't making sense… Jeremy: It was back when we were just dabbling in trap. We had just produced 'Lovefool' with Tony. Shout-out to Dr. Fresch, it's still one of our biggest tunes. I think our idea with every remix is to take something that is completely out of left field and bring it to the people.
Victor: Once again, (it's for) somebody who has no idea what bass music is, somebody who has no idea what trap music is. So I get this vocal, and all around the world, everyone knows this vocal you hear it and think, 'Okay, what genre is this in?' Then they start going down the rabbit hole. That's kind of what we always want to do. We make so many types of music, and people always say 'You're too spread out.' But we never want to pigeonhole ourselves, and we want to be those people that when fans are 'googling' they'll hear our songs, and look up other artists
EDMC: Like a domino effect.
Jeremy: We try to do that with every track, and obviously not all of them are on the same level, but even the Calvin Harris remix, that was an idea I sent Victor saying we should flip it and do something so different. Victor: Again, we were thinking 'should we do trap, deep house, or garage house?' Then we were like, 'What's no one touching on really heavily?' Well it's breaks. That old school breaks feel, which is from the beginning of house music and electronic music. We had so much fun making it, which is the other thing. We don't sit there and force it like we have to make this song. If we're not having fun with something there's no point in doing it. It was so much fun making that remix. And of course everything Calvin Harris touches is gold, so the vocal was bare-able.
EDMC: For this next question, I pulled the statement from your Soundcloud bio because I just think it's awesome. It says 'A politically correct old man, and a pair of jeans from the 90's.' I'm guessing that's the story behind your name?
Victor: (laughs) Well actually, some random guy on our Facebook made that joke on one of our posts, and I thought it was hilarious. I said I was going to make it our profile bio, and I did. We shouted him out. The other thing is that there's so many bios DJ's have that are like 'Award winning' – whatever. No one is going to go to your show and be like 'Wow, this guy won so many awards.' People just got to chill, it's dance music. We're not writing Beethoven.
EDMC: It made it stand out, that's for sure. Now from what I've read it also sounds like you guys came from very different, interesting backgrounds. What were you guys doing prior to making dance music?

Jeremy: My brother started a motion picture company, and they created comic books and graphic novels, and turned the intellectual property into movies. The first movie that he did was 'Oblivion' with Tom Cruise, then he did 'Hercules' with the Rock and now he's in postproduction on his third movie, Abattoir. I used to run the art department for his comic book company. So I created all of this comic book art, and production art for movies. I did that for like six years before I even knew about electronic music. Victor: We met when I booked him at a gig in Hollywood for a small party. I was basically promoting in Hollywood. Everyone knows the story of how Dillon Francis was a promoter right before he started making music. I was a generation of promoters after him. Borgeous and I both started at the same time promoting. I was doing these small EDM parties because I was passionate about the music. I was doing some light production and booking DJ's to bring in fifty people and fill the room. Jinco was one of the people that I booked and he kept saying 'Let's collab.' Up to that point I was wondering what that meant, because my whole life I had been studying opera and studying classical music. I studied at UCLA, and the Conservatory of Music in San Francisco, but I really loved electronic music. So I thought 'Okay, let's collab.' Usually what "collab" means is you go to some dude's mom's basement with busted speakers, but because his brother had the motion picture studio he had this incredible film-scoring department in place. So when those homies would leave after film-scoring, we'd be in their studio from like midnight to 5 am just pressing buttons, and learning, learning, learning, until it worked. And we've literally been doing that since.
EDMC: Were there any other people who came in and were a real inspiration to you musically?
Jeremy: Cory Enemy for sure.
Victor: We met him through some really random connection, and as we know he worked with Dillon Francis in the beginning. To us, this guy was a huge deal and he taught us so much, and believed in us, and supported us. We were nobody, but he loved what we were making and saw potential. That confidence from him working with us, and that momentum, we've kept all that since then just from working with him in the studio and bouncing ideas back and forth. We did David Guetta and Fatal Attraction with him, and I think we're going to work with him again soon. So Cory obviously, but also all the other homies, shout out to Lookas, Ghastly, Prince Fox, Henry Fong –
Jeremy: We have a good circle of producer friends in L.A. because everyone is there. You go out to a party and you'll see 50 of the biggest up and coming DJs right now. They're all these 19-27 year old kids, and they're all fired up and passionate, and we are too. We actually throw a live stream party in Hollywood every Wednesday night. We curate a lineup of three or four DJ's anywhere from Nghtmre to Breathe Carolina. Everyone comes and plays for free, the DJ's each play for like 20 minutes, and then we jump on and play back to back. It's a party that we started with Boombox Cartel DJCJ. It's turned into this cool party with industry friends and artist, and it's pretty inspiring to be around all of these artists. Everybody wants to DJ back to back, and you end up getting these really eclectic back to back's happening like Reid Stefan, Boombox Cartel and Ookay, it's really fun.
EDMC: Tell me a little bit about your ampersand (&) logo and what it represents.
Victor: It's all about inclusiveness. We want to bring people into the fold. Nothing exists in a vacuum; as a duo we come from completely different backgrounds, our tastes are completely different, but we wouldn't have music in general if it weren't for that kind of chemistry. We love collaborating with people and bringing them into the fold. It's about unity and coming together to push the scene forward.
EDMC: Definitely, that's a good message. What's some advice you guys would like to impart on any aspiring producers out there?

Jeremy: I would say a couple things. First off, don't copy anybody. Just focus on making music. We're in this age of seeing everybody playing these amazing shows, but the truth is none of that matters if you don't have the music. My advice would be to focus 110% of your time on your craft, and producing as much music as you can, good or bad. Just finish songs. Eventually, you're going to make really cool music and people are going to notice. Obviously, you want to create good songs, but you got to go through the process.
Victor: The 'good or bad' is more for you. You have to make shit. You have to make a lot of garbage… Jeremy: You have to make garbage before you make the good stuff. If you go to our Sound Cloud, we have almost 300 private ideas on there, 90% of them are most likely garbage. But the other 10% of them could be amazing. You don't even know as a producer, just because you think they're great or shitty, someone else could think the opposite. So if you spend your time making music, one of your tracks is going to get noticed by somebody, and that's going to be a game changer for you.
Victor: We're so grateful for this opportunity, and that there are kids reaching out to us from across the world saying they like our tunes, and that to me is the biggest mind-fuck. My new platform, and almost automatic response to kids is if you want to know what the secret cheat code is to making good tunes, you need to get the idea of 'Would a DJ support my music?' out of your head. The minute you erase that thought, you unshackle yourself and can only be creative, because the only person you're answering to is yourself. Ask yourself: 'Is this me?' Is every single moment, choice, texture, lyric, something that naturally came out of you? That's when people start listening. Then they think it's something fresh and something they can connect to.
Jeremy: At the end of the day, it's not about the big DJ's supporting your music. Obviously, it's a great thing, but Tiesto doesn't have to play your track in order for you to play shows. Take Kygo for example. Nobody is playing Kygo at their shows.
Victor: But everybody is playing Kygo at their house.
Jeremy: My point is Kygo is making music for Kygo. He's not making it for everyone else, and now, everybody is making shit that Kygo makes. But he was just making music that he liked. Even with Skrillex, he wasn't making dubstep like "I'm going to do this so everybody will start playing it." Victor: Or making dubstep for the radio…
Jeremy: But honestly, most of the people playing Skrillex are bass music DJ's and those people weren't even a thing until it blew up in America. The point is, create stuff you want to create; don't worry about the shows; they'll come once the music's there. Never stop learning; never think you've reached a point where you know everything. Honestly, I still have zero idea what I'm doing, but I know what I've done over the last three years, I know the process we go through is working, but there's still so much to learn. We've only cracked a fraction of the possibilities with ideas and engineering.
EDMC: Let's change gears before we wrap things up. Are there any crazy stories that have come out of some of your recent shows?
Jeremy: I have a crazy story. We were in the Dominican Republic hanging out after our show. These random Russian girls were hanging out with us after our set.
Victor: They looked like the daughters of the villain from Rocky.
Jeremy: They were super tall, skinny, and had platinum blonde hair.
EDMC: This is setting up nicely.
Jeremy: We leave, and we're walking into the Hard Rock Hotel. And Victor decides to pick her up
Victor: This 6'5 woman…
Jeremy: And drops her on her head.
Victor: There was just this moment of silence in the hotel lobby, and I'm like 'Oh shit, I'm so sorry' and the night was over. They got in a cab and left. As far as shows go though, I think it's crazy how different places, different markets, react to certain genres of music. When we first played in Mexico City, it was a culture shock for us because we play a lot of trap and bass music. We started off playing house, and then played some bass music, and people were just like 'what the fuck is this?' It was like a commercial in the middle of watching a movie. People just tuned out.
Jeremy: Two seconds before it was the most insane thing with 5000 people all jumping in unison. But that was almost two years ago. We played EDC Mexico at the beginning of the year, which was incredible, and now it's crazy to see that trap is on the main stage.
EDMC: What do you guys have in store for the rest of 2015?

Victor: We have this secret weapon we're working on called writing actual songs.
Jeremy: We've been sitting in the studio and literally writing lyrics and everything, and not worrying about whether the song is going to work in the club. We're writing original songs.
Victor: We can make it in any genre now, we've made it through the boot camp of putting out tried and true tunes, but we're constantly discovering singers on Soundcloud singing R&B and hip hop stuff
Jeremy: But they're singing a lot of covers, and the hardest thing for these people is to write original lyrics. Now what we're doing is spending the time with them writing together, because they have the voice, and a lot of times they have ideas too, but they can't get them out.
Victor: So we have a lot of songs coming and people are going to be like 'oh so these guys actually write songs too.' We want to surprise people.
Jeremy: We decided we're gonna put out an EP. Not sure when but probably early next year. Maybe sooner. But we're going to continue to put out music. Right now, like every two weeks we're putting out a new song. We literally have so much music, and there's no point to sit on it. We have an official remix for Diplo & Ivy Levan coming soon, and then we have our first original vocal track on Thrive Records.
Victor: Our first original vocal track is coming out on September 11th. Like I said, the future for us is having completely original vocal tunes. Doesn't matter what the genre is; we're just ready to show people.
Jeremy: And then play as many shows as possible. Who knows, what's going to happen after this tour. We feel extremely blessed and grateful to even have the opportunity to play a bunch of shows in a row, but after the tour who knows where life will take us. We're just along for the ride.
EDMC: That's good stuff guys, thanks for joining us.
G&J: Thank you.
Goshfather & Jinco showed their fans a great time at Soundbar in their first ever Chicago appearance. Their energetic performance was strongly supported by Chicago producers and fans alike. Keep an eye on these guys as they phase into an exciting new chapter musically, and catch them on tour now!
Thanks to Soundbar for hosting, and to Kris Lori Photography.