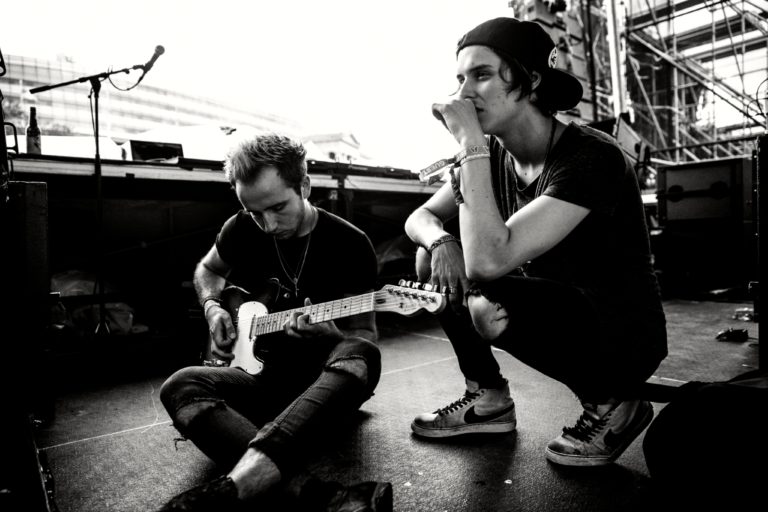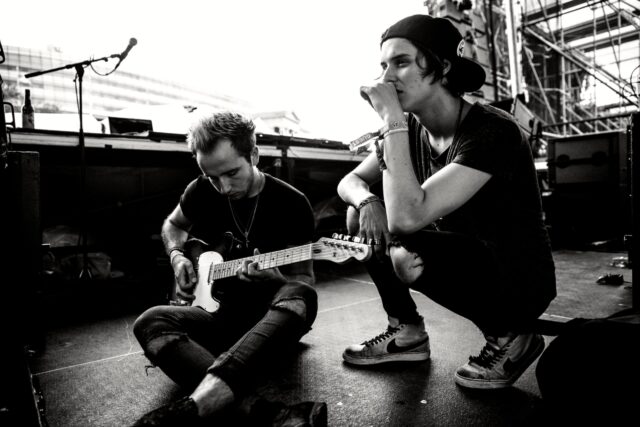 On Thursday, June 18, I sat down with DJ duo Antics before their gig in Madison, Wisconsin. They were opening for Dillon Francis along with Chicago natives Juno Moss [read their interview here]. After finding success around the Milwaukee area, Antics has created a name for themselves in Chicago after playing the Equinox Stage at Spring Awakening and the Martin Garrix afterparty at Concord Music Hall. They\'ve been waiting years to get their big break in Chicago, and it\'s finally happened. These guys are great DJs and are awesome, down to earth people too. On Thursday, July 2nd, you can catch Antics open as direct support for Paris and Simo at The MID. Hope to see you there!
Follow Antics on Facebook, Twitter, and Soundcloud.
I'm sure people in Milwaukee are familiar with you guys, but maybe not people from Chicago. Tell us a little more about yourselves and Antics.
Steve: Well, I'm Steve. I'm one half of Antics. We're both from Milwaukee, and we started about three years ago. We've both been making music for a long time. Tanner had been in an indie band, then started making electronic music and getting involved in that. I had been in and out of bands, I've been in one for about 10 years. I think it started when I sent Tanner a song on Facebook after I saw him playing shows around the area. He liked it, and later I went to a house party in River West in Milwaukee and met him. Tanner was pretty drunk, then I got drunk. We bonded and started making a song that night when the party calmed down. That's kinda where it all started.
Tanner: Yeah, I think it was just a comment I saw and then I peeped his Soundcloud and it was dope. I ended up already being friends with him on Facebook, and I hit him up to hang out. I was pretty new to the music scene, trying to meet a lot of people. We were both kinda just nobodies.
S: We made the first song we ever released in Tanner's mom's basement. It got noticed by ThisSongSlaps. They were really small at the time, like us. But yeah, it went really well, and it kinda led to other stuff and now we're here.
How'd you come up with the name "Antics?"
S: It's not even a good story. We were just sitting in my parents' basement at the time.
T: We pulled out a piece of paper, and Antics was the first thing we wrote down.
S: Yeah, we thought it sounded cool. Then we looked up the definition, and we thought it was a really cool biography. "Odd or amusing behavior." It kinda sums us up. We came up with a lot of other names after that, but stuck with Antics.
I haven't gotten to a festival when the gates open for a long time, but I did on Sunday at Spring Awakening and caught most of your set. I think you gained a lot of new fans that day, you guys killed it. Tell me about that experience.
S: Funny thing is, we're pretty used to being the first ones to play at a [big] festival. It was actually really cool. We've been trying to play there for like three years. It was a dream come true to get on that stage, so we were planning that for a while. We played the best possible set we could, and tried some new stuff. That was actually the first time I've ever played guitar for us live.
Really, that was the first time? Because that was my next question. I loved the last 15 minutes with the guitar. You usually don't have that live performance kind of thing?
S: Yeah, its something we're gonna start incorporating more since we've been practicing. Before that, it was strictly DJ sets. We wanna fully utilize the things that we're good at.
Tell me about what it was like to open for Martin Garrix and meet Zedd.
T: We actually met Zedd briefly two years ago at Summer Set. It was a really short encounter and we kinda just gave him a flash drive of our music.
S: Yeah, it sucks when you don't have a lot of time to talk to someone. We wanted to form a connection but didn't have much time. It can be awkward. But this time at the Concord, we went downstairs, I opened the door after our set and had to double take like three times to see if that was really Anton [Zedd]. We obviously knew Martin was there, but not him.
T: We fanboy so hard over a few people, and he's one of them.
S: Yeah, he's one of those people we just can't help but get starstruck over. He's really inspired us a lot. He's a great artist and a great person too.
Is it ever surreal meeting artists like Zedd, Madeon, and other artists that got you into this music?
S: Of course. It's crazy. You make music all day, all night. It's all you think about for years and years. Like today, we're here playing with Dillon. It's hard to take it all in.
T: Or Zedd for example. I can talk to him and he'll actually listen to what I'm saying. Maybe we can exchange contact info or something. Things that you would've never seen miles away when we started are actually happening.
S: Just work hard enough, long enough, spend enough gas money to get places. You might be broke for a long time, and you don't eat, and one day I guess it kinda comes full circle and you get to do these cool things. I can't believe it sometimes…well, most of the time.
You guys obviously had a huge weekend in Chicago. Do you think this could be your big break in the city? Will we be seeing you guys there more often now?
T: I'd like to think so. We've recently played Sound Bar and Underground, which both went really well. We've always really wanted to break into that scene. I finally think it's starting to happen.
S: Wherever we go, we try to leave a great impression about who we are. It was really a big blessing to play those shows in Chicago, because we've been waiting for that opportunity for a while. Hopefully, in Chicago, we're making enough good impressions on people so it can be reciprocated and play more shows there. We love Chicago.
You've opened for such a variety of artists, from Jack Beats to Cash Cash to NGHTMRE. What's your favorite genre of music and type of crowd to play for?
T: It's different for where we play. For example, if we're at a theater, I want those rowdy kids giving us as much energy as they can.
S: Honestly, all of the crowds we played for in Chicago were insane.
T: We could play whatever we want.
S: That's probably the funnest shows we get to play. Those crowds that really appreciate what you're playing, and you get to have fun because you can play whatever you want to play. Genre-wise, melodic house is probably my favorite. I like the dirty stuff too. A lot. But those songs that make you feel some type of way are the best.
How excited are you to play at Summerfest and open for Kaskade next weekend?
T: Him and I have been going to Summerfest our entire lives. We looked at those stages as a kid and just wanted to be there one day. On a scale of 1-10 for how excited we are, we're at a 20.
S: Yeah, like Tanner said, we've been going and seeing these artists there our entire lives. I've played there as a band before, but it'll be Tanner's first time and our first time together. We play two sets there, from 7-8 and 9-10. It's just such a big deal where we're from, and it's such a humbling experience to play the festival because everyone in our city goes to it. It means so much to so many people. To have that time slot before one of your heroes, Kaskade, it makes you wonder how you got here and why you deserve this. But I guess I'm here, so let's do it!
Social media is obviously really important for artists, and you guys have 11,000 Facebook fans and 39,000 Twitter followers. How did you get those numbers? Any general social media advice for up and coming acts?
T: Just talk to everyone. You're never too good to talk to someone. And it's so easy today. Like why would you not want to talk to people that want to talk to you? When an artist favorites or retweets me, it's the best feeling. We really wanna give that feeling back to our fans. I think that's a good place to start.
S: There's so many apps out there that can be beneficial to you and really boost your numbers. Social media is almost as important as your art form and your music. Essentially, you have to learn that new art form. The ins and outs of social media.
Any other general advice for musicians or people successfully following their dreams like you are?
T: Just keep putting out music, man. It's exactly what Zedd and Skrillex told us, too. Keep going. There's a crowd of people out there for your music, and the only way that you can fail is if you stop. Keep learning. Not only about music and the scene, but about how to talk to people.
S: If you're really passionate about it, and you think it's what you're meant to do, then never stop. One day, you might get that really cool email or you might meet that person. Make art and music you're passionate about, and don't stop doing it, because you never know. If someone else quits tomorrow, then you're more likely to get that spot. Don't give up.
What can we expect from Antics in 2015 and beyond?
T: A lot of music. We have 15 songs done. We could put out an album today if we really wanted to.
S: Some video content, and other stuff too. We might release this acoustic Madeon cover we did.
T: We wanna be musicians, not just EDM DJs.
S: Exactly. We love branching out. We have a ton of new music, and we're trying to find the best outlets to put it out on so enough people hear it.
T: We have a lot done and a lot in the works.
S: The live performance too! I'll be playing my guitar, and Tanner has a drum machine.
T: But mainly a ton of new music. We can't wait.
Hotel lobby interviews w/ @yourantics and @EDM_CHICAGO pic.twitter.com/NFYXBgmCIn

— XVTHREE (@XVThreeInc) June 19, 2015