Fiberglass Doors Replacement
Fiberglass doors are a common choice for many homeowners globally. The door material has many door types and styles, where your choice depends on the home's architectural design and your taste and preference.
A significant advantage of fiberglass is that it mimics the look of wood, but you will not suffer the disadvantages of wood. You can also get many glass options with fiberglass doors with different decorative models. With this door type, you can get a new construction fiberglass door or a replacement fiberglass door. See details here.
Unlike wood and steel, fiberglass has more benefits, a reason why it is a widely preferred door type. If you value the look of wood but don't want to incur the expenses wood comes with, fiberglass is a good option. Here are some benefits you will get from this door.
Fiberglass doors come in many styles and types. You can also customize your fiberglass door to have the look of rustic wood by staining the door with wood stain. Wood is a high-value door material, and most people prefer it because of its natural look. A wood stain on a fiberglass door gives you the same look.
One disadvantage of wood that you will not experience with fiberglass is being affected by water. When wood is exposed to moisture, the door absorbs water and swells. It later starts to rot, which leads to the weakening of the door. Also, unlike wood, fiberglass does not need restaining to keep the aesthetics. This door does not fade, and a one-time painting is enough to last over 20years.
Fiberglass is a rigid material that is sturdy and durable. It is made by a mixture of materials that are later hardened to make a sturdy door. It is also not prone to scratches and has high impact resistance. Fiberglass doors do not warp, shrink or crack like wood, so the door will last many years before you think of a replacement.
Fiberglass exterior doors are known for their energy efficiency. These doors are made from a rigid material that does not allow heat and cold exchange in the home. You will, in turn, keep your heating and cooling system off because the correct temperatures of the house are maintained. When the HVAC system is not running, much energy is saved hence lower energy bills at the end of the year. Keeping energy bills at manageable levels is all that most homeowners are looking for and fiberglass exterior doors provide exactly that.
This door's durability and sturdiness ensure your home is secure by preventing the entry of intruders. To add on security, you can install a modern locking system that is hard to be broken to ensure burglars and intruders do not find their way in.
The fiberglass door does not need repainting or restaining like wood doors because it does not fade. This makes a significant difference between this door and wood because wood fades and requires restaining. Having a low-maintenance door saves you extra cost and time. All that you would need is to wipe it from time to time to get rid of the dust that may accumulate on its surface.
Choose A Good Door Dealer
Once you decide to buy fiberglass exterior doors, you need to get a good door dealer. You can get one on the internet or ask your colleagues and friends to refer you to one. This dealer should have a variety of fiberglass doors with favorable prices. Compare many dealers to see who has better options and fair prices. However, when choosing, do not choose the lowest prices. Some doors are very cheap because they are not actual fiberglass.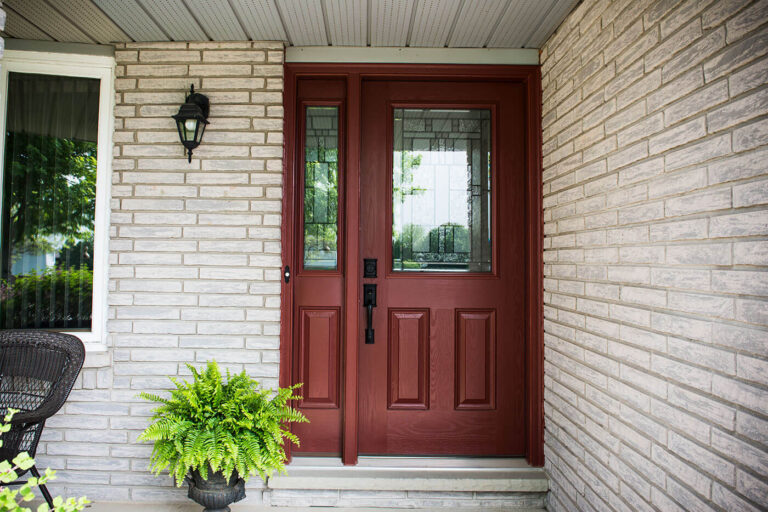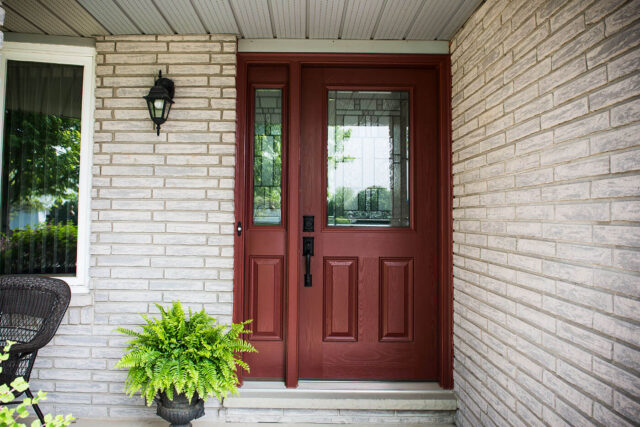 When choosing a dealer from the internet, look at their website for customer reviews. Ask about their prices and the type of fiberglass doors they have. Visit their shop physically if you can to make sure they are legit.
Good fiberglass energy efficient door will not perform well if wrongly installed. You should choose an excellent qualified installer and ensure they are licensed and insured. Look for other important documents like their certificates to ensure they are qualified and can do the right work.
Are There Any Disadvantages of Fiberglass Doors?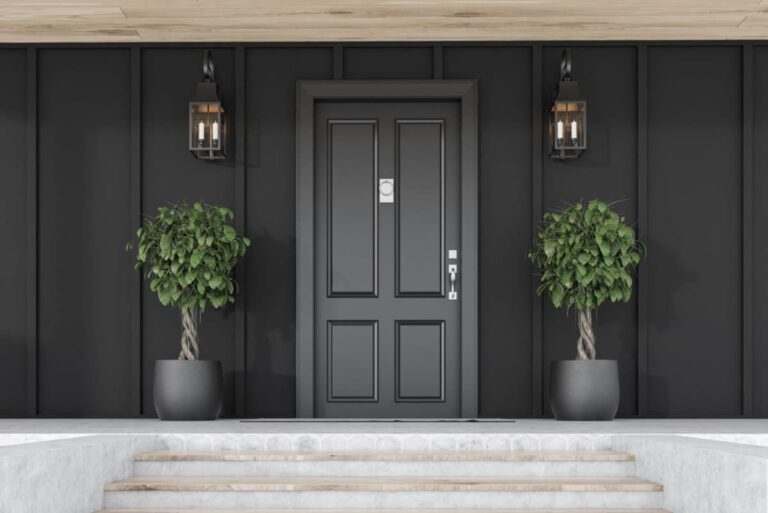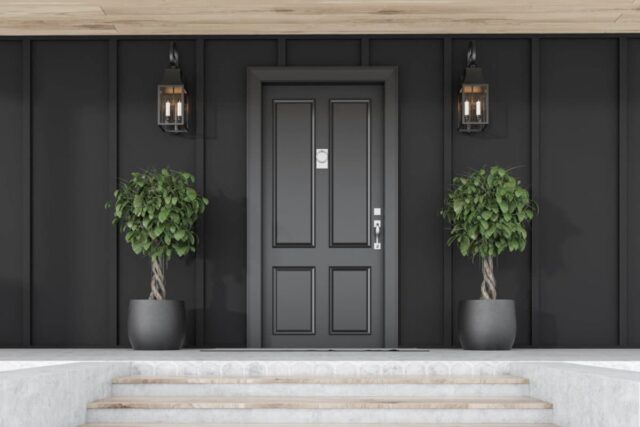 The purpose of this article is to help you make a good decision. Because of that, it would be good to highlight some cons of the fiberglass doors. We are pretty sure the previous part was good enough to describe why spending money on fiberglass doors is a good choice. These disadvantages only serve as a reminder of the stuff you need to put into consideration when buying this type of door. Let's find them out together!
In Some Cases – They May Not Fit
It doesn't matter if you know or do not know how to instal the fiberglass door at your entrance. There are a couple of things you need to do to prepare your living place for that task. For starters, you need to ensure that the opening has a square shape. Fiberglass doors can't be trimmed at all which is an option that most other types of doors will allow you to do. Because of that, you need to make alterations before the experts come to install this type of door for you.
They May Be a Bit More Expensive
Price should never be the main factor that you should follow. Cheap and affordable things do not necessarily have to feature quality. It may happen that the sellers want to hide some other gaps with attractive prices. However, it is important to mention that fiberglass doors are often a bit more expensive. You need to organize your budget a bit better to ensure this lovely type of door.
Still, we would like to remind you of one advantage that we previously highlighted in this article. The fiberglass doors do not fade like some other types of wood doors. Because of that, their maintenance costs are extremely low. For a long period, you will not have to invest a single penny. On the other hand, they are extremely durable, and you will not have to buy another one in the next 10, 20, or 30 years. Doesn't this seem like a long-term investment?
You can find cheaper doors, but you will have to maintain them regularly and buy new ones more often. When you put all the potential costs on the paper, you will see the price difference is not the same.
Bonus: Fiberglass Door vs Steel Doors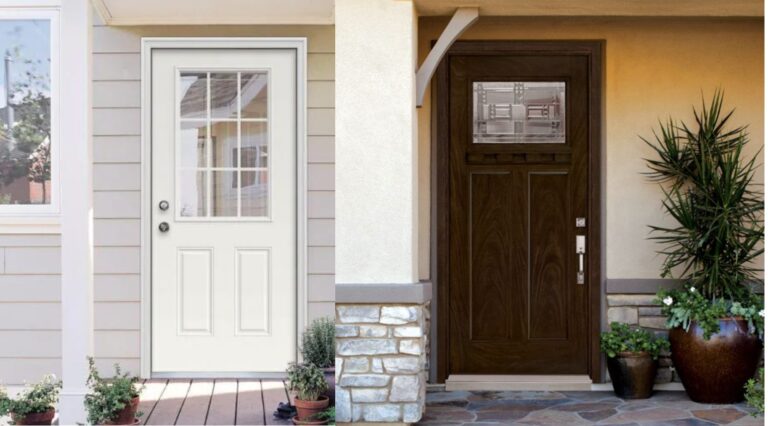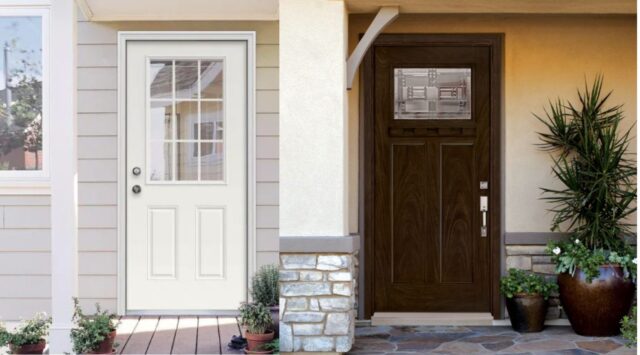 Steel doors are one of the favorite choices that people around the world have. The reason why they are so popular is simple – they are cheap and affordable for many homeowners. However, do you remember what we said about price? Cheap products and items do not necessarily feature quality. Steel doors are okay, but the quality that fiberglass doors offer is way higher. Despite that, some people care a lot about the authentic look for their entrance. That is another reason why fiberglass doors are a better choice. Doors made of steel do not have aesthetic designs and they can be more suitable for people that like casual stuff.
After reading all the pieces of information that we highlighted here, we are pretty sure it will be much easier to make the final decision. Price should not negatively influence your decision as the benefits you can get are valuable for every homeowner.