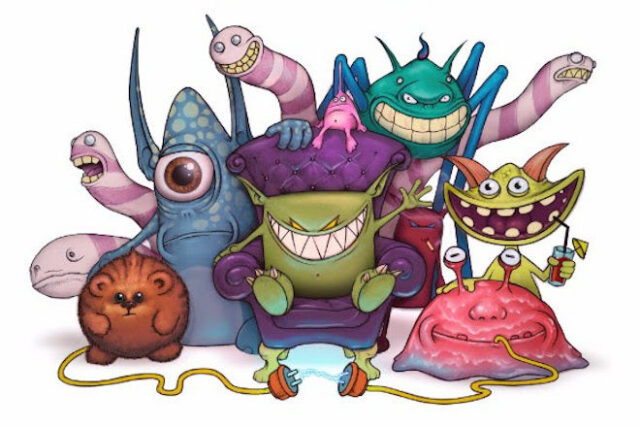 Jon Gooch is one of those names in electronic dance music whom has strategically shown no signs of slowing down, with consistent releases as Feed Me and his DnB moniker, Spor, coming at the most opportune times. While Gooch has taken a healthy break from his electro-driven project with a little over a year since the 4-track A Giant Warrior Descends on Tokyo EP dropped, he has returned with his third EP to date to explore some potential new soundscapes for the Feed Me arsenal. Entitled Feed Me\'s Family Reunion, Gooch brings us a total of 8 brand new tracks (enough to make up a full album, really) that unmistakably signals a brand new, more experimental direction. The EP has signaled some pretty mixed reactions within his fanbase along with music critics, as well.
Disclaimer: I am one of the\"die hards\" who was confused and bothered by the album initially; it felt odd, a bit scattered, and unfocused to my Feed Me trained ear, which was programed toward hearing those genius electro-house/dub-step influenced breakdowns and beautiful, budding build-ups. That was before I began to really get into the mind of Gooch and try to understand what exactly what he was attempting to do. So what was Gooch aiming toward exactly? I believe the aim was to grow the little green goblin\'s sound from Calamari Tuesday album generally; and, more specifically, to play more with popular, big room styles, such as progressive, trap, and sunset, among other genres.
The opening track to the EP, \"High Speed Weekend,\" was immediately my favorite for how it spanned nearly 7 minutes and harkened me back to the long, carefully constructed journeys that Feed Me took me on with his early material. The complex layers and vocal plucks were also reminiscent of his most recent LP, Calamari Tuesday. This seemed like a very strategic move to ease fellow \"die hards\" like myself into what was to follow.
The second track, \"Stay Focused,\" was one that threw me for a loop with it\'s acid house appeal and plunging bass lines, which gave me the sense that Gooch was attempting to play with some higher bpm-version of deep house. There is a very high energy to this track that he carries well into track three, \"Red Clouds (Serious Ting),\" catapulted me back into his signature style. For instance, I was overjoyed to hear how he resampled the hook from a older classic, "Cloud Burn,\" which he overlay with a more trap-inspired drops that I would hear from the like of Yellow Claw. Now I was starting to immerse myself into the Feed Me journey, where past and present were beginning to reveal the larger musical story.
The two tracks which sit in the center of the EP are the vocally-driven that Feed Me released as melodic teasers initially. And both \"What it Feels Like\" and \"Trouble\" are a testament to how Gooch has an ear for layering the harder electro elements like stabbing synths and sudden drops over more mau5 influenced progressive builds that make you feel like your floating on a cloud. Also, the angelic vocals of Nina Nesbitt and Kanholler don\'t hurt.
Burried between these two tracks track may be Gooch\'s most important one, however, for how it stands out so much. "Schizoid," a collaboration with Speed, marks the half-way point of the EP with it\'s repetitive sampling and chopped-up vocal synths, which build up to a hallowed out trap appeal akin to What So Not\'s anthemic masterpieces.
Another track that really stands out is \"Life Raft,\" which rounds out the album and really takes a completely new direction for Feed Me, while bridging this uncharted territory with his older, signature sound. The build-ups are undoubtedly and beautifully tropical and may be the first time I\'ve ever heard sunset house venture into the musical domain of the bouncy electro. This may be why he chose to close with it.
I believe what Feed Me has done with this album is significant in two ways: First, he is expanding his generic appeal to situate Feed Me as a multi-genre project. Once I came to the realization that my bias was stemming from the fact that I loved Calamari Tuesday so much that nothing could never top it, I realized my original assessment was not fair to an artist who is attempting to evolve in a fickle and swiftly moving industry. Second, Feed Me\'s new EP may just be an attempt to gauge which styles resonate with his fanbase more than others–and good for Gooch for taking creative risks and attempting to create new things, experimenting with new and more playful directions! My hope is that Gooch carefully assesses each of these newly styled tracks to make a full length LP that centers around a completely new sound.