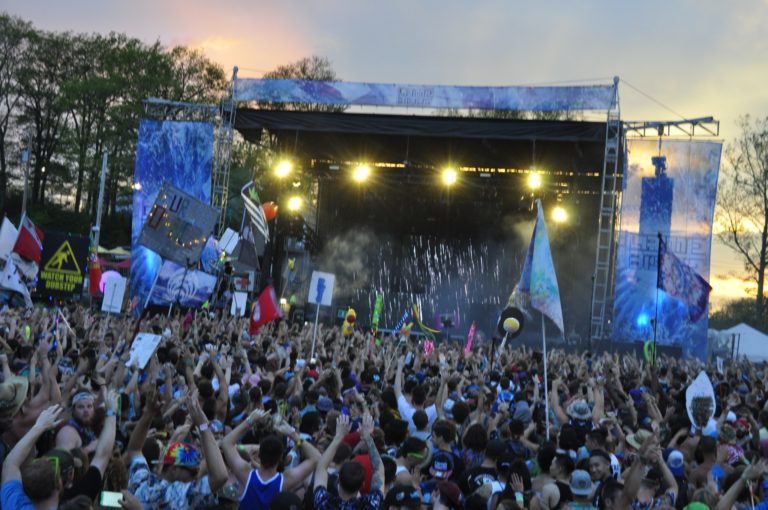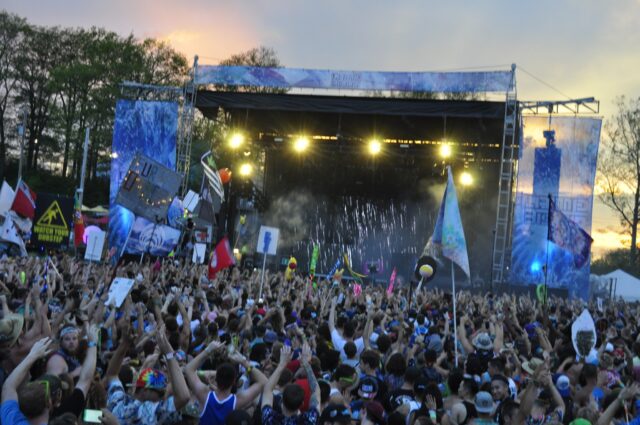 Camp Bisco has been on my bucketlist for 3 years now, and I finally made my way  to see what the hype is about. Camp Bisco is an annual summer music and arts festival that was created by the Disco Biscuits. Camp Bisco is filled with electronic music, as well as jam bands.
The setting
Camp Bisco was set in Montage Mountain in Pennsylvannia. There are many festivals that are on mountains, but this festival made it feel as if you were on a mountain mountain. Comparing to other mountain festivals like Mysteryland and Minus Zero, Camp Bisco is smack dab in the middle of the mountain; this means that a lot of the festival is on a hill. Much of the campsites available are on the steep part of the mountain. As my first time going, I was not prepared to go camping on a steep part of the mountain so I felt as if I was sliding in my sleep. If you come prepared for steep mountain camping, then it's fine. It\'s important to come early to this festival to get a good camp site if you want to be comfortable.
One big advantage is the shuttles that take you to the entrance of Bisco, as well as a ride to the camp. If you coordinate well with your friends, it is easy to find each other. Another perk being in the middle of a mountain is the amazing view that you get.

The venue
Montage Mountain is a ski resort/ water park that also has zip-lining, so that makes Camp Bisco Stand out. This year, Bisco's weather was muggy and extremely hot, so it was perfect to listen to the music while being in the lazy river or go on ride while waiting for an artist to perform. Another amenity are the  indoor showers and bathrooms. Many festivals have pop up bathrooms and showers, so it's great to have this option!
Camp Bisco has a HUGE selection of vendors. There were food vendors outside of the venue, as well as a lot of food vendors inside. There were also unique stands for that offered massage therapy or tarot reading, as well as moon mats, accessories,pins, hats, tops, tapestries…  basically anything you can think of. A great thing about the vendors is that they had very affordable prices. One aspect that stood out for me about the vendors if they would have the customers jam to their music after hours. Talk about positive vibes!
The venue had a simple stage layout. There were 3 stages: Above the Waves Stage, Electric City Stage (MainStage) , and The Office stage. The Wave pool stage was great because you can enjoy music while cooling down in the water.
The Electric City Stage was under a massive tent. The tent was a life saver on Saturday because it started raining during the last set. The tent also made crazy visuals for fans that were underneath it. The VIP had the chance to stand close to the stand, and  general admissions were in the back. I personally thought that being in the back allowed you to have a good glance at the artists. The office stage was the intimate stage that packed a powerful punch. It was easy to have space in the Office stage, and the sound was loud.
The music scene here was fantastic. Camp Bisco is known for its jam bands and electronic music. I feel like Camp disco has a good balance between headliners and low-key artists. When it comes to music, Camp Bisco is known to have artist that not many people know about. The headliners were Odesza, RL Grime, Marshmellow, and of course the Disco Biscuits.
When it came to the music, I tried to explore the jam band spectrum of Camp Bisco. Some noted bands that went includes STS9, Sunsquabi, and Papadosio. It was cool to get down to jam bands, there is something about jam bands that bring out inner happiness. At closing, the Disco Biscuits killed it with their performance, as well as their visuals; they brought you into another world. There was a 20 minute delay due to the rain, but they still played after curfew.

As for the EDM artists, there are a few that stood out in the crowd. A crowd pleaser was 12th Planet. At the Office stage, he brought energy into his set that set off the crowd. 12th Planet is definitely a fun artist to see. He played a second set at the Wave stage, and his crowd created bass waves to match his dubstep.
That energy @campbisco was out of control! #campbisco #campbisco2016 pic.twitter.com/LNJ8LZdx5w

— 12th Planet (@12thplanet) July 17, 2016
Another impressive artist was Rezz. It was my first time seeing her and I was taken away by her music. She is a bass-heavy-techno artist; she dropped Bassnectar and some Deadmau5 at her set. You can tell that she a very down-to-earth artist. After her set, she stayed to take pictures of her and her fans.
After the last set on Friday, Griz took over on Friday by giving fans a surprise set on an RV. RL Grime was the Saturday headliner that brought the head with trap, hip hop, and a mix of house and bass.
Overall, Camp Bisco was a overall fun festival to go to. The crowd is great, the music is fantastic, and the location isn't bad if you are willing to travel there.  Here are some weekend photos: