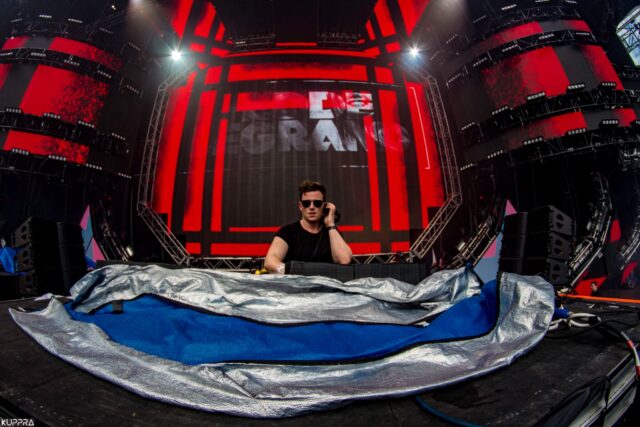 Fedde Le Grand is a world-known house DJ and producer. The Dutch artist has years of experience under his belt — between touring the world and creating chart topping hits, Le Grand does it all.
From 2002 until now, Le Grand has shown an ever-increasing impressiveness in his musical talent. Whether he's touring, creating new tunes or hosting his weekly radio show, Fedde Le Grand stops at nothing to keep sharing music with the world.
I was lucky enough to be able to sit down with Fedde Le Grand himself during Miami Music Week to ask him a few questions. Check out our interview below, and make sure to check out his newest track "Dancing Together".
What were your influences behind "Something Real"? What are your main influences behind making any kind of music?
Le Grand: For an album I always take a different approach. In my personal opinion, the most beautiful instrument is a voice. To be honest, I think the best part about an album is that I'm allowed to do whatever I think is cool. If it's downtempo or uptempo, doesn't matter, you can do whatever you like. I really get inspired by anything. I listen to the radio, sometimes I'll hear a specific vocal. It's really different every time.
Since you had a few years between your albums, how much time did you spend making "Something Real"?
Le Grand: It kind of came together over a long period of time. It's a collection of stuff that I've gathered over the years. I think a good song is a good song, and in the end, it was basically just deciding what kind of jacket I wanted to put on it. Finishing the album took about a month, month and a half or so, but it has definitely been a long period of collecting the right songs.
Do you plan on releasing another album or EP anytime soon?
Le Grand: No [laughs] I wanted to put out work that I could get my whole self behind. All of the songs on "Something Real" are personal to me, and some have a very special meaning. I can't force myself to make an album – it'll come out sounding forced. Music should be a natural flow. Long story short, I have a lot of music lined up since I'm out of my old deal, and I'm really looking forward to this new direction. I have a collaboration with Dannic coming out, and even a track with Shaggy. It's kind of Major Lazer like, a little bit of dancehall feel.
Since you're into Shaggy…I have to ask, what do you listen to outside of electronic music?
Le Grand: I've always been really into funk. I think Bruno Mars is absolutely amazing; he's the whole package. I'm actually also looking forward to seeing Jamiroquai – I don't know if he's coming to this side of the globe but he's super talented. He has a lot of electronic influences on his new album while still being funky as hell. Basically anything funky for me.
You've been in this scene for a long time. You've seen it when it was just coming up, and you've seen it all now. Do you think the changes in the electronic scene have been for the best or for the worst?
Le Grand: I think it's been good. The market has been opened up. I think it has been good that mainstream artists have embraced the scene, giving way for electronic artists to come up. I just hate how now, everything has labels. Other than that, I do really like where the scene has gone.
I had read that you were originally not going to release "Put Your Hands Up 4 Detroit".
Le Grand: True.
Why was that?
Le Grand: I thought it was a little cheeky, to be honest. I come from a more underground background…I've always been more of a tech-house-y kind of guy. I wanted to make disco-house, but didn't know where to get the samples. So instead, I tried to recreate that vibe with electronic synths. That's how the sound of the track emerged. I was just lacking the knowledge to do what I wanted to do, and I guess it worked great.
What do have in store for your set?
Le Grand: I have four new tracks I'm going to premiere. I always try to do new stuff. It's going to be a good mix of new and old. There should always be a balance.
I know you had your show "GRAND" at the Ziggo Dome. Are you planning on bringing that to the US at any point? 
Le Grand: Yes and no. Next year, we're going to do kind of a GRAND 3.0. We started in a tiny theatre, where normally just musicals and stand-up comedians perform. Then we hit the Ziggo Dome, one of the biggest venues we've played at. The only problem is that the show is almost too big. We're scaling the show, but it will still be the same concept. GRAND 3.0 will tour, and will come next year.
Fedde, thank you so much for taking the time to sit down with me and chat about things. I cannot wait to hear more from you this year, and hopefully be able to catch a GRAND 3.0 show somewhere in the states!