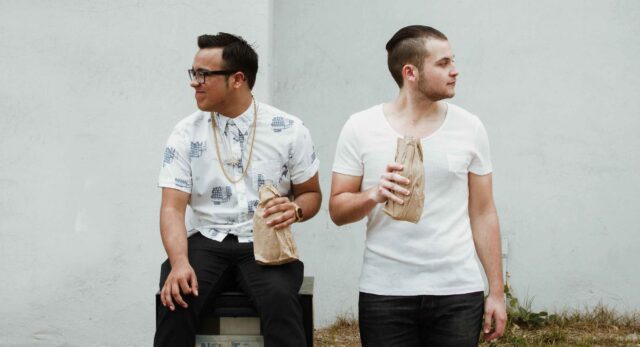 On Saturday night after Ultra Music Festival wrapped up for the night, I hopped on a train and ventured over to The Bar in Miami to see GTA throw down one hell of a set. Matthew Van Toth and Julio Mejia (GTA) were finally in their home town of Miami surrounded by friends and family — there was no doubt that this set was going to be one for the books. And if I do say so myself, it definitely was. Throughout their set, they were joined on stage by some huge names in the EDM world: Craze, Wuki, Wax Motif, Herobust and oh, did I mention Hardwell?
Before they made their crowd lose their minds at The Bar, I was lucky enough to be able to sit down with the boys and ask them a few questions.
What do you like the most about playing Miami Music Week?
Matt: \"I just like that everyone is here for the music. So we, just like every other DJ, get to showcase our new stuff. We get to play the weirdest shit and get away with it because people are here to experience music and just fucking go nuts. It's the start of festival season for the whole country…everyone just wants to showcase their newest shit. It's madness.\"
Julio: \"It's also good just being around family and friends, especially being from Miami. It's amazing having this atmosphere and support. Just being where you're from and seeing all the reactions from all of your friends and everyone who believes in you is great.\"
Where does the name GTA come from? What meaning does it hold for you guys?
Matt: \"It means Good Times Ahead…I mean, I hope it means that because I have it tattooed on my body *laughs*. So I hope it doesn't change its meaning at all. It's just all about good times and just being able to experiment with music. It's all around good vibes and making sure everybody has a good time. It's playing all different kinds of genres of music. GTA is encompassing good vibes. That's what we do.\"
Julio: \"We wanted our name to basically express what happens during one of our sets. We want everyone going crazy and being happy. We love playing all kinds of music.\"
What's in store for GTA for the rest of 2016? Should we be expecting an album?
Matt: \"We've been keeping it kind of low for now but we've been working on an album for…for fucking ever honestly, that's what it feels like. We've been working on this album that's much more vocal driven, so it's mostly going to be tracks that you can sing along to. It's songs you can listen to when you're just hanging out or if you want to take a long car drive. We've probably been working on this album for way too long, and hopefully we'll be getting it out before summer. That's what we're shooting for. And on top of that we still have a bunch of collabs with Wuki and other DJs. After the album we're probably going to do an EP that's more like club/festival kind of stuff. We have like 30-40 tracks right now…it's way too much music.\"
Who else do you want to collab with?
Julio: \"It could be anyone. Our whole thing is that we just love making all kinds of music…for example, for the past four months we've just been strictly working with vocalists just to make different kinds of stuff than we normally do. Producer wise, we want to work with Pharrell, and you know like fuckin\' Timberland.\"
Matt: \"We've been working recently on uh…have you heard of this punk band called Fidlar?\"
— Yeah actually I have —
Matt: \"We just worked with the lead singer this whole week and just made crazy punk infused dance music shit. We might play some of it tonight. We've really been trying to push ourselves every direction to make weird cool shit.\"
What are you going to bring to us tonight?
Julio: \"It's really just going to be a crazy party. I just want to see a bloodbath…a bloodbath figuratively speaking -laughs- but really I just want to see a lot of people dancing. It's going to be really cool, we're going to play a bunch of new music.\"
Matt: \"I'm just really excited to party…I think Hardwell is going to come by. Same with the DVBBS guys. We have a collab with them that we're working on now actually.\"
Matt, Julio, thank you both for taking the time to sit down with me to talk about being home as well as your future. And yes, Lewis looks like Macklemore.