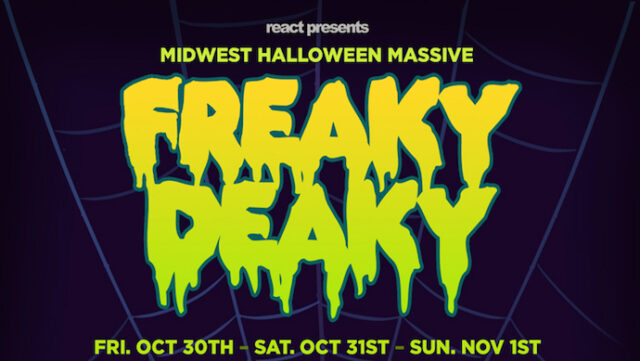 We get it: Freaky Deaky is less than two weeks from today, and you\'re hyped as hell. You\'ve got your wristband, your crew is assembled, your costume is coming together, and you\'re just counting down the seconds until that first drop in Bassnectars set this Friday. Trust us, we are too.  To help you maximize your experience this Halloween and to keep the festival running smoothly for everyone, I\'ve assembled a brief guide containing all the last minute info need to know about the festival.
1.The set times have been announced! You can click here to see the set times and create your own custom schedule, and make sure to cross your fingers that two of your favorites aren\'t throwing down at the same time (Spoiler alert: GRiZ and Tchami are 🙁 ).
2.There will be three different stages at the event, each with their own unique designs, The Shrine, The Big Top, and the crypt, with the Shrine being the main stage and the Big Top being the second. The crypt will be a theme stage showcasing different genres each day, with Friday being the Trance Arena (sound familiar?), Saturday being the Beatport stage (which seems to be an odd mix of underground techno, hip hop, and indie dance), and Sunday being the Underground Stage.
3. If you\'ve got no room for pockets in your costume this year, you can still keep your valuables safe by renting an on-site locker. Yes, they are $40 per locker, but it does more than just keep your wallet safe: it will also charge your phone. Each locker will come pre-equipped with not only iPhone 4/5/6 and Android chargers, but also with adapters for Fuji film cameras, Nextels, Sony Ericssons, and Nokias. So no, your mom won\'t believe that your \"phone died\" so you couldn\'t text her back, but at least you\'ll still be able to capture all those epic moments to watch on your phone again and again so you have something to watch during November when you\'re grounded.
4. If the idea of riding the CTA  through questionable neighborhoods for three hours to get home after dancing your ass off at a \'Nectar show at midnight doesn\'t exactly give you a warm fuzzy feeling, there will be a designated Uber/taxi pick up station just south of the stadium on 71st and Harlem.
5. Another way to avoid to CTA is by using the festivals shuttle service. Busses will pick up attendees in front of the Hard Rock Hotel on Wacker and Michigan in the loop and drop them off at the festival. If you\'re staying at one of the festival\'s partner hotels, the shuttle service will also be provided to and from your hotel. Check out all the details here.
6. React is pulling the ultimate homie move by making free water available to all attendees and allowing empty Camelbaks to be brought in. You can go ahead and cross off the $40 you added to your budget for a basic human necessity.
7. So I know you have the most topical, creative, and hilarious costume out there, but if it includes any realistic looking weapons, it won\'t be allowed. You can however, bring your favorite foam axe or sword as a replacement for your fake M16 in your school shooter costume, you fucking psycho. You can find more specific details on costume rules here.
8. If the $200 price tag of the event plus cash for a hotel or Uber to Bridgeview is just not in your budget, React also recently announced a slew of afterparties.  For a fraction of the festival ticket price, you can check out the likes of Jack Master, Tchami, Armin Van Buuren, and Boregore.
So that\'s it, ya freaks! See all your crazy asses next weekend.
Photo credit: People of the CTA
Thanks to Michele from React for answering my questions!