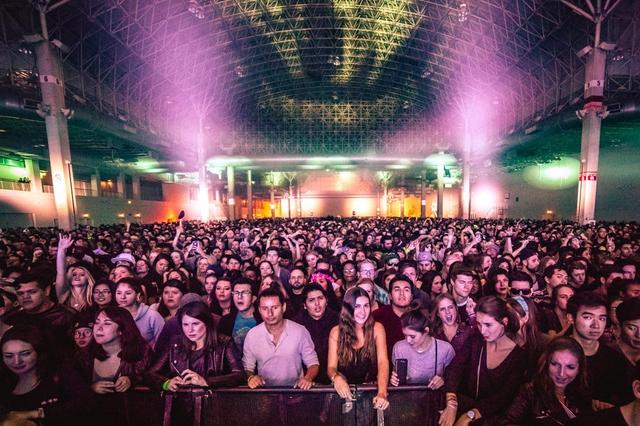 Last night was one of Disclosure\'s biggest stops on their Caracal tour, and it was right here in Chicago at Navy Pier. In the top part of the piers Exhibition Halls, 18,000+ fans gathered to dance and cheer on the musical Lawrence brothers perform songs from Caracal as well as Settle live. This venue is one of my personal favorites because it is a room constructed out of metal, so it\'s perfect for EDM shows because it bounces and echoes every song around the room.
Disclosure had Pomo and Claude VonStroke open for them, as the crowds of people ventured in. And it was not long till the brothers got on to start their performance. They started with one of my personal favorites \"White Noise\", and did a couple Settle songs before jumping into a nice hour and a half of Caracal. They brought out specials guests such as Lion Babe for Hourglass, which made the crowd go wild.
Let\'s talk about the crowd though. I know I\'m on the younger side, but the crowd was very shocking to me. It was mostly 30-45 year old white upper middle class couples, who were dressed like they were going to a play. While I was wearing my usual t-shirt, jeans and a flannel, I felt very out of place all of a sudden. But taking a moment to myself I more realized that Disclosure is not just for the youth that EDM culture mostly is, they have stretched their demographic way older and to a completely opposite crowd that you would expect at something like Skrillex or Dillon Francis. So in that aspect it was bittersweet to be in a crowd that I did not recognize myself but I could greatly appreciate.
If Disclosure is still heading to your city, I would save up the money you can and see them do their \"Live\" set. There\'s nothing like watching someone drumming out the beats you\'re hearing instead of pressing play on a MIDI.
Get tickets before they head out of the US here.