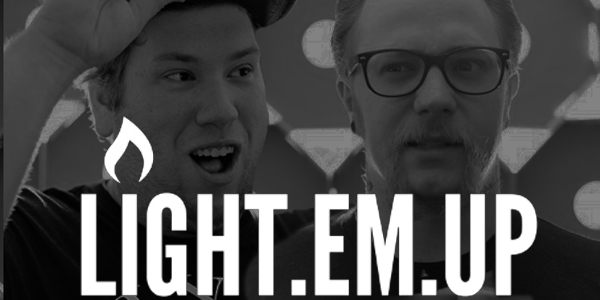 If you attend shows regularly, Chicago DJs Zebo and PHNM would require no introduction. Not only have they had the opportunity to play along side some of the largest names in electronic music, their energetic sets have earned them a a cult like following from many party-goers. As the two began to perform as a duo, the synergy of their individual styles caused others to encourage them to evolve beyond the casual back to back performances and to begin performing as a group and Light Em Up was born.
PHNM\'s introduction to DJing began in high school when he purchased his first set of turntables and began collecting various hip hop singles and other records while learning to mix them together. As he entered college, the lack of quality music available at parties inspired him to start throwing his own parties where he would have more active control of the music. Beginning in his sophomore year, he began renting out venues and hosting fully licensed parties in Indiana, where he was attending school. Once he graduated it would be the move to Chicago that would really start igniting his career as a DJ as he began to perform at various venues. It was his success in Chicago that allowed him to gain the reputation as an artist he has today.
Zebo\'s love for Electronic Music and DJ culture stems from his introduction into the rave scene in 1997. His passion and skill is what pushed him forward and encouraged his evolution from a strictly Jungle rave DJ to the open format party starter that he is know and sought for. He has performed at Lollapalooa twice, most recently in 2012, following Die Antword and opening for Black Sabbath on the main stage. He currently holds residencies at The Cosmopolitan in Las Vegas as well as Mayhem at the Mid here in Chicago. The recognition for his accomplishments include being voted #1 DJ in Chicago for 5 years in a row from The Chicago Reader poll, winning #1 DJ of 2014 from the Chicago Nightlife Awards as well as being included in the URB 'Next 100' list. When not behind the decks, he also is an adjunct professor at Columbia Art School, where he leads their Club DJ & Production classes.
Not only would their dynamic sets be utilized to diversify the new pair amongst an ever-increasing amount of DJ acts, but the pair decided to take it one step further. Zebo had come up with an idea to increase the audience\'s ability to be directly involved with the sets they performed by creating an app that allows the crowd to interact with the artists. Although it took some patience as the app received lengthy delays to make it through Apple\'s exhaustive approval process, the app has finally been released to both the Apple and Android app stores. So what does the app do?
The app itself allows fans to follow their progression as a collaboration as it provides access to their blog, upcoming shows, related news and personal twitter accounts. The key component to the app, however, would come from it\'s genre selection tool. At set intervals throughout their performances, PHNM and Zebo announce to the audience that it is now time for them to take control of the sets direction. During such moments, the audience is encouraged to open the app and select a genre of choice, each associated with various colors that will fill their screen upon selection. As the audience selects their genre color they then hold up their phones towards the DJs who can now directly assess the direction the crowd wants to set to go towards. Looking for a bit of deep house from the duo? Then support your genre by waving the orange genre marker in the air. Perhaps drum and bass is a bit more your style? Wave that green screen in the air with pride.
Having witnessed the app\'s utilization during their performance, it seems that the additional interaction worked well for their audience and participation proved successful. While it seems that the music selection was slightly biased towards certain genres, as the app participation increases during future performances it could lead to some interesting results. Even though the app currently performs as a complete package, PHNM and Zebo seem to already be thinking towards the next step, discussing future upgrades such as increasing the genre selection and perhaps even ways to allow the audience to request specific tracks. They also mentioned the potential to expand upon the idea of supporting your favorite genre through the creation of merch that would match the color selections from the app\'s voting system.
With the app available in both the android and apple app markets, make sure you give it a download prior to heading out to catch Light Em Up live. When they grab the microphone and announce the start of voting, it may very well be your vote that edges victory towards you preferred genre.
Light.Em.Up on Facebook
Light.Em.Up App Available via their Homepage