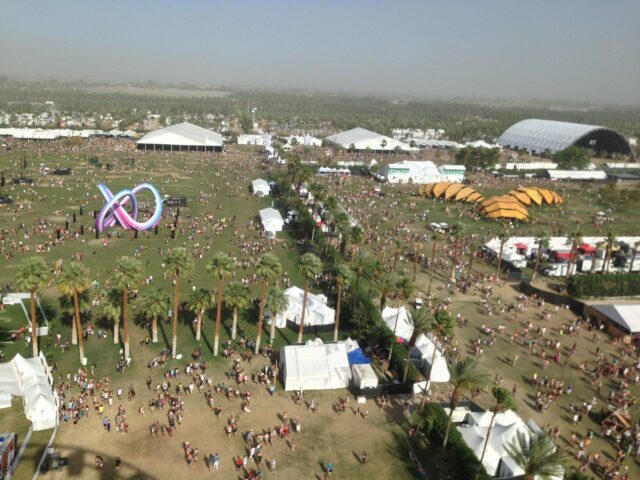 Coachella is in full gear!
Coachella is known to have an eclectic range of music, but it\'s also where fashion trends start, and where celebrities meet up. It\'s the festival that everyone has on their bucket list.
Coachella week one already passed, but what if you\'re going to week two? Is it your first time going to Coachella? Here are some points that you need to know about Coachella:
1) Coachella is in a desert…. IT\'S GOING TO BE HOT.
When I went to Coachella, I found a camping place close to the venue. On day one I found myself waking up at 8:45AM, dripping in sweat. You have to remember that this is a day festival. This means that you\'re going to be in the beaming sun all day; you will get tired from either being in the sun or dancing all day. It\'s really important to keep yourself hydrated during this week. There are places where you can cool down, so take advantage!
2) You see people of all ages going
I\'ve seen kids at Coachella, I\'ve seen a pregnant women at coachella, I\'ve seen 60 year old couples at Coachella. Don\'t be surprised with the crowd. With Coachella\'s varied music comes a varied crowd! Don\'t come to Coachella with a closed mind (AKA don\'t squint at people that aren\'t your age.)
3) You don\'t see as much celebrities as you think you would
You see a bunch celebrity and fashion blogs spotting celebrities at Coachella so you might get excited to cross paths with at least one celebrity. The truth is, they are either in VIP or private parties. It\'s not easy to find celebrities in Coachella, especially if you buy general admission.
4) It is nearly impossible to get in the front of the crowd at the main stages
People underestimate how many people go to Coachella. There are people that love to be in the front, but at Coachella it\'s nearly impossible to get to the front (unless you stay at the main stage all day or you are ready to fight to stay in the front). My suggestion is to enjoy the music from a comfortable place, unless you are willing to go above and beyond to go to the front.
5) The art is extremely impressive
People don\'t factor in that this is a music AND ARTS festival. Coachella has amazing art all over, and if you are going to Coachella, take advantage! Take in all the art that is around you, and take the time to step away from the music to fully grasp the creativity that comes with Coachella.
*DISCLAIMER: I did not go to Coachella this year!*