Just a few weeks ago, I found myself humming the Talking Heads tune "This Must Be The Place" as I laid back in the grass taking in the sights and sounds at Three Sisters Park in Chillicothe, IL. The fresh air flowing through my hair, the laughter and chatter from the passersby,  the distant sound of live music and just that overall euphoric feeling that tends to take over the course of the weekend at Summer Camp Music Festival.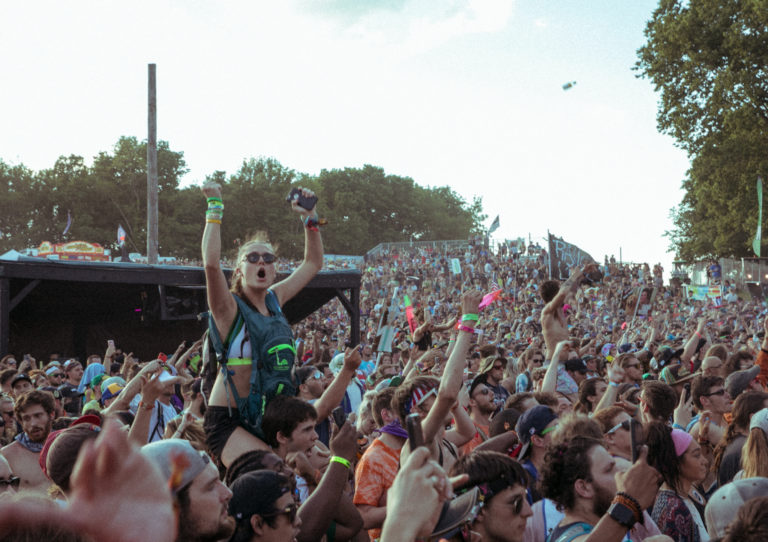 As per usual, Scamp took place over Memorial Day weekend. Because I didn't want to miss an ounce of music, I took full advantage of the event's Thursday Pre-Party upgrade. Not only does this give attendees an extra night of fun, but makes finding a prime camping spot way easier. After setting up camp, to the action I went.
The beauty of the each year's lineup is that it caters to pretty much everyone's taste, which is especially great for someone who dabbles into a wide range of sounds. With that being said, some highlights of my night one included Future Rock, GoodSex, Manic Focus and Filibusta with Steady Flow. At the old-ish age of 28, staying up until the early morning is quite the challenge but seeing heavy bass funk master Filibusta dominate the Vibe Tent with Steady Flow's lead guitar and horn section was worth every minute of missed shut-eye.  
First thing Friday was a large iced coffee from Coffee Wagon, a Summer Camp vet. The day started out slow and before I could even make it to the stages, the weather went from beautiful to frightening with very little warning. Torrential downpour, thunder and lightning ensued for a short period of time and put a minor damper on the weekend because holy mud! Once the storms passed, I made my way over to get my first bluegrass fix of the weekend with Chicago's very own Henhouse Prowlers.  
Throughout the rest of the day, I took it easy and wandered from stage to stage. The Claypool Lennon Delirium definitely ended up being a highlight of day two, with John Lennon's son being the leader of the band. From his looks and mannerisms to his showmanship and style, he is his father's son. Not to mention, the set was truly inspiring and energetic.
Next up was Zeds Dead. The Canadian duo had a full house with the Moonshine Stage packed from front to back. In addition to their popular hits like "Collapse" (feat. Memorecks) and "Frontlines," they dabbled into some pop beats with massive amounts of bass. The stage accommodated one large screen with a decent amount of lights. I hope to see a few more screens next year, like in the past.
After I stopped by Run The Jewels, which was a total blast, I headed to the Vibe Tent to catch REZZ. I interviewed her back in 2015 and haven't had the chance to catch a set since. As per usual, the girl threw down with her distinct, dark and eery style and got me primed for trap lords Slander.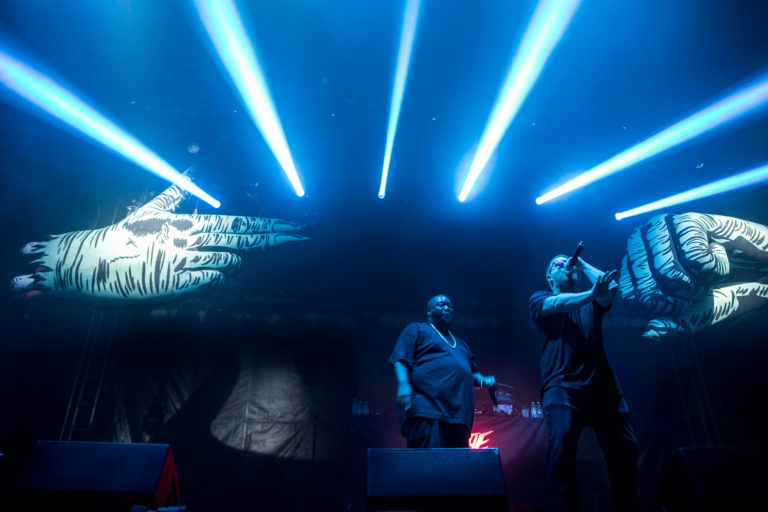 Leaving camp any earlier than 2pm usually doesn't happen for me at festivals but there was no way in hell I was going to miss Liquid Stranger on Saturday. To say his sets are lit is a major understatement. Due to the insanity in the Vibe Tent last year, his set was moved to the Sunshine Stage to give the headbangers some room to do their thang. 
Pretty Lights Live may top my list for best set. While I've seen him a slew of times in the past, incorporating live instruments completely transformed the experience for me. And while the lights that illuminated his stage were impressive, nothing beat the sunset that lit up the sky for a portion of the unparalleled performance.
All good things must come to an end, but not without a few electronic all-stars like Gramatik, Win and Woo, Statik and HeRobust on Sunday.
Aside from this spectacular lineup, there were so many things to love about this year's Scamp. It was great to see the diversity in sound and also in attendees. Everyone came together for the love of music, made friends and left with so many memories. As a seasoned festival goer, it can be hard to find a festival that meets expectations in terms of music but more importantly, experience. Summer Camp covers the bases with a focus on art, vendors, environmental preservation and family. If I had to choose one word to describe this festival, it'd have to be "home."
Until next time!
Cover photo via Keith Griner.