With all the wonderful things that festivals bring comes some very unfortunate incidents, like deaths and arrests. This past weekend, 135,000 fans packed into Las Vegas Motor Speedway for Electric Daisy Carnival Las Vegas 2017. Official incident and crime reports for the event have been released and we're devastated to hear that they included the death of an attendee.
A 34-year-old attendee passed away early Saturday morning at EDC. The cause of death has not yet been released.
Over the course of the weekend, medical aid received over 1000 emergency calls with 16 attendees transported to the hospital. While the reasons behind the calls vary, the heat could have definitely been a contributor. The summer temperatures in Las Vegas rise to well over 100 degrees in the daytime, which is a big reason why the festival goes throughout the night. However, the temps still hit these high numbers throughout the evenings of the event.
In addition to many medical emergencies, police and festival security reported 95 felony arrests and escorted nearly 300 attendees out of the event.
UPDATE:
The deceased 34-year-old attendee was California man Michael Morse and the apparent cause of death was heat-related. The widow of the festival goer Jennifer Marshall shared with KSNV News3LV that things took a turn for the worse as her husband and his two friends were in line waiting for an Uber at around 3am.
She said that, "At about 3:25 in the morning he began convulsing and having seizures," and  "At his death, his temperature was a 109.6," which is ten degrees higher than the average human body temperature.
The loved ones of Morse feel that EDC organizers are to blame for the tragedy. Linda Marshall, the victim's sister-in-law told News 3 that the lines for water on night one were unusually long, with waits up to an hour or more. For the remainder of the festival, this problem was resolved.
In addition to a struggle to get water, Jennifer Marshall shared that getting an ambulance was also a challenge, due to high amounts of traffic surrounding Las Vegas Motor Speedway.
Insomniac released a statement: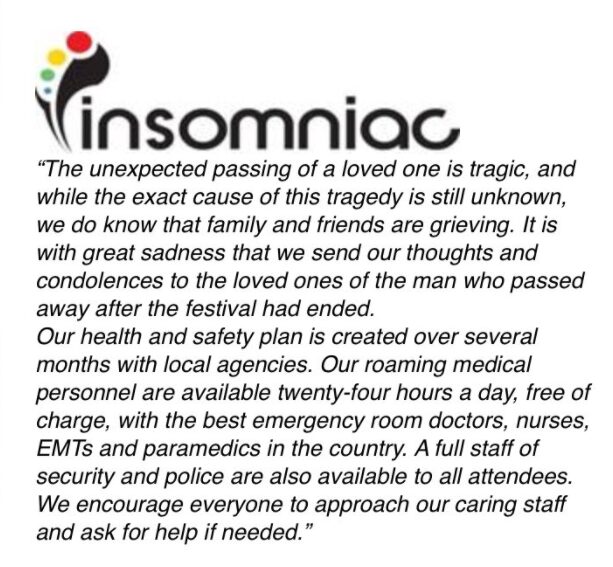 Our thoughts and prayers are with the Morse and Marshall families.