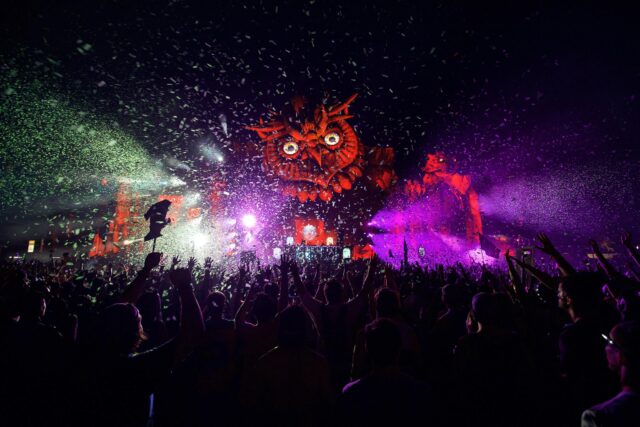 Well my fellow ravers, what can I say? It has been one heck of a year for electronic dance music. All within the year of 2015 we have seen tropical and future house music rise to the top of the charts, a pitiful downfall of one of the biggest dance music festivals in America (TomorrowWorld), and of course those surprising breakthrough festival sets that our minds will never let us erase from our memory. There are hundreds of shows and festivals that go on year-round, and it is always difficult to pick our favorites, because in a way each one of these sets has their own unique and special style that makes us remember it for a particular reason. Personally picking the following 10 sets that I felt were this year's best had to have been one of the hardest decisions of my life- even harder than deciding whether or not to go to Electric Daisy Carnival Las Vegas or Electric Forest (Just a heads up Electric Forest tickets are officially sold out now). If you are looking for a basic mainstream list of main stage DJs, then I would stop reading now and chose another media publishing website because these sets were hand picked as a result of the bone chilling, hair sticking straight up, and non-stop desire to be back at the exact moment of this set. These are the sets where each night before we go to bed after coming back from a show, we go back and watch our videos over and over again until we fall asleep and wake up with the phone on our face. Enough talk, now let's get down to the list because I know the anticipation is killing you.
*P.S. These sets are in no particular ranked order.*
#SharkSquad assemble, because the future house God and sub-bass king had his breakthrough set playing his first HARD Summer festival in Fairplex, Pomona, CA. JAUZ is an inspiration not only because of the music he produces, but because of the individual he is. A year ago he attended HARD Summer festival as normal dance music lover, such as myself, and he followed his dreams of wanting to become a DJ and he made those dreams become a reality. This set was not only full of of jauzstep and bass, but it was an emotional rollercoaster. Sam Vogel connected with the audience during this set by sharing his success story. Providing great transitions with current new and old school songs was the perfect way to show the world truly how talented he is. Not to mention, this is where \"Rock The Party\" blew up and later became a part of almost every DJ's festival and club set.
Deadmau5 has been under fire a lot this past year because of his harsh and cruel words over social media to other artists and DJs, but his music does speak for itself. Bonaroo Music and Arts festival is held in Manchester, Tenn. and draws in thousands of music lovers from all over. His set was unforgettable because Deadmau5 showcased his new stage design at this festival. Changing things up from his old cube stage design, at Bonaroo Deadmau5 rose from a ball that later split into four different objects surrounded by lights. This set drew in one of the biggest crowds of the weekend, and even had individuals who were not fans of electronic music were zoning and vibing out with the strobe lights flashing onto their faces. Opening with Tommy Trash\'s remix of \"The Veldt\" ft. Chris James, and then later on slowing things down made for one magical night on the farm.
ODESZA. ODESZA. ODESZA. I do not even know where to begin with these two musical geniuses. This year, Harrison Mills (aka Catacombkid) and Clayton Knight (aka BeachesBeaches) have sold out shows all over the world and impacted many lives with their live performances from festivals all over with their chill-wave and electro-pop style. This one particular set was unlike any other, because they played on Halloween night by connecting spirits and music lovers as one. One of my best friends, Katie Chapman, who is 20, follows ODESZA religiously and she single-handedly had the best quote in describing this specific set:
After months of working to save for a festival, ODESZA completely blew me away at Hualween, said Chapman.

Even though I have already seen them twice over the summer, something about Halloween night set in the middle of the Suwannee forest Amphitheater was more magical than any of their sets i\'de ever seen. The groovy vibes, drums, \"Say My Name\" and surprise dirty trap finale made for the most magical set I have seen all year.
Have you ever listened to a Kygo set in the heart of Miami? Because if you have not, then you have not lived before! Kygo had his breakthrough set back in 2014 when he replaced Avicii on the main stage at TomorrowWorld due to Avicii\'s health concerns, and his career skyrocketed from there. In my opinion, there was nothing else quite like hearing tropical house with the Miami breeze blowing in my face. His visuals were something exclusive with the crowd singing and clapping along to every song he played, with the exception of the new music he dropped. There were various moments where time stood still and I could fill my spirit being lifted by his tropical melodies, and by me typing this right now I feel like I am back in Bayfront Park. I cannot wait to see him again at Ultra Music Festival in 2016.
There was a lot of controversy over Dimitri Vegas and Like Mike this year when they were announced as DJ Mag Top 100 #1 DJs. However, my only question for you, is have you ever witnessed a full set from these two before? Tomorrowworld this year was the first time I got to see these two and I can honestly say no energy from a set compares. These two brothers know how to keep the crowd going and going and never have an urge to stop raging. Their sets are memorable because they talk about the unity and respect that the music brings to each other. I also don't think I have ever seen so many fireworks go on in the background of a festival stage before. Dimitri Vegas and Like Mike at TomorrowWorld also brought out Ne-Yo to close out and sing the vocals to their song called \"Higher Place.\"
Whenever a DJ or artist reveals that he or she will perform a live set at a festival or club should set off an alarm in your head to be sure not to miss it. Porter Robinson really took my breathe away from his live performance at Sunset Music Festival in Tampa, Florida,  because this was the first time I got to see his live set. Seeing him play the piano, sing, and transition was a truly beautiful sight. The visuals that he picked to accompany his music made for a perfect ending to the weekend. Porter Robinson, without a doubt, was my favorite set from the whole festival. I saw all of my worries go out of the door, and I felt as if I restarted my life after that set. I have attended Sunset Music Festival every single year since it was started back in 2012, and I have never seen the crowd come as one like I did during this set.
Honestly words cannot even describe this set from Ultra Music Festival, because Afrojack \"JACKED\" up the crowd from start to finish. With an opening featuring his new song at the time \"Ten Feet Tall\" (feat. Warble), to then blasting the crowd with streamers and non-stop confetti. Not to mention in the middle of his set came a downpour of rain which made the set even more insane. The wind was picking up and the rain was pelting on everyone\'s faces, but not once did Afrojack stop his set. Typing this up right now I have chills all over my body, because Afrojack also premiered a lot of new music during this set. The music kept the energy flowing, and it made for one hell of a set raving my butt off in the rain that I surely will never forget.
[fbvideo link=\"https://www.facebook.com/Tritonal/videos/10153753950063474/?permPage=1\" width=\"800\" height=\"400\" onlyvideo=\"1\"]
This set was for sure my personal favorite all year from all of the festivals I have traveled to. To start, Tritonal played on the last day of TomorrowWorld and I am sure many of you know the whole fiasco that happened the third day. Only the people in Dreamville were allowed entrance into the festival, so unfortunately many of my fellow Tritonians had to miss this epic set. I was front row 30 minutes prior to Chad Cisneros and Dave Reed going on because I wanted a front row spot. This set was spellbinding, because I have never seen so many Tritonians come together to show their love for Chad and Dave. Signs, totems, and flags were being thrown up in the air to show our appreciation to this dynamic duo.
Above & Beyond has a way of turning off our minds and helping us enter a world full of trance with their music. They included songs full of lyrics for the crowd to sing along to and melodies quite like no other. This Above & Beyond set was one for the books, because a surprise \"special\" guest was invited on stage to perform \"push the button\" tradition. The guest was none other but Bryan Cranston aka Walter White from the AMC hit television show \"Breaking Bad.\" This came to a surprise to everyone and had the mouths drop from many ravers. He comes in around 20:00 of the set, and the crowd goes absolutely bonkers.
[iframe id=\"https://www.youtube.com/embed/w54eVkD9Ubg\"]
One word that describes Slander\'s set from EDC Orlando is LIT. Slander opened up with them premiering their remix of Adele\'s new song \"Hello\" which had ravers at a lost for words. The slow intro built the anticipation of what kind of drop to expect. The overhang circuitGROUND stage was also the perfect home for Slander to throw down their heaven trap for headliners to enjoy. Going from paying classic songs to throwing in filthy trap drops the crowd was live. This set kept popping off after each drop and the bass just kept getting louder.
Ladies and gentlemen, that concludes the 10 sets that should be remembered of the 2015 festival season. Hopefully watching these videos and reading this article you got to take a step back in time with me, and remember even more sets from festivals and shows you attended this year. Each year, many fear that the electronic dance music scene is dying and fading out- but I don\'t believe that for a second. New genres are being formed, festivals are expanding, and unknown DJs keep making their way to the headlines. Much more is in store for the 2016 festival season, and everyone from EDM Chicago wishes you a happy and safe new year!
Honorable Mentions
Dash Berlin–Ultra Music Festival-Miami, Florida
Jack Ü with surprise guest Justin Bieber– Ultra Music Festival– Miami, Florida
Fedde Le Grand– Ultra Music Festival-Miami, Florida
Alesso–Ultra Music Festival-Miami, Florida
Mija–Spring Weekend– Panama City Beach, Florida
Duke Dumont– Sunset Music Festival– Tampa, Florida
Disclosure– Electric Daisy Carnival Las Vegas– Las Vegas Motor Speedway
Kaskade– Electric Daisy Carnival Las Vegas– Las Vegas Motor Speedway
Eric Prydz– Electric Daisy Carnival Las Vegas– Las Vegas Motor Speedway
Kennedy Jones– Electric Daisy Carnival Las Vegas– Las Vegas Motor Speedway
O0kay- Electric Daisy Carnival Las Vegas– Las Vegas Motor Speedway
Oliver Heldens–Tomorrowland– Boom, Belgium
Yellow Claw–Tomorrowland– Boom, Belgium
Nicky Romero–Tomorrowland-Boom, Belgium
Armin Van Buuren–Tomorrowland-Boom, Belgium
Coone–Tomorrowland-Boom, Belgium
Gramatik–TomorrowWorld– Chattahoochee Hills, Georgia
Headhunterz– TomorrowWorld– Chattahoochee Hills, Georgia
Bassnectar–TomorrowWorld– Chattahoochee Hills, Georgia
Andrew Rayel–TomorrowWorld– Chattahoochee Hills, Georgia
The Chainsmokers–TomorrowWorld– Chattahoochee Hills, Georgia
Tchami– TomorrowWorld– Chattahoochee Hills, Georgia
Morgan Page– Imagine Music Festival– Atlanta, Georgia
Griz–Imagine Music Festival– Atlanta, Georgia
Dada Life–Imagine Music Festival– Atlanta, Georgia
Snails– Electric Daisy Carnival Orlando– Orlando, Florida
Alison Wonderland– Electric Daisy Carnival Orlando– Orlando, Florida
Audien– Electric Daisy Carnival Orlando– Orlando, Florida
Quintino– Electric Daisy Carnival Orlando– Orlando, Florida
Calvin Harris– Electric Daisy Carnival Orlando– Orlando, Florida
Photo Credit: Jason Tuno/Jason Tuno Photo and Video